FHS senior Tallen Williams breaks 3A boys triple jump record
FERNDALE — Tallen Williams sprinted down the long jump lane, sprang a half-foot behind the marker board and leaped into the air at the 3A boys state track and field championships on May 24.
Williams, a Ferndale High School senior, landed in the sand pit, rose to his feet and started heading toward the jumpers' tent.
"As soon as I got out of the pit, the judges were screaming at me to not move," Williams said. "They got the tape measure out and it took them like 15 minutes for them to get everything in line."
The officials could sense they had witnessed something special.
"Any record at a state meet has to be very precise," Williams said. "Everything has to be right. They were checking the wind behind me, the tailwind. They were testing it all. I didn't want to get disqualified, so I didn't want to move."
It took 15 minutes, but when the official measurement was finished the judge called out 23 feet, 11 and one-quarter inches; A new WIAA 3A boys state meet record — Williams had etched his name in the record books.
The previous mark was 23-10.75, set by Rashad Toussaint of West Valley Spokane in 2005. The leap also shattered Colson Crim's previous Ferndale school record of 21-10 set in 2011. Tallen's personal best before state was 22-09, over a foot less than his winning jump.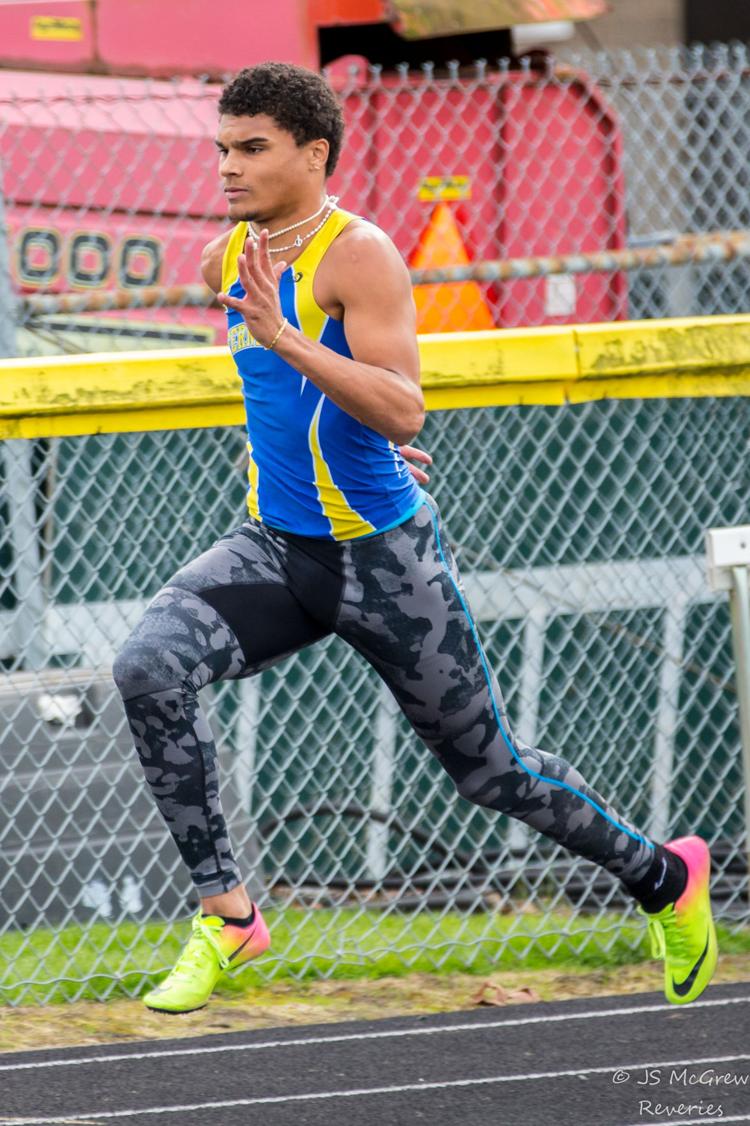 "I can't even explain the emotions and feelings I had," Williams said. "I had an emotional breakdown and was crying a little bit. It meant the world to me. It's a great accomplishment. I couldn't ask for any more."
This all came in a whirlwind for Williams who began long jumping just a month before state. He didn't even own a pair of jumping spikes. He broke a state record with sprinting cleats.
Winning state wasn't a huge surprise. Williams entered state as the top-ranked 3A jumper. But he wasn't expecting to break records.
He ran the 100-meter dash squished between long jump prelims and the long jump finals. Normally in the second flight of long jumpers reserved for the top competitors, Williams had to be moved up to the first flight, No. 9, because of time conflicts with the 100 meters.
He had to check out of long jump prelims, sprint over to the 100, run the 100, then head back just in time for the long jump finals to start.  
"The time schedule was really, really tight," Williams said. "I'm surprised I came out with the results I did, having to run the 100 meter and another full event (triple jump)."
Williams finished second in the triple jump, with a leap of 46-06, which broke Ferndale's school record dating back to 1971. It was previously held by Bobby Taylor at 43.10.
"His unique combination of speed, power and kinesthetic awareness makes him the perfect jumper," said Marty Moravec, Ferndale's jumping coach. 
Athletes are given three jumps in the finals. Williams' first one in long jump was rough. His second was better — four inches from the meet record and a PR. His third and final jump was the one that made history.
"It was pretty crazy because on the final jump I was behind the board a little," Williams said. "If I had my foot on it, I probably could have jumped a 24 or even longer. Off the takeoff it all felt super smooth. I had a bunch of adrenaline running. Soon as I popped off the board it felt way too good."
Williams, who transferred to Ferndale from Arlington High School in the fall, said he hasn't been contacted by any college coaches since winning state and breaking the record. Track isn't even his favorite sport.
"Track isn't, sorry to say, my No. 1 sport," Williams said. "Football is where my heart has been. I've been looked at by coaches and it looks good to be more than a one-sport athlete. I've got some track looks, but I'm hoping to get some more after state. It's just a waiting game for me." 
Whether he ends up with a football or track scholarship, Williams said, this is a moment he'll always be able to look back on fondly.
"For me, I could really say this is my first taste of glory a little bit," Williams said. "My first little bite of something. All my life I've dedicated to sports and to make a name for myself. This is not something I'll dwell on and toot my horn the rest of my life, but it's something I'll keep in stock to remember where I came from and what it took to get there. I still have a lot of work to do."