Five Golden Eagles score in double-digits
BELLINGHAM – Despite trailing by 18 points at halftime, the Ferndale boys basketball team rallied to earn a thrilling 69-67 overtime win over host Squalicum on Thursday.
A Golden Eagles (5-2, 2-0 NWC) team that starts four underclassmen showed Squalicum (2-3, 0-2 NWC) and Whatcom County they are to be taken seriously.
"The way they decided they were going to compete and fight against a really good Squalicum team was amazing," Ferndale coach Jason Owens said. "It's hard to have fun as a coach but that was fun to watch."
The Golden Eagles led 62-59 with 30 seconds left in regulation when Squalicum senior Devante Powell drilled a deep 3-pointer with a hand in his face. Powell finished with a game-high 21 points.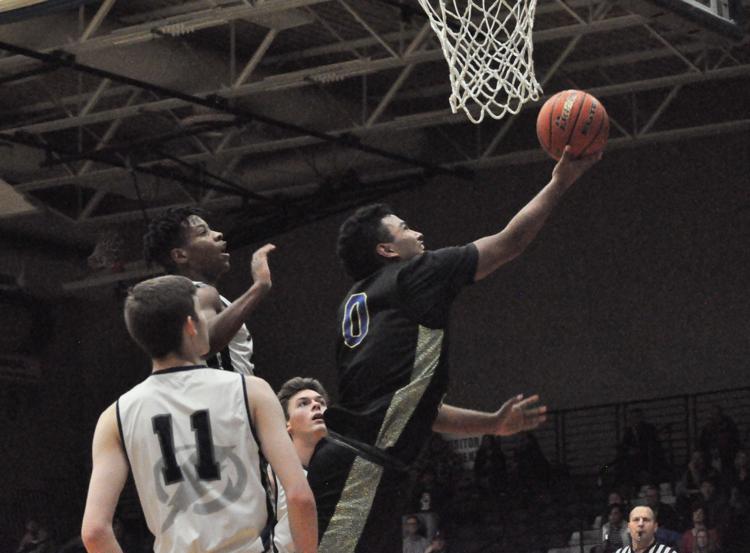 In overtime, Ferndale received contributions from freshman Isaiah Carlson, sophomore Jesse Sapp and sophomore Jazen Guillory. Guillory led the way for Ferndale with a team-high 19 points on the night.
"We went in the locker room at halftime and told each other to just keep fighting," Guillory said.
Owens said he told his team at halftime that the way they competed in the second half would set the tone for each players' future.
Ferndale trailed 17-14 after the first quarter but Squalicum got out in transition in the second quarter, which negated Ferndale's full-court press. Couple that with a dismal 23 percent shooting performance in the first half and the Golden Eagles trailed 41-23 at halftime.
"As much as you want basketball to be about coaching, it's about shooting. And we weren't shooting well," Owens said.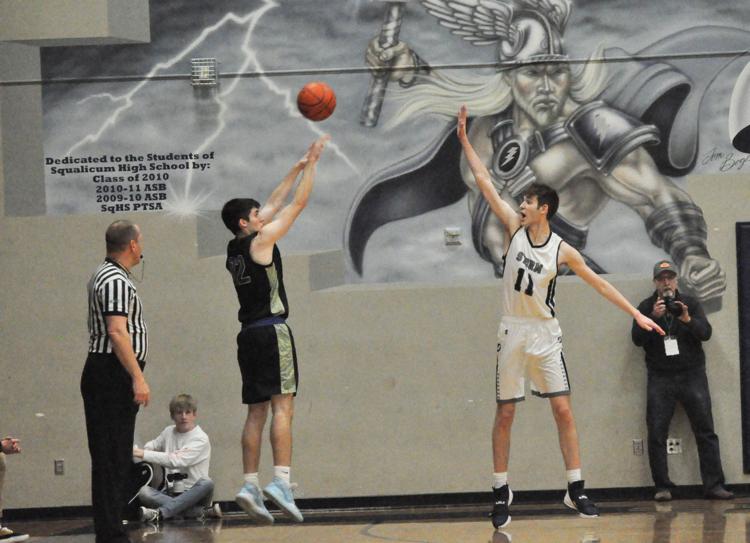 Ferndale went back to its full-court press to open the second half and it was extremely effective. Squalicum scored just six points in the third, quarter compared to Ferndale's 21.
The Golden Eagles took their first lead since the first quarter with five minutes left in the game. Ferndale would go up by as many as seven in the final period thanks to 7-of-9 shooting at the free throw line.
Only the starting five scored for Ferndale with all five reaching double figures. Squalicum was led by Powell and senior Dedrick Mitchell who finished with 16 points.
On the backs of the Ferndale boys' basketball team's shooting shirts is the phrase "Trust the Process." It's a term that in recent years has gained traction due to its use by the NBA's Philadelphia 76ers during its transformation from young team to contender.
"I've been coaching basketball for 25 years in Whatcom County and to have a team of freshman and sophomores down 20 at half… I can't say enough about their futures," Owens said.
The next game in Ferndale's future will be against Bear Creek in the Cloud 9 Christmas Classic at Lynden High School on Dec. 27.