Jake Locker moves up to be team's offensive coordinator
FERNDALE — Blue mouth guards boil in a pot on a folding table overlooking Ferndale football's practice field on a warm Saturday morning.
As players start to filter out of the locker room in full pads, grab their new mouth guards and slowly meander onto the grass, something else is percolating.
Donning a white, long-sleeved Ferndale football shirt and holding a rolled-up playbook behind his back, someone new is calling the offensive plays this morning.
Former Tennessee Titans quarterback and 2005 Ferndale High School alumnus Jake Locker is the recently promoted offensive coordinator for the Golden Eagles.
The eighth overall pick in the 2011 NFL Draft, Locker walked away from football in 2014 after four seasons in the NFL. For the last four years, he's been the quarterbacks' coach for Ferndale before stepping into this new role.
"Jake is taking over the offense," coach Jamie Plenkovich said. "We had a vacancy and he was obviously a natural to step into that role."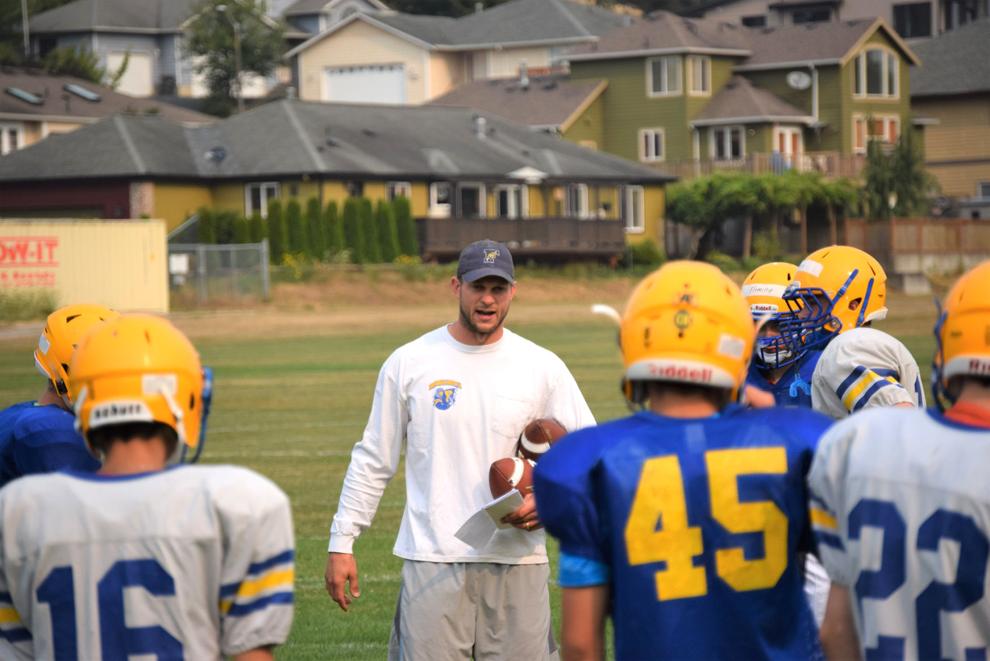 The base offense will remain the same, a Wing-T formation grounded in pounding the rock to set up the pass game. However, Locker will put his own spin on it, Plenkovich said.
"He understands our system and he's going to bring his own personality to that," Plenkovich said. "We have other guys on our offensive staff that are valuable resources that he'll lean on as well."
Who will execute that offense on the field, however, is still up in the air. Senior Carson Moyes was the frontrunner to take over signal-calling duties for three-year starter James Hinson, who graduated, but Moyes tore his ACL over the summer and is out the entire football season.
So with the season opener looming on Aug. 31, seniors Bryan Ebe and Sequoyah Julius are battling it out for the starting quarterback position. So far, it's neck and neck. Ebe saw time at halfback and safety last year, while Julius was a starting corner and is a great athlete in Plenkovich's book.
"They're both pretty even," Moyes said. "Ebe has a little more running ability. He was a running back, so he knows how to hit the holes if he has to scramble. They're both pretty good at throwing the ball."
Whoever gets the nod will have plenty of help on both sides of the ball. Back is 6-foot-5, 275-pound junior Geirean Hatchett, a three-year starter at guard and defensive end. Senior Darius Washington returns to the trenches as well, a 5-foot-10, 275-pound defensive tackle and center.
Senior Brett Westford also has experience on the o-line, while 6-foot-2 junior Colby Tegt is poised to set the edge this year at tight end and senior Watiko Leighton is back at receiver and safety.
Junior Jacob Broselle is the head of a stable of running backs poised to take over for last year's standout tailback Cole Semu, who graduated. Broselle saw time at running back last season and was also a starting corner.
"We have a lot of experienced backs who have been running for a long time and are comfortable back there," said senior Gader Fox, a two-year starter at fullback who will be laying blocks for the halfbacks.
Fox was named a team captain, is a first-year starter at linebacker this year, and he said that playing Ferndale football is all a dream come true.
"It's awesome to look back as a little kid and come to Friday nights and see all the big boys playing," Fox said. "Just to think I'm one of the leaders here is a crazy thought. I've always known I was going to play, but to be in this position is truly a blessing."
The Golden Eagles have big steps to follow after winning the 3A Wesco championship en route to an 11-1 record in 2017. They were undefeated until a quarterfinal loss in the state playoffs to O'Dea, the eventual state champions.
"A lot of people in Ferndale are expecting a lot from us," Fox said.
Hatchett said the goals this year are simple: earn another playoff spot and win the league championship for the second year in a row.
"We want to prove Ferndale is a traditional powerhouse," Hatchett said. "I think we can make a good move for the league championship."
Ferndale opens its season at home with an Aug. 31 non-conference game against Lake Stevens starting at 7 p.m. The Vikings went 9-2 last season, capturing the 4A Wesco crown and losing in the first round of the 4A state playoffs to Graham-Kapowsin.