Golden Eagles score five TDs on the ground
FERNDALE – Freshman running back Isaiah Carlson played his first varsity football Friday night and the lights at Ferndale High School weren't too bright – in fact, they may need to be turned up.
With Ferndale leading Oak Harbor 27-0 already halfway through the second quarter, the Golden Eagles called a pass play that saw Carlson streak up the middle of the field toward a wide-open goal line.
"I ran my route and beat my man but when I looked back to find the ball, I lost it in the dark," Carlson said.
Carlson, playing with a cast on his right arm with an injury that had kept him on the sidelines until now, found the ball at the last second and helped extend Ferndale's lead to 34-0. The Golden Eagles went on to beat Oak Harbor 48-22 in a matchup of 3A Wesco North teams.
It was one of two touchdowns Carlson scored on the night and it's no surprise to coach Jamie Plenkovich how well he played.
"In practice we've seen glimpses of what he can do," Plenkovich said. "He did some pretty good things and we've got some other guys that are also pretty good, so if we can spread the ball around it makes us tougher to defend."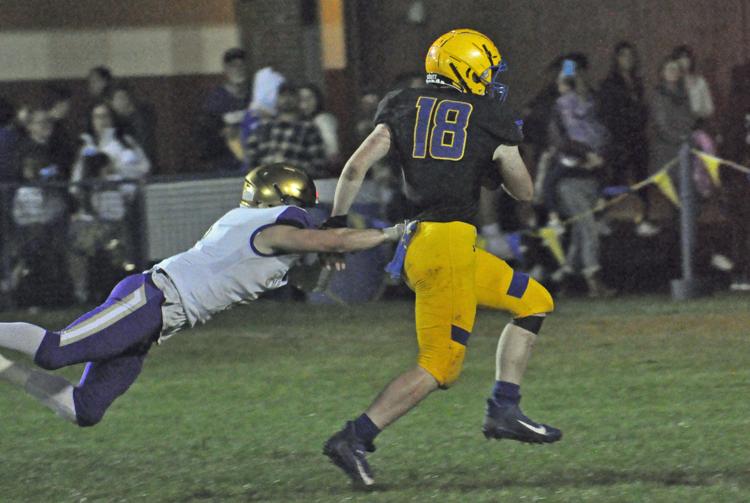 Senior running back Jacob Broselle got his share of touches around the goal line and finished the night with three rushing touchdowns. Ferndale (3-2, 3-0 3A Wesco North) kicked off the night with a 29-yard rushing touchdown from sophomore bruiser Ryan Pelton, and capped its scoring on a run by senior Mark Kolbert for the Golden Eagles' fifth rushing score and fourth player to put up points.
"It's nice when we get up enough in a game to get guys that practice just as hard opportunities to play under Friday night lights," Plenkovich said.
At halftime, the score was 41-0, thanks to two interceptions by the Ferndale defense. One was by junior corner Andrew Monks at the end of the second quarter with Oak Harbor (1-4, 0-3) inside the red zone.
"Obviously they didn't think they could run it, so they were throwing a lot more than they had in other games," Plenkovich said. "To be able to get some turnovers on that side is huge."
Ferndale will be on the road next week in a Saturday night contest against Squalicum (3-2, 2-2 Wesco) at Civic Stadium.