Scarlett, Sterk, Vanderyacht and Baar nab all-state recognition
WHATCOM — Lynden volleyball coach Chris Elsner was named Class 2A Coach of the Year and four Lions earned all-state honors from the Washington State Volleyball Coaches Association on Friday.
It's the second-consecutive year Elsner has captured the award. She coached the Lions from 1998 to 2008 before taking a nine-year break. Since returning to the program in 2017, Elsner has piloted the Lions to three-straight state appearances, including a second-place finish in 2018.
This fall she led the Lions to the Northwest Conference championships, a 17-4 record and a sixth-place finish at the 2A state championships Nov. 16. Elsner eclipsed the 200-win mark during the district tourney.
"I'm super honored, but maybe a misprint. It should say, 'Staff of the Year" Elsner said. "My staff is incredibly invested, dedicated and pours it into our kids. They are the best. Nothing without them."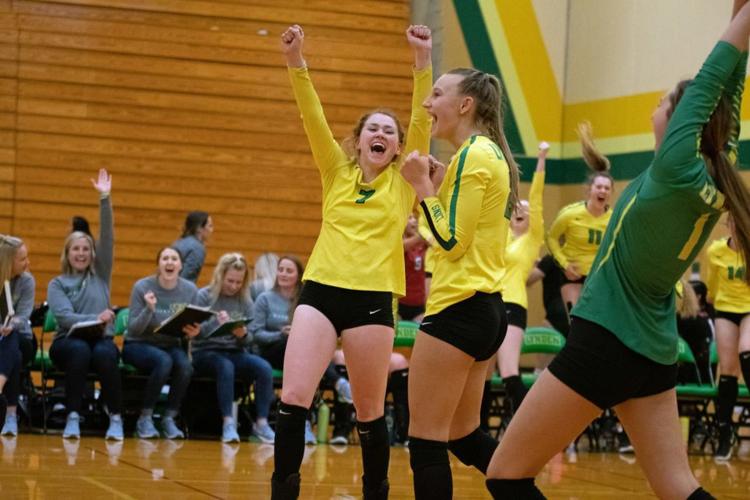 Senior setter Robin Scarlett and senior outside hitter Savonne Sterk both earned second team all-state recognition, while junior outside hitter Anna Vanderyacht and middle hitter Faith Baar nabbed honorable mention selections.
Scarlett racked up 660 assists on the season, averaging nine assists per set and three digs per set. Sterk tallied 204 kills, averaging 2.6 kills and three digs per set.
Vanderyacht reset the school's 13-year single-season aces record of 65 during the district tournament. She finished with 80 on the year. She recorded 222 kills for an average of 2.8 per set, along with four digs per set.
Baar compiled 182 kills this season for 2.4 per set. She also led the team with 47 blocks.
"Well deserved," Elsner said. "A reflection of the endless work poured in to be their best, and in a loaded 2A classification. So proud."
Full list of all-state selections:
Player of the Year – Delaney Nicoll, OH, Ridgefield 
Coach of the Year – Chris Elsner, Lynden 
Abby Harrell, Ellensburg; Delaney Nicoll, Ridgefield; Moeshana Maiava, Washington; Mikayla Uhlenkott, Pullman; Eliana Luteru, Washington; Katie King, Burlington-Edison; Jade Larrabee, Selah; Noelani Souza, Washington; Shauny Fisk, Ellensburg.
Reagan Naboychik, Ellensburg; Hannah Frederickson, North Mason; Sirena Peredo, Washington; Savonne Sterk, Lynden; Allie Andrew, Ridgefield; Casonndrah Polo, Fife; Amey Rainaud, Burlington-Edison; Robin Scarlett, Lynden; Emilea Stepanuik, Ridgefield.
Outside hitters: Taylor Kieser, Selah; Leah Cairns, Tumwater; Brenna Nelson, Black
Hills; Ashlyn Whalen, W.F. West; Olivia Watson, Archbishop Murphy; Maddie Sheron, Columbia River; Pomai Balderson, Steilacoom; Tevlin Britten, Fife; Riley Rabedeaux, North Kitsap; Maddy Oelke, Pullman; Bronte Lacey, Burlington-Edison; Anna Yanderyacht, Lynden; Claire Hindman, Sedro-Woolley; Cameron Hodges, Sehome.
Middle blockers: Bailey Duis, Grandview; Ellie Bocksch, Tumwater; Emma Swett,
Woodland; Morgan Halady, Kingston; Morgan Shumaker, North Mason; Shelby Draper, Cheney; Faith Baar, Lynden.
Setters: Katelyn Bland, Sammamish; Dani Faamausili, Steilacoom; Nicole Guthrie,
Woodland; Paytton Crawford, W.F. West; Sophia Baugh, North Kitsap; Raelyn Lowery, Highline; Megan Lange, East Valley (Spokane); Addie Hawes, Pullman.
Liberos: Saisha Morales, Steilacoom; Emma Adams, Columbia River; Yasmyne Valladares, Fife; Rebekah Fredrickson, North Mason; Hannah De Los Reyes, Kingston; Hanna Gecas, Pullman; Amaya Roberts, Sehome.