TACOMA — More than 30 wrestlers from Whatcom County competed in the Mat Classic XXXII state tournament Friday and Saturday in the Tacoma Dome, and 11 of them came home with medals. 
  At the Class 1A level, Mount Baker sent 10 total wrestlers, nine on the boys' side and one on the girls'. Among the boys, juniors Nico Johnson (106 pounds) and Kilian Cronk (145) both  placed seventh. Ebonney Bowhay (125), the lone girls' representative for the Mounties and also a junior, placed sixth.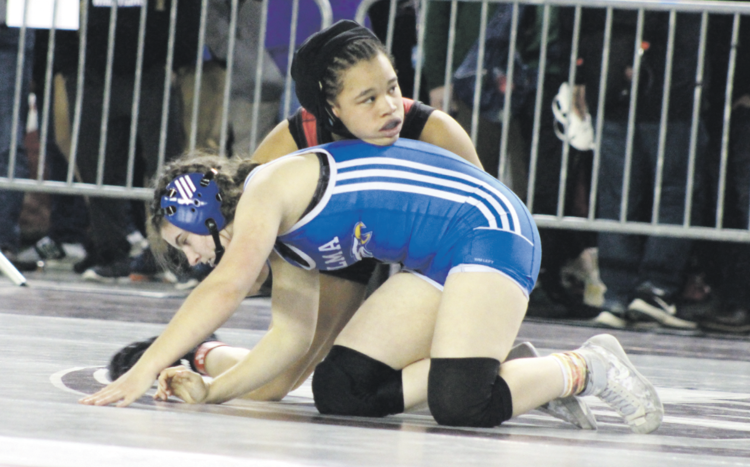 Meridian, sending three wrestlers in total, all on the girls' end, had one of them place top-eight. Junior Tenley Swope (145) captured fourth place after making it to the semifinals round, but was pinned by Ivy Kraught of Kentwood, moving Swope into the consolation bracket.
  Nooksack Valley had two wrestlers competing deep into the second day of the tournament, with seniors Cameron Bauman (195) and Levi Harlan (220) both earning third-place medals. 
  Up a classification in Class 2A, Lynden's Hailie Holestine was the only Lion to grab a medal, placing third in the girls' 130-pound weight class. 
  Lynden coach Santos Gallegos said Holestine went into state with the mindset of treating it just like any other tournament. 
  "She won her first match and was like 'OK, I'm ready for my second one,'" Gallegos said. "I think a lot of kids go in there and are just in awe of everything."
  The Lions also sent Betty Briceno to compete at state, but she didn't advance past Friday.
  Gallegos said it was great to see both Briceno and Holestine, both juniors, compete in the last tournament of the season.
  "It's awesome to see your kids wrestling every weekend, going to matches and then at the Dome," he said. "It's the big show. We tell them there's only three tournaments that count: subs, regionals and state. At the last one, you give it all you've got."
  Blaine's Gavino Rodriguez (182), a senior, placed fourth for the Borderites. 
  In Class 3A, Ferndale had three wrestlers, one boy and two girls, place in the top eight.
  In his senior season, Jake Broselle (170) placed third for the Golden Eagles, while Hope Jose-Day (100) finished seventh and Alex Brulotte (170) placed fourth; both are juniors.
  Ferndale boys coach Caleb Schlack said Broselle more than earned his third-place medal.
  "He had to get four wins in a row to place third," Schlack said. "It was fun to see him be able to put that together. He hasn't been able to compete in the postseason for several years because of injuries, so for him to be able to put it together as a senior and come back with something he can be proud of is amazing."
  Schlack said Jake Broselle has been an inspiration to the team all season because of the way he's battled through his injuries. 
  "He was out until the middle of January with concussion symptoms," Schlack said. "He really only got about a month of competitive wrestling. Watching his quarterfinal match he lost, had he wrestled all season I think he wins that match."
  Broselle's younger brother Thomas also competed in the tournament at 145 pounds, but didn't end up placing. 
  Schlack said the Ferndale team always talks about having goals and in fact Thomas Broselle exceeded his before the tournament even started. 
  "Thomas' goal was to make it to regionals," Schlack said. "His goal wasn't even to make it to state, and so he kind of surprised himself and that was pretty fun."