Zamora will advance his basketball skills at Western
LYNDEN ­— Eight Lynden seniors signed letters of intent to continue playing their respective sports at colleges around the Pacific Northwest at an athletic signing day Friday in the Lynden High School library. 
Kyla Bonsen heads to Bellevue College to play volleyball. Tate Hutchins will compete in cross country and track and field at Central Washington University. Kobe Elsner will take to the basketball court for the University of Puget Sound. Breanna Swendt goes to Skagit Valley Community College for softball. Trevin Melendez will play football for Linfield College. Levi Oostra will wrestle for Simon Fraser University in British Columbia. Jack Doolittle joins the University of Washington cheer team. And basketball standout Christian Zamora takes his talents to Western Washington University.
Zamora, the all-time leading scorer of points (1,620) and 3-pointers (210) for Lynden boys basketball, was the latest athlete to make his decision, with his verbal announcement coming late Wednesday night on Twitter.
"I just really wanted to take my time with it," Zamora said. "I had a few schools invested. Just really wanted to make sure I was happy with it and I made a decision based off what I wanted — a decision I'll be happy with for the next four to five years."
Zamora is also tops on Lynden's all-time career games list with 111 and didn't miss a single outing in his three years as a basketball starter. He was a first-team all-state selection his junior year after averaging 16.3 points per game, and an honorable mention selection as a senior after averaging 17.6 points and 5.2 rebounds per game. He helped the Lions claim back-to-back state titles in 2018 and '19, for the third time in school history.
By Tuesday night Zamora had his sights narrowed down to two teams and he met with Western basketball coach Tony Dominguez for dinner on Friday to have one final talk. By the time dinner was over, he knew he wanted to be a Viking.
"It really caught my attention. I'm really starting to believe in that vision and I trust in that vision. I'm pretty excited to be a part of it. I'm excited to get there and start working. Wherever that may take us, I'm excited for it."
"My family is all behind my back and really supportive of the decision. That made it even easier."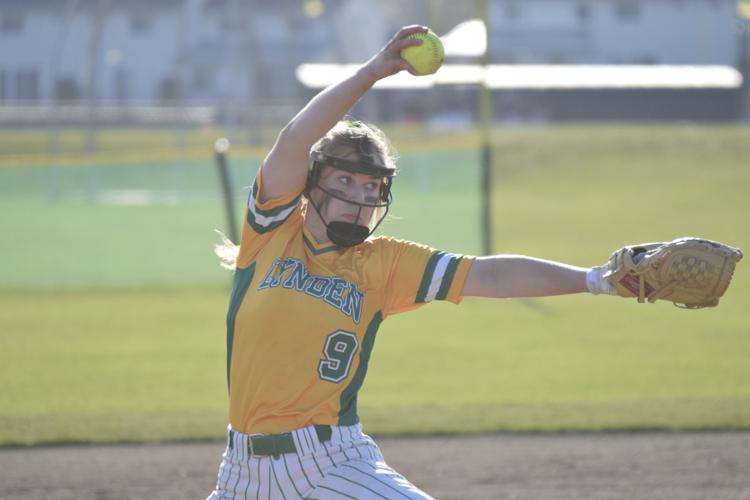 Breanna Swendt, who has been Lynden softball's ace for all four years of her career, will pitch and play second base for Skagit Valley College next year. She said signing was a culmination of all the hard work she's put in over the years.
"I've been looking forward to this for a long time," Swendt said. "Just to be able to sign in front of all my friends and family and have that support from everyone is a really great feeling. It was a really great experience signing with all these people from my grade who I've grown up with."
Swendt currently leads Whatcom County in wins (12) for the 2019 season, is fifth in ERA (4.88) and has the eighth most strikeouts (49), per Whatcom County Preps. She has helped the Lions to a 12-6 overall record and 8-3 Northwest Conference mark so far, and they are in fourth place in the NWC standings.
After being thrust into the starting pitcher role as a freshman and helping the Lions qualify for state that year, Swendt knew she had the potential to play softball in college. Signing with Skagit became an easy decision for Swendt after she played for Cardinals coach Lisa Bennett in summer ball.
"She's very enjoyable to play for and she obviously loves the sport," Swendt said of Bennett. "You can just tell with the way she coaches and the way she goes about things. It's awesome. It's going to be a really great experience for me."
It also helps that Swendt played select softball with Squalicum grad and current Cardinals infielder Kaeli Andersen. She also grew up playing with Sehome's Savannah Smith, who has signed to play with Skagit as well next year.
"It'll be nice going in and knowing a couple of girls," Swendt said. "Thinking about college and being far away from home makes me nervous. I'm really glad Skagit is only 45 minutes away. Knowing some of the girls and the coach, it will feel a little bit more like back at home."