Lyncs hold Lions to six points in final quarter
LYNDEN — In a battle of Northwest Conference unbeatens, it was Lynden Christian coming out on top 51-48 Wednesday night against Lynden. 
Both the Lyncs and Lions held 10-0 conference records coming into their matchup against each other, and like most games between the two teams, it came down to the final possession. 
The Lynden Christian defensive presence was felt from the first whistle as the Lyncs forced the Lions into uncharacteristic mistakes and turnovers. 
Lynden Christian led 15-11 after the first quarter and started the second on a 6-0 run to push its lead to 21-11. 
The Lyncs held a 27-25 lead at halftime, but the Lions came sprinting out of the break, outscoring Lynden Christian 17-8 in the third quarter to take a 42-35 lead into the final quarter. 
All momentum belonged to Lynden, but the Lynden Christian defense took over in the fourth quarter, sparking an 8-2 run to bring the Lyncs back within one with about four minutes left. 
Lynden Christian senior Cole Moorlag put the Lyncs up for good late in the fourth quarter with a basket inside. 
"We ran out of a little bit of gas, but got our second wind, thankfully, in the fourth," Lynden Christian coach Tim Zylstra said. "I'm really proud of the seniors. They were out there in the end and that's who we stuck with in the fourth quarter."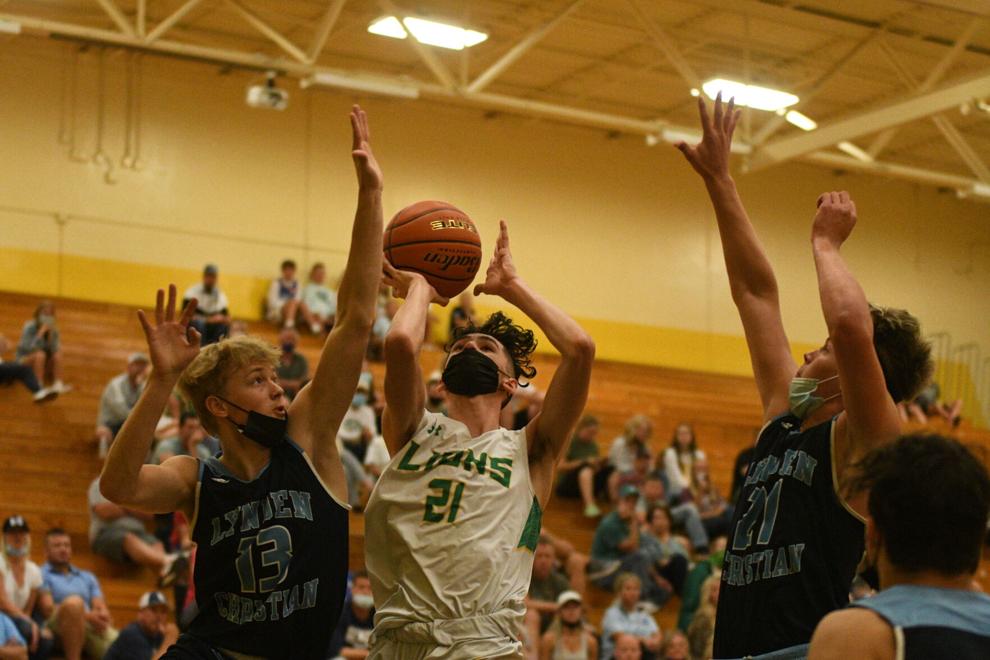 Moorlag said the message between the third and fourth quarters was to go and make a run. 
"I looked at my two senior guys and was like, 'This is it. We have one more game after this. This is our last Lynden-LC,'" he said. "We just rallied. This team more than any basketball team I've been on is like a family. We just all looked each other in the eye and said, 'Let's go.'"
The Lyncs held the Lions to only six points in the fourth quarter and scored 16 of their own. 
"We got a little bit stagnant and missed some close shots," Lynden coach Brian Roper said. "The problem with LC is when you make a turnover that leads to transition, that's really worth a lot. It not only gives them an easy basket, it gives them momentum. I would say that was the difference in the fourth quarter."
In last year's matchup between the two, Lynden 6-11 senior Liam Hanenburg wreaked havoc on the Lyncs inside and on the boards. Coming into this year's game, none of the Lyncs had grown six inches to match that height, but they did find a way to slow Hanenburg down. 
Moorlag said they tried to throw a body at him in every direction. 
"Well, sadly we don't have anyone 6-11, so we knew we'd have to help," he said. "We were trying to do everything with him. You can only hope to contain him. He's going to get his."
Hanenburg and junior Jordan Medcalf scored a team-high 13 points for the Lions. 
Lynden senior Koby Whitman said they were worried about how quickly the Lyncs' offense can start dominating. 
"They're definitely the most lethal shooting team offensively by far in the league," Whitman said. 
Lynden Christian senior Logan Dykstra scored a game-high 16 points. Moorlag had 14 and junior Andrew Hommes added eight. 
Whitman said they gave the Lyncs too many second chances on the boards and got into their own heads down the stretch. 
"The last three minutes didn't seem like Lynden basketball," he said. 
The Lyncs improved to 11-1 with the win while the Lions dropped to 10-3.
Lynden will close out its season Friday at Blaine. The Lyncs will host Meridian on Friday to end their regular season, but will be competing in the Class 1A Boys Invitational hosted by Cedar Park Christian in Bothell June 30-July 2.