Sports writer 'takes on' state titlist Medcalf in first athlete challenge
BELLINGHAM — Jordan Medcalf tests the grass on hole 10 by lightly pushing down on it with his club. He slowly walks over to his golf ball and analyzes the multiple angles of the green before calmly draining a 20-foot putt to go up two strokes on me.
Medcalf, an upcoming sophomore at Lynden High School, last spring became the second 2A boys freshman to win the state title since 2003. He was also the first Lynden boy to be tops in state since 2001.
Now this gifted 15-year-old is facing me, a 33-year-old first-time golfer who's stepped foot on a golf course less than a dozen times — and then only to take photos and interview athletes.
It's the debut of my weekly athlete challenge series, where I take on the elite high school athletes in the county in their respective sport, and try not to look like a fool.
I picked a doozy. Luckily for me, Medcalf is very patient and willing to help in any way he can.
It starts with him teaching me how to putt while we wait for our 1:50 p.m. tee time at the Bellingham Golf and Country Club on July 18. The club is a beautiful array of lush fairways and greens. It's definitely the nicest course I've seen. I could spend every day here.
Medcalf shows me proper putting technique before Nicole Medcalf, his mother, calls for us to hit the 1st tee. Nicole not only offers me her clubs to use for the day, but also graciously insists on being my caddie. I gratefully oblige.
Jordan tees off first from the farthest-back tee and hammers a laser down the fairway and out of sight. It's gone so quickly I'm unable to track it through the air or where it lands. "No problem," I think to myself sarcastically as I head to the "little kids" tee area, about 50 feet closer to the green. 
Jordan shows me where to place my feet, how far to stand back and how to propel my arms first back and then forward in fluid motion. I bend my knees awkwardly as I completely miss the ball on my first swing, feeling a bit embarrassed. I'm trying to swing like a baseball hitter digging at a low fastball. Jordan recorrects my form again and I'm able to connect, shooting a weak line-drive that bounces down the fairway like a flat rock hurled across a lake.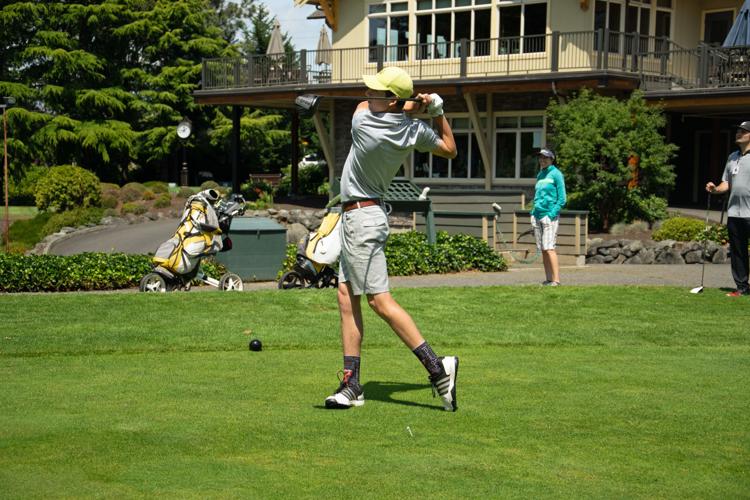 The next six holes are a lesson in humility, marked by a couple of highs and plenty of crushing lows. I manage to get one arching shot on my second hit of a hole that lands about 15 feet on the green. I end up sinking the putt and feeling on top of the world. I'm getting the hang of it! It's only going to get better from here, right?
Jordan is a merciful opponent, and when I ask him what it was like playing someone who had never played before I learn just how kind he is.
"I've played with worse people that have been playing for over a year. So you were pretty good for your first time," he tells me. 
He's been challenged before one-on-one in golf, but it's never panned out in a real duel, he said.
"A lot of people have, but then they don't follow through with that," Jordan said. "They don't want to get beat."
After seeing Jordan play in person, I don't blame them.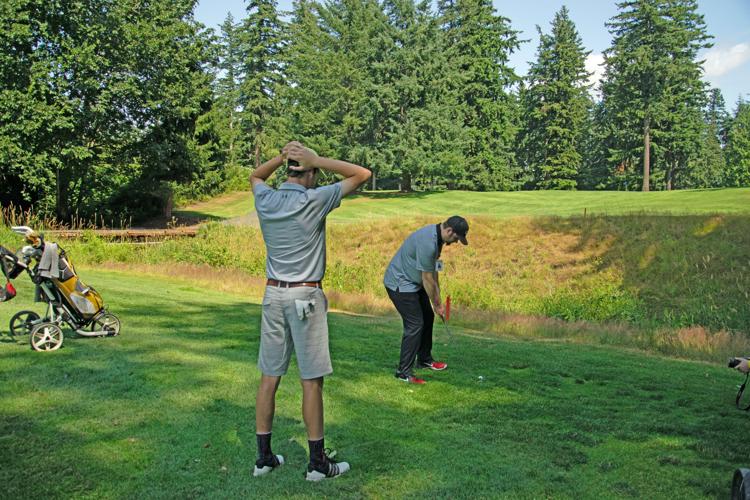 He's been playing competitively since he was 8 years old and has now competed in 28 junior golf tourneys, advancing to state all six years.
After capturing state, Jordan has spent his summer playing in Washington Junior Golf Association tournaments. The association has 1,052 members and Jordan plays against the best 14- and 15-year-olds in the state.
He's placed second in both tournaments he's been in this summer, losing only to the kid who won junior golf state last year. Playing against kids who go to 4A and 3A schools is what's helped improve his game, he said.
He's looking to further elevate his skill level by competing in the Bellingham Amateur on Aug. 31 and Sept. 1. It will be the first time he's ever played against adults in a tournament.
"It's always fun to play against people older than you," Jordan said.
Before that, Jordan's next event is the Washington Junior Golf Association state tournament on July 30 in DuPont. The highest he's ever placed in it is ninth.
After competing against him first-hand, I wouldn't be surprised if he adds a junior golf state title to his resume.