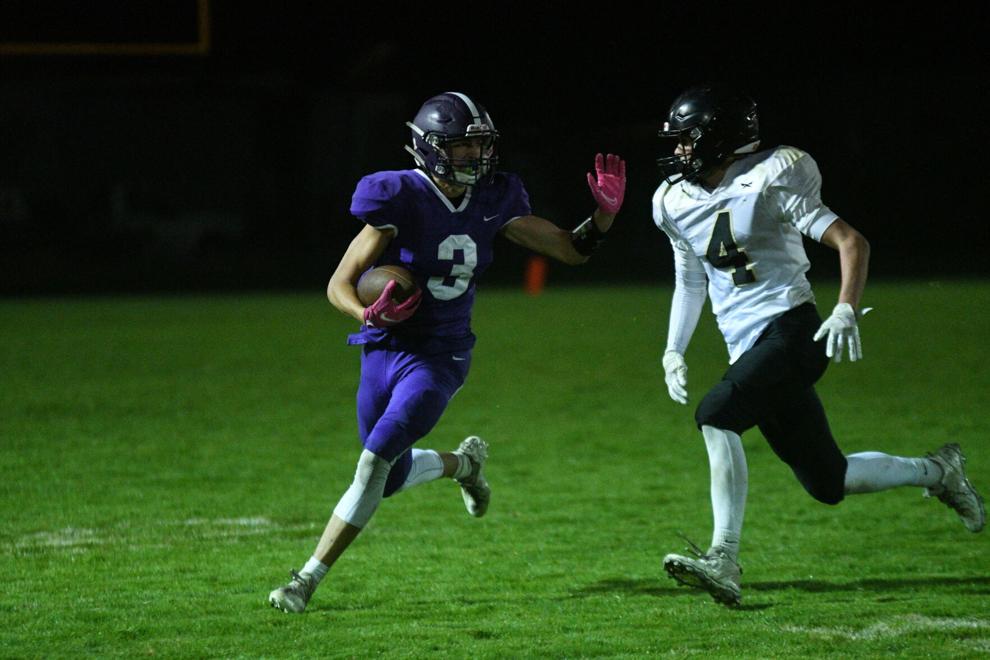 Nooksack Valley moves to 3-2 with 54-6 victory
LAUREL – Once the Pioneers got rolling, the wheels kept on turning.
Nooksack Valley's backfield tandem was unstoppable on Friday night en route to a 54-6 victory over Meridian.
The Pioneers now move to 3-2 overall (1-0, league) as Meridian falls to 3-2 (0-1, league).
Sophomore quarterback Joseph Brown and senior running back Jordan Silva combined for seven total touchdowns on the evening. The duo had a hand in all but one of the Pioneers' touchdowns.
"The past couple weeks we have wanted [Joseph] to run the ball when it was open," said Craig Bartl Nooksack Valley's head coach. "When he does that, it creates a different – the defense has to respect that a little more."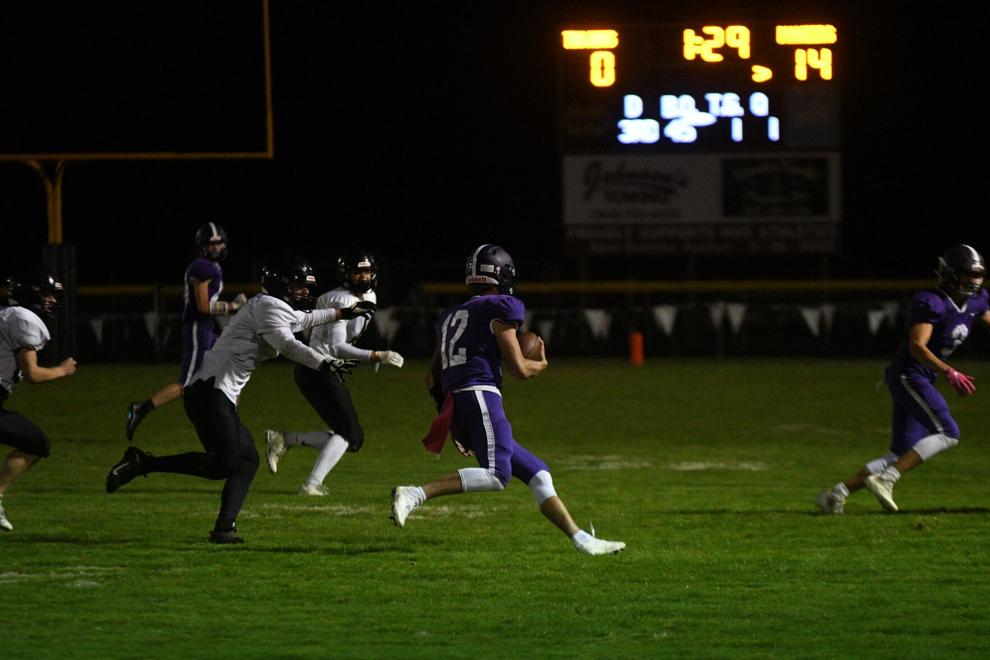 Brown threw for three and picked up two more on the ground. The two rushing scores came in the first quarter alone. Silva dominated the game whenever Brown wasn't, crossing the goal line on the ground twice and catching one from his quarterback.
Silva said the team's time spent growing closer over the summer is beginning to show.
"We're all really great friends and we all just trust each other, that's the biggest thing honestly," he said. "We see the other teams; they're getting down on each other. That's been a problem in the past for Nooksack and we just didn't want to bring that back."
Brown echoed Silva's statement. This Nooksack Valley team relies on one another to do their jobs each snap.
"It's a big trust thing," Brown said. "We trust in our teammates; we trusted the plays and we gave it our all."
On the Pioneers' first drive of the game, Brown got Nooksack Valley going with 25-yard scamper into the end zone. It didn't matter how many hands were trying to grab at the No. 12 on his back.
Meridian was hampered early, turning the ball over on downs twice in the first quarter. The Pioneers capitalized off both turnovers, holding a 21-0 lead just over a minute into the second period of play.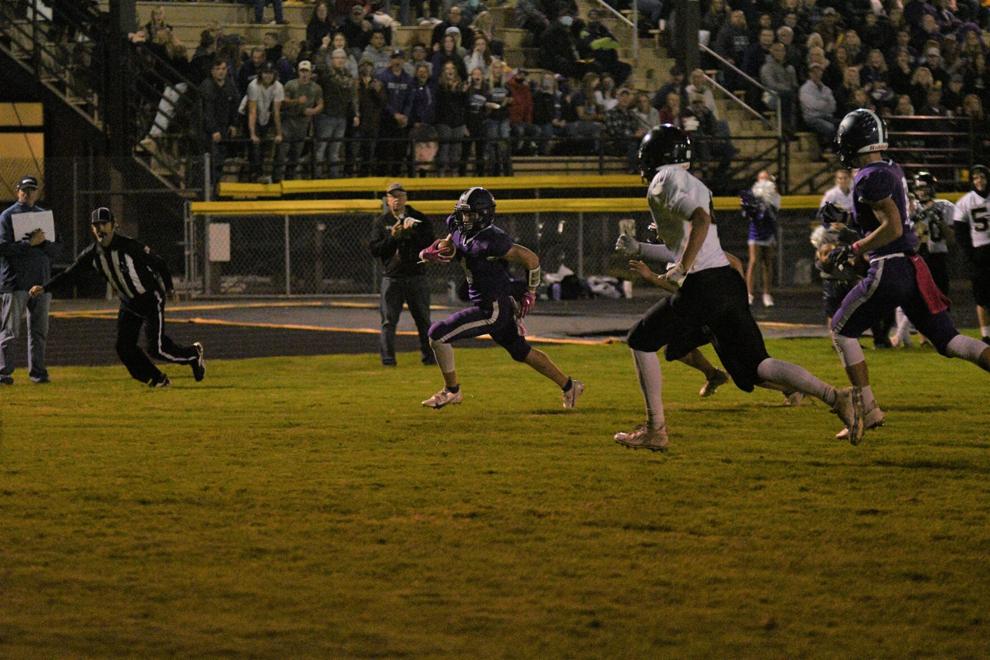 A third first-half turnover by the Trojans set Nooksack Valley up with favorable field position. Brown found senior wide receiver Dawson Kimball a couple of players later for a 12-yard touchdown strike.
The Trojans got on the board the following drive, as senior quarterback Tucker Harrison ran it in from 15 yards out. Meridian missed the point after attempt, making it 28-6 going into halftime.
Nooksack Valley didn't lose any momentum after the mid-break.
On the first play of the third quarter, Silva took off on a 45-yard run that ended with him striding into the end zone. The Pioneers did, however, miss the extra point attempt. It was 34-6.
Meridian was unable to get any more offense going. Brown picked up his third rushing touchdown, but the Trojans blocked the point after attempt.
Pioneers senior Caleb Kingma helped Brown cap off his five-touchdown evening, catching an 11-yard touchdown to put Nooksack Valley up 47-6.
In the fourth quarter, Bartl sent in freshman quarterback Colton Lentz to get some snaps under center. Lentz took off for a 55-yard run down the sideline to put the ball inside the 10-yard line.
The freshman got to run it into the end zone himself, capping off Nooksack Valley's evening of offense.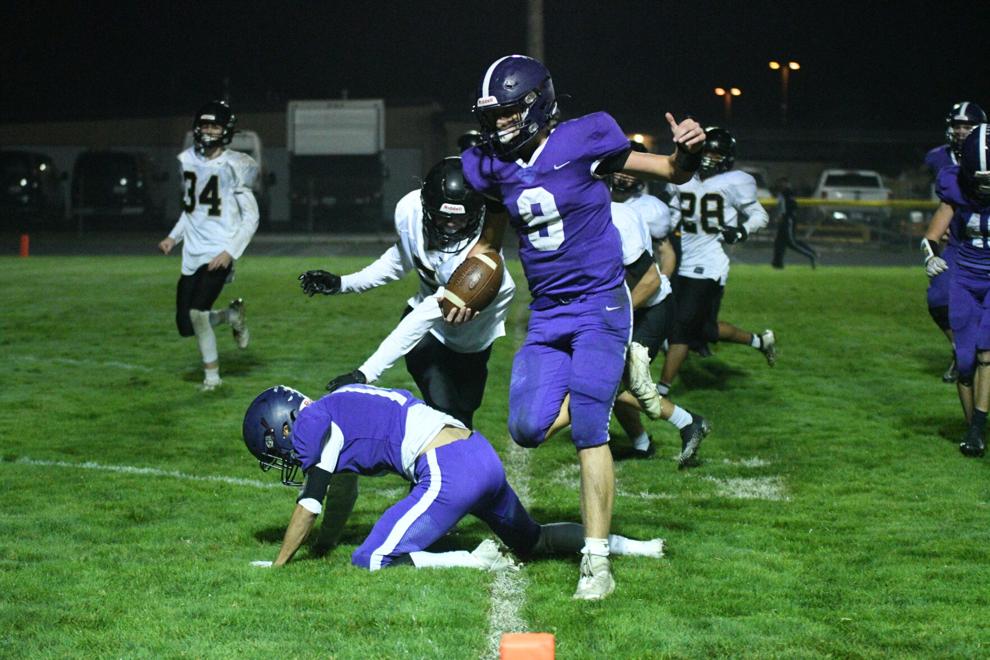 "We're still a relatively young team, so we're still learning. This is a big step for us," Bartl said. "I think there's a lot we can still learn from this."
Nooksack Valley will enter their second straight Northwest Conference league match-up next week against Mount Baker on Friday, Oct. 8.
Patrick Ames, the Trojans' head coach, said it was difficult for his young team to turn things around after the Pioneers broke out to an early lead.
"I would say that's a real good indication of our youth," Ames said. "When most of your guys are kind of untested under the Friday night lights it's hard to turn the tide when the momentum has been so quickly established by a team like that. They [Nooksack Valley] looked as great tonight as we've seen them play, they came out and they were ready."
Meridian's contest with Lynden Christian next week was cancelled due to concerns of a potential COVID-19 outbreak within the latter's schools. They will instead travel to Coupeville to make up for it on Saturday, Oct. 9.