Lyncs still in play for No. 1 seed in NWC 1A
LYNDEN — The regular season for boys soccer is in its final week, yet when it comes to the postseason picture, there is still plenty left to play for as local 1A Northwest Conference teams battle for playoff positioning. 
On Saturday at Bender Fields, Lynden Christian (4-8-2, 4-6-1 NWC) picked up a huge 3-2 victory over 1A league foe Mount Baker (2-9-2, 2-8-1 NWC). 
Also coming off a 4-0 win over Ferndale on Thursday, the Lyncs entered Tuesday's match against Blaine (see www.lyndentribune.com for results) in position to capture the No. 1 seed out of the NWC 1A entering the playoffs, although they were locked in a tie with Meridian (7-6-1, 4-6-1).
The top three teams out of the league will advance to the 1A District Tournament next week. 
"We're close to playing our best (soccer of the season)," said Lynden Christian head coach Brent DeRuyter following Saturday's game. "We've learned the hard way you can't take a day off, whether in training or in matches. Moving forward going into the end of the regular season, I think we'll be ready."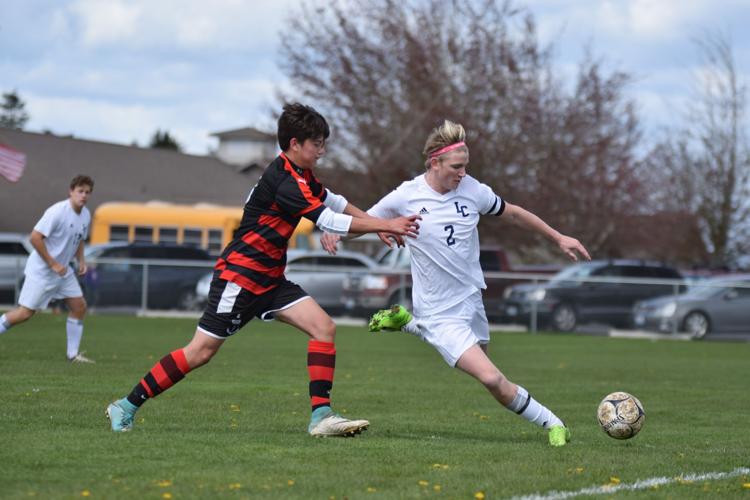 Meridian lost to Blaine 2-1 on Friday, and while the Trojans own the head-to-head tiebreaker over LC by virtue of their 2-0 win on April 12, the Lyncs likely would have the edge for first place if they beat the Borderites on Tuesday. 
Meridian faced league stronghold Sehome (9-3-1, 8-2-0) on Tuesday and finishes the regular season against another strong team in Anacortes (9-2-2, 7-2-1) at home at 4:30 p.m. Thursday. 
Lynden Christian wraps up the regular season at Bender against Sehome at 4:30 p.m. Thursday. Baker, likely to earn the NWC No. 3 seed, played Squalicum (12-1-0, 9-1-0) on Tuesday and finishes on the road against Bellingham (11-0-1, 10-0-0) at 7 p.m. Thursday. 
The district tournament qualifies teams for the 1A Bi-District Tournament on May 8-12. The top three teams in bi-districts advance to the 1A state tourney, running May 14-26. 
Against the Mountaineers, the Lyncs controlled things for much of the first half. In the 12th minute, senior Carson Janzen scored the first goal of the game on an assist from junior Blake DeRuyter. Mount Baker soon responded with a goal from senior Alvaro Bravo-Roldan to knot things at 1-1. 
Next, Lynden Christian was granted a penalty kick, and LC senior Derek Kamena converted the golden opportunity for a 2-1 lead in the 28th minute. Then came the play of the game when Janzen took the ball down the field and delivered a perfect pass to junior Jalen Apol, who finished the play to give LC the momentum and a 3-1 halfitme lead.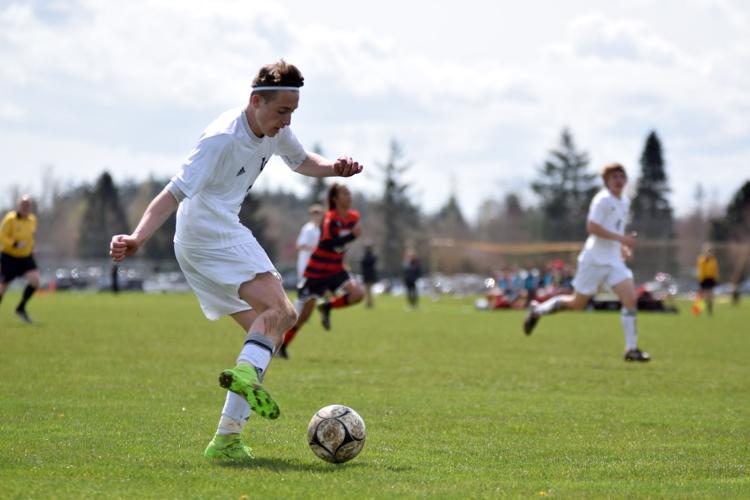 "I saw the gaps in (Baker's) back line; the whole first half we were kind of picking them apart," Janzen said of the play. "I just saw (Jalen) break free and he's fast, so I just played it through and let him do the rest. Props to him for an awesome finish." 
"That was a great play, perfect pass from Carson," added coach DeRuyter. "That kind of gave us an extra push at the end of the half. When you can string two together before the end of the half, that's good momentum." 
Things slowed down for the Lyncs in the second half as they didn't manage another goal. Late in the game, Mount Baker junior Clover Martin cut LC's lead in half at 3-2, but there wasn't much time left and Lynden Christian was able to prevail.
"We had a great first half, but I felt like we didn't compete as well in the second half," said coach DeRuyter, who was still more than happy with the final result. "We got away from our game plan and just got into a "lets play not to lose" mindset instead of continuing to attack." 
While the Lyncs didn't play a complete game on Saturday, Janzen was still encouraged by the way the team is playing at a critical time of the season.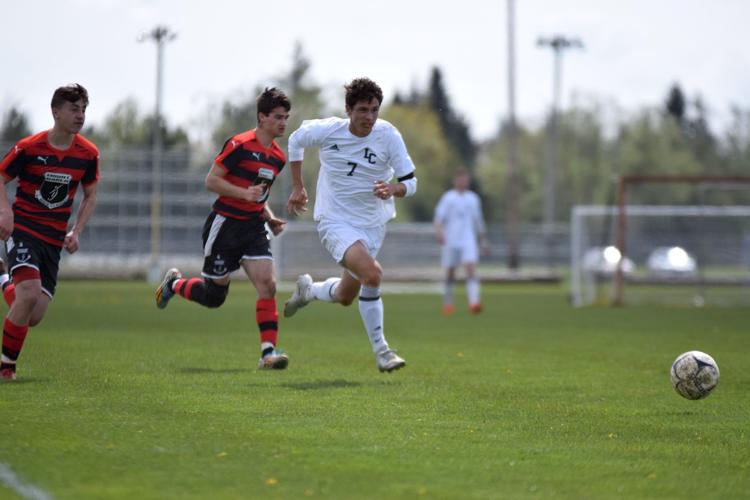 "We're finally coming together," the senior said. "I feel like we play our best when we play as a team, and that's what we've been working on."
The Lynden boys soccer team picked up back-to-back victories last week as the Lions (6-3-4, 4-3-3 Northwest Conference) improved their position for the postseason. 
On Wednesday, April 18, Lynden got past Ferndale 2-0 at Phillips 66 Soccer Park as freshman Ian McCrory and sophomore Austin Anderson netted goals for the Lions. LHS came back the next day with a 2-1 win over Nooksack Valley at Bender Field. McCrory and junior Ethan Jamison scored against the Pioneers. 
Lynden sat in eighth place in the 2A District 1/2 RPI standings entering its game against Lakewood on Tuesday (see www.lyndentribune.com for results). The top 12 teams in the standings qualify for the district tournament, May 3-12.
The Lions finish their regular season with games at Sedro-Woolley (7-4-2, 5-4-1 NWC) on Thursday and at Bellingham (11-0-1, 10-0-0) on Monday. 
Also on Thursday, Lynden Christian defeated Ferndale 4-0. Mount Baker fell 10-2 to Sedro-Woolley on the road. 
Friday produced a close game between Meridian and Blaine as the Borderites pulled out a 2-1 victory. The Trojans bounced back with a 3-0 win over Nooksack Valley on Saturday. Meridian got goals from sophomores Kevin Galiano and Trent Martin and junior Carlos Padila-Solis, and sophomore goalkeeper Cameron Webster produced the shutout.