Jason Lee rushes for 148 yards and two scores
BELLINGHAM ­— Mount Baker football heard the doubters, could feel the question marks hanging over their program before the season started
How would Ron Lepper's Mounties, perennial state contenders, maintain the same level of success with just three starters back for the 2019 season?
"Just overall effort," Lepper said. "Overall guys doing what we've asked them to do. I told them that. We're still playing, whether we've got three guys back or 15. We're still going to play Mount Baker style football. The kids have responded that way."
Mount Baker and its patented old-school, smash-mouth-style football answered the call Saturday as the No. 5 Mounties cruised to a 36-21 victory over No. 12 Hoquiam at Civic Field, a game much more one-sided than the score indicates.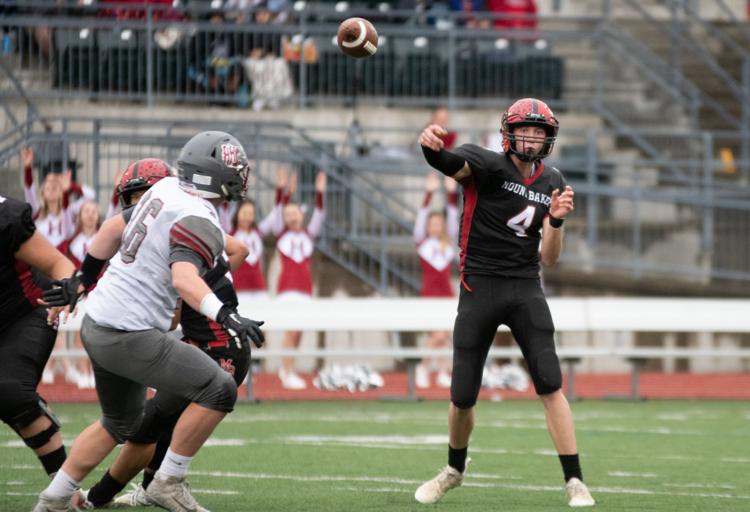 It's Baker's second-straight quarterfinal appearance and seventh in the last eight years.
"It's feels really good getting there for the second consecutive year but it'll feel even better if we can push forward to the semis, and maybe even the championship," said Baker senior Jason Lee, who ran for 148 yards and two TDs on 18 carries.
They wouldn't be denied on Saturday against the Grizzlies.
The Mounties (10-1) dominated the trenches like they've done all year, controlling the line of scrimmage and opening up holes for Baker ball carriers, who ran for four touchdowns on the day.
Baker built a 20-0 lead midway through the second quarter on a one-yard Mason Jacoby QB sneak, a Jacoby to Ayden Rodriguez 22-yard TD reception and Jason Lee's one-yard TD plunge.
Hoquiam's first score was a bobbled pass in double coverage that bounced off a Baker defender's hands, straight into the air and right into the Grizzlies' receiver's hands for a 44-yard TD. The Grizzlies other two scores came in the final two minutes against Baker's JV defense.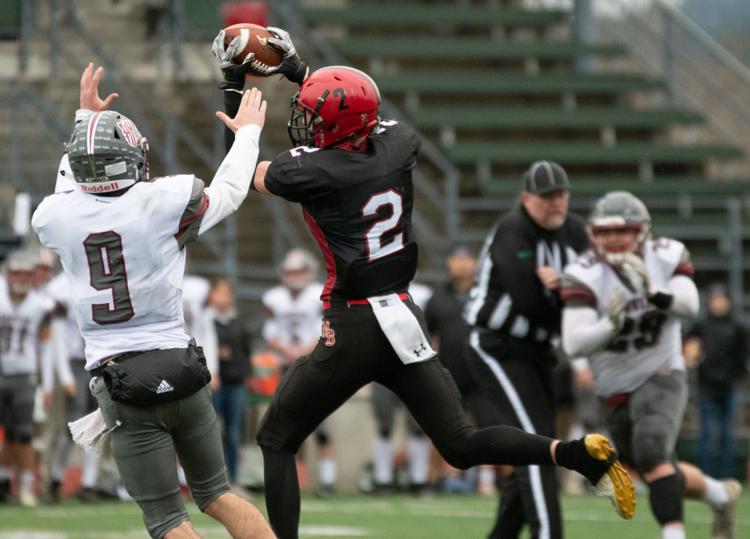 By then Baker had already dropped 36 on the Grizzlies, highlighted by Lee's rushing performance, along with Toby Jefferson's 79 yards rushing and one TD on 12 carries, according to Whatcom Preps.
The Mounties were nearly as impressive through the air as Jacoby went 10-of-13 passing for 141 yards and one TD. Rodriguez brought down five catches for 43 yards and a score, while Garrett Smith had three catches for 80 yards.
But it was the Mounties' punishing and unforgiving defense that carried Baker to victory.
"That's what it's been all year long," Lepper said. "Our defense is what we've leaned on. We know our defense is going to give us a chance at the end of the game."
A big part of that ferociousness on defense is fueled by the preseason naysayers, Jacoby said.
"We all bonded over that," Jacoby said. "Everybody thought we weren't going to be the same team as we were in the past. That really brought us together."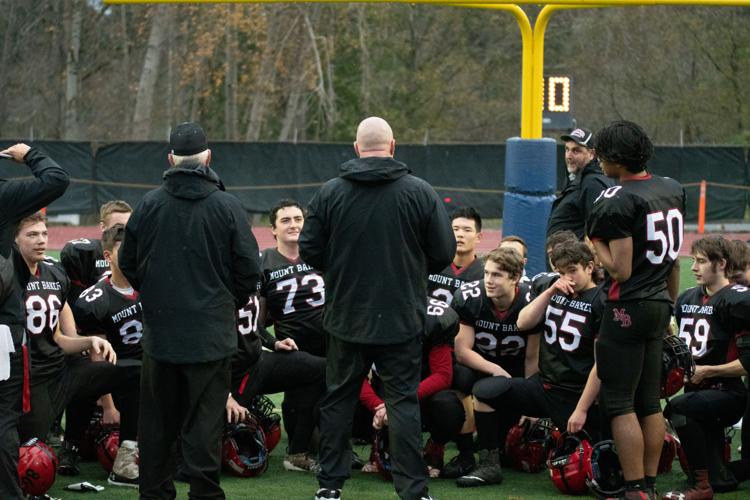 That, paired with seniors and upperclassmen who have stepped up to fill leadership roles, Lee said, has helped form Baker's success this year.
"When we go to team dinners and spend time together, there's nothing negative about our program anymore," Lee said. "We all love each other and we all have good times together outside of football. That's what bonds a team."
Mount Baker (10-1) now faces 13-seed Connell (9-3) in the quarterfinals, 17-7 upset winners over 4-seed La Center on Saturday. The bracket is set up so that Connell gets La Center's No. 4 seed with the victory, allowing them to host and choose the quarterfinal site against Baker.
"A lot of people might not believe this, but for us it doesn't matter if we win or lose," Lepper said. "And this is honest. I wouldn't have said this 20 years ago about winning, a young coach and stuff.
"As long as we play our game and give our best effort, it'll sting if we don't get it done, but we can look each other in the eye and feel good about our effort. That's the most important thing for us."