Lynden Christian holds off Deer Park for 14-7 semifinal victory
EVERETT  — Lynden Christian football coach Dan Kaemingk couldn't figure out what that tapping noise was as his team began exiting the locker room to start their 1A state semifinal matchup against Deer Park. Then he saw the sign.
A gold placard above the locker room doorway read "Family," and as each LC player walked out they began tapping the sign with their hand. It was coincidental; the Lyncs always break out of team huddles at practice by yelling "Family!"
"That was crazy that it was right there as we walked out," Kaemingk said. "I kept thinking, 'What's that noise?' It was pretty ironic."
It took a family effort for Lynden Christian to overcome previously-unbeaten Deer Park in a 14-7 defensive battle Saturday in Everett, vaulting the Lyncs into the state title game for the first time in 22 years.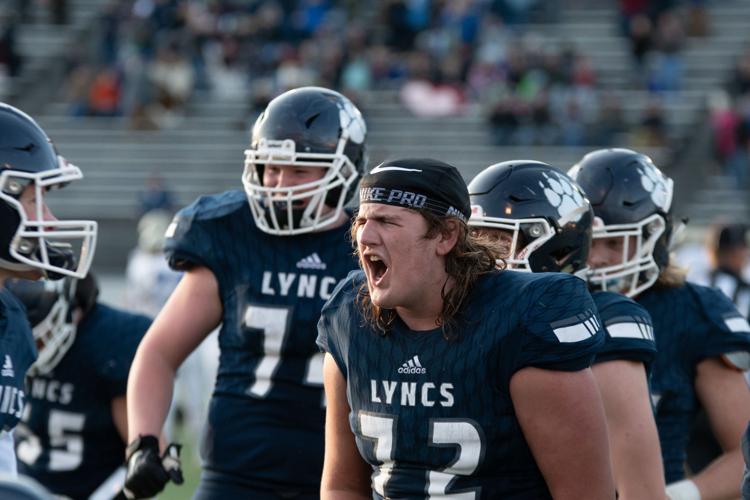 The victory sets up a showdown between the Lyncs (11-1) and undefeated, top-ranked Royal (13-0) at noon on Saturday at Harry E. Lang Stadium in Lakewood. The Knights walloped Connell 42-0 in the semifinals, a team that beat Mount Baker 14-9 in the quarterfinals.
It's LC's (11-1) fourth state title appearance in school history (1986, 1993, 1997, 2019) and third under Kaemingk, who first took over as head coach in 1990.
"This is what you dream about, ever since elementary school," senior quarterback Trajan Schouten said. "We knew this team had what it took to do it. It feels awesome to actually see it come to reality."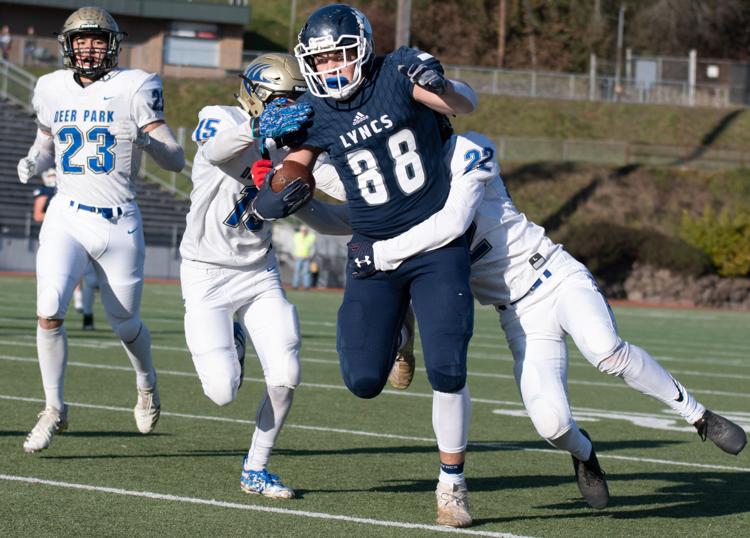 Schouten and the rest of the seniors have been helping revamp a Lyncs' program that took a downturn in the 2000s. This is now year four of the rebuilding process under Kaemingk, who returned to the helm after a five-year haitus.
He was head coach from 1990 to 2010 then took two years away from the team before returning as defensive coordinator for three seasons. He was rehired as head coach in 2016.
Last season marked the first big turnaround for the Lyncs as they advanced to the state semifinals for the first time since 2001. Now they've won back-to-back co-league championships and are looking to capture their second state title in school history and first since 1997.
"It's a little bit of trying to get the program back to where we had been for so long," Kaemingk said. "I'm so proud of these kids and coaches for taking on a really tough challenge and weathering those first two years as we tried to change culture."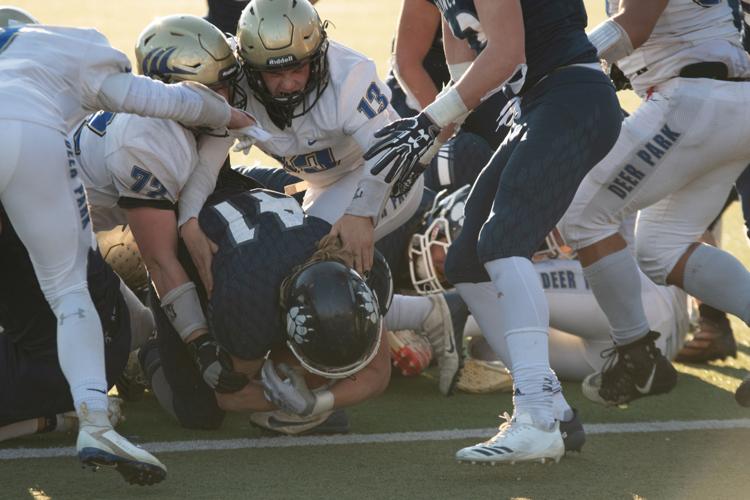 After falling 27-14 to Newport in last year's state semifinal, the Lyncs were determined to generate a different outcome this time around.
It was far from an easy victory. Each time it looked like LC would go up by two scores a setback appeared. But each stumbling block only seemed to strengthen the Lyncs as the game wore on.
Nothing fazed them. Not the 11-1 disparity on penalty calls; not the turnovers, one of which led to Deer Park's only score; and not the 51-yard touchdown that got called back and would have made it a two-score game.
LC scored on its first drive of the game with Schouten's 11-yard touchdown pass to a wide-open Zach Sipma just three minutes into the game.
Early in the second, Shouten hit Jackson Apol down the sideline for a 51-yard TD that would have made it 13-0, but it was called back due to an ineligible receiver downfield.
Deer Park's (10-1) lone score came on the next play when Ryan Durgeloh jumped a route and took it 42 yards to the house.
"I had to ruin [the defense's] shutout for them," Schouten said jokingly.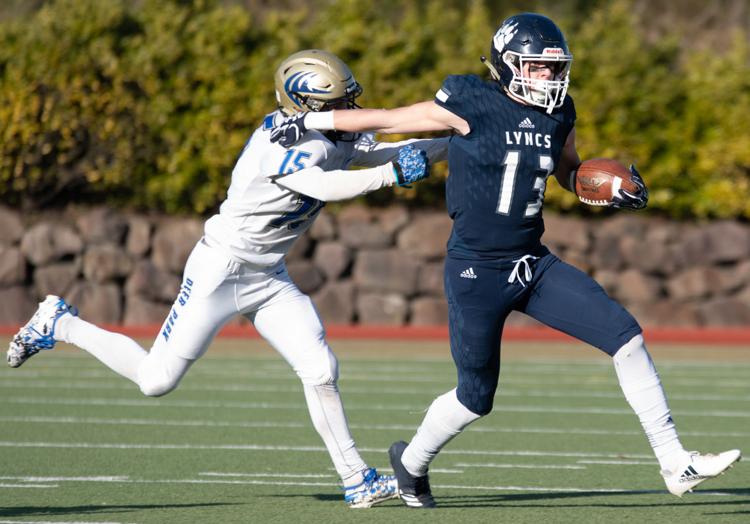 That's all the Stags would get as LC's defense played lights out. If not for a plague of penalties on both sides of the ball it easily could have ended 21-0 in the Lyncs favor.
"It was a tough halftime because they were all so frustrated," Kaemingk said. "They really needed a reset. All I said to them was, 'Last year we were sitting in that locker room down 14-0 against Newport. If I had told you in the exit interviews last year that we would get back to the semifinals and be 7-7 at halftime, I think everybody takes that.'"
The halftime bravado sparked a second-half surge.
LC forced a Deer Park punt on the opening drive of the second half, then pressed downfield for an 89-yard scoring drive, culminating in senior running back Easton Stremler's 2-yard touchdown run with 4:06 left in the third quarter that proved to be the winning score.
Deer Park started their final drive on the Lyncs' 25 with 2:41 to play, driving down to the 10-yard line before senior Jackson Apol came down with an interception at the sidelines with 1:40 remaining to the seal the win.
"It was perseverance," Schouten said. "We always knew we were a second-half team. It came true today."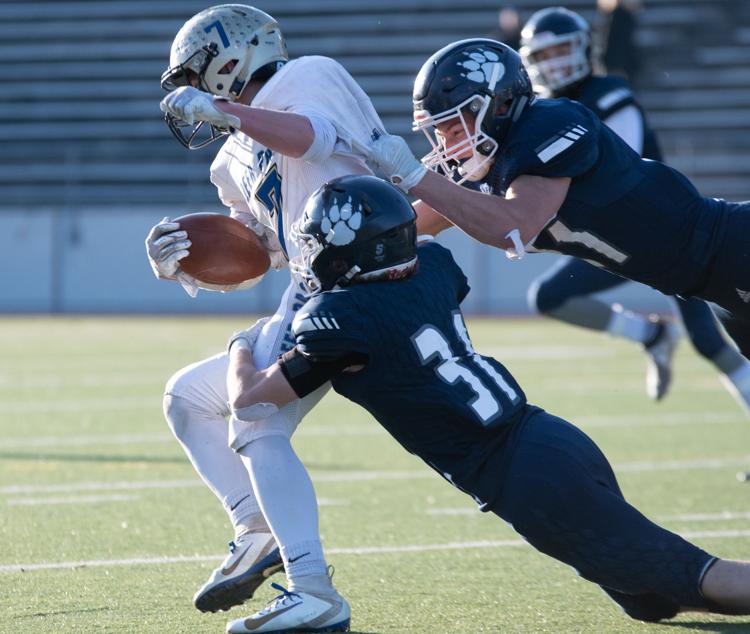 Kaemingk credits last year's seniors for setting a precedent for this year's seniors and showing them what it takes to succeed at this level. Most of that hard work came in the weight room.
"I give those guys a lot of credit for showing these guys how to do it, and I give last year's juniors credit for watching and then taking it to this level," Kaemingk said.
It's Lynden Christian's seventh state semifinal under Kaemingk. They lost the state title game in 1993 in overtime and won state in 1997. The Lyncs' last semifinal appearance before last year came in 2001.
Kaemingk said last year's semifinal match prepared the team for the adversity they faced Saturday.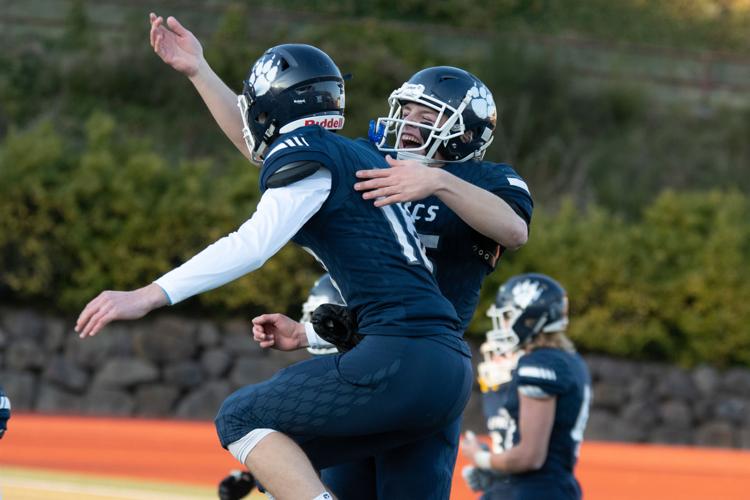 "This year's just different," Kaemingk said. "We were in this environment last year and pinching ourselves. This year we're on a mission. We know what this is about. We know what we need to do. We're not intimidated by the moment and now we're going to go and play for a state championship."
And it's been rewarding to see the hard work begin to pay off, Schouten said.
"We've been on a roll lately and we hope we can carry it on and beat [Royal] in the championship," Schouten said. "That's the goal. Like coach said in the huddle, 'It's one thing to get there, it's another to win it.'"