Lynden Christian junior's triumphs are generated by countless hours of practice
LYNDEN ­— Liv King's rise to success on the volleyball court is no accident.
King, a junior outside hitter for Lynden Christian, plays much taller than her 5-foot-7 frame. It helps that her 22-inch vertical leap allows her to soar above the net and punish defenders with unreturnable missiles.
The potent swing of her right arm has guided her to lead Lyncs this season in kills (212), serving percentage (97.4) and digs (200).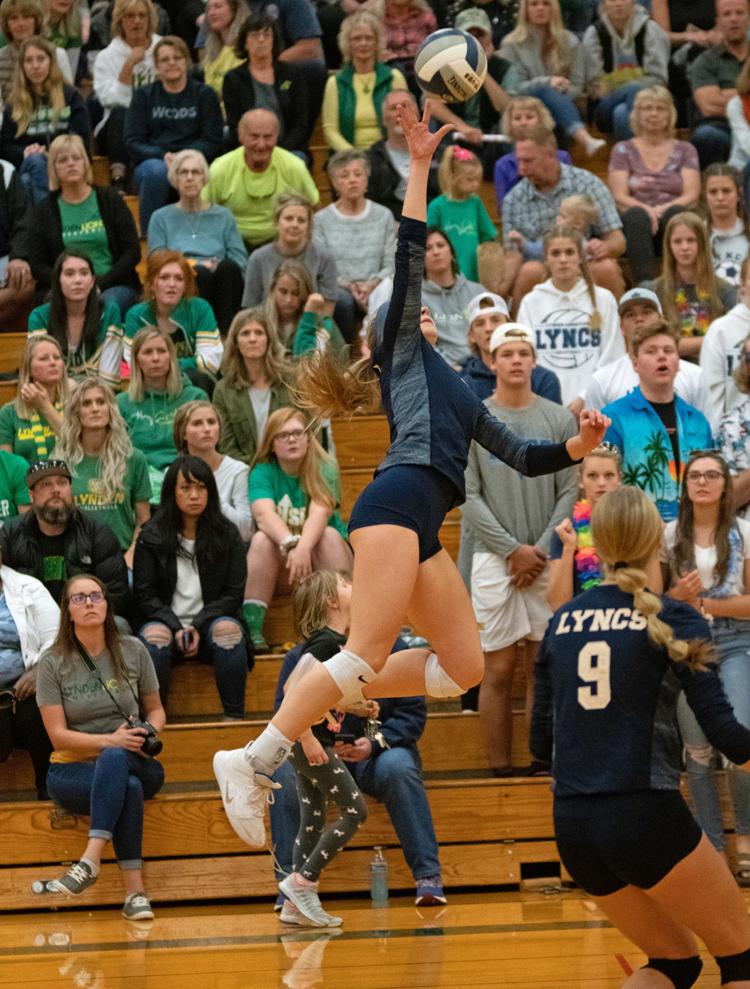 Those hops helped her finish third on the kills list (210) as a sophomore for last year's state championship team, a squad that featured four first-team all-state selections.
None of that came naturally — or easy — for the 16-year-old dynamo striker.
It was wrought from over 300 hours of practice, eight months out of the year, for the last seven years. Add in another two-to-three hours of practice, five days a week for three months each year, along with weight lifting, cardio and plyometric training, and one gets a glimpse at what it takes to be a high-level prep volleyball athlete in today's age.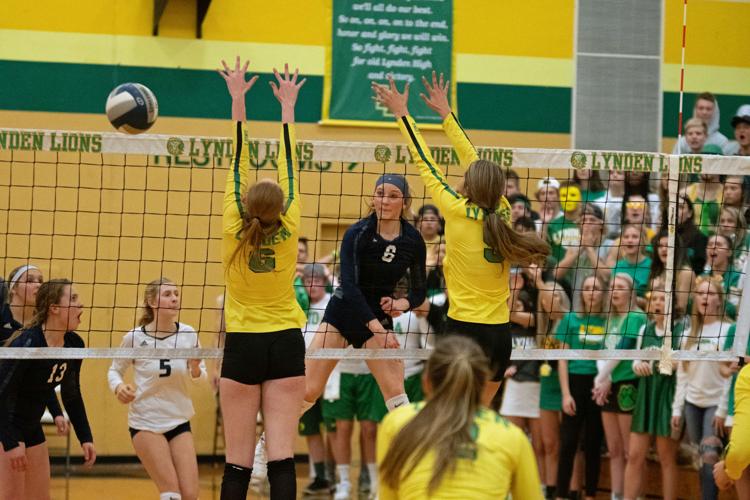 Volleyball has been the major focus of her life since she was 8 years old, when she began helping out at practices for the Lynden Youth Sports team that her mom, Corey King, coached and her older sister, Emilie King, played for.
It helped kickstart her love for the sport.
Two years later she joined an LYS team, then went on to play for the Lynden Volleyball Club from fifth through eighth grades. From fifth grade on, she has played volleyball 11 months out of every year.
King also excelled at basketball, playing for AAU travel teams, but by her high school freshman year she decided to drop basketball and devote her sole attention to volleyball. 
Her goal that year was to suit up for varsity, hopefully travel with the team and ride the bench so she could soak up as much knowledge as possible. She did more than that. She ended up earning a spot in the varsity rotation in the back row early in the season. 
She was riding high, excited to be contributing to a team that would go on to place third at state that year. But her joy would be interrupted. 
When Lynden Christian coach Kim Grycel tweaked the rotation, King suddenly lost her defensive spot in the rotation. She didn't know it at the time, but she would spend the rest of the season primarily on the bench.
"I was bummed for a little bit, but I was just happy to be there," King said. "I wanted what was best for the team. And it worked out for the best."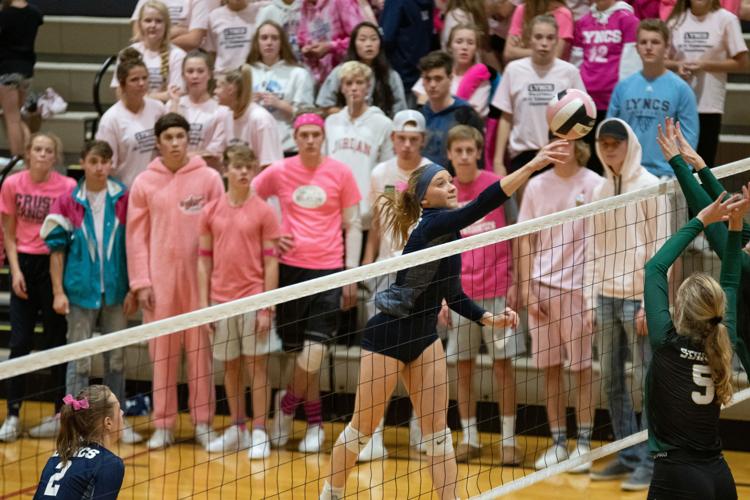 It did. Eventually. Reserved to a new role, King learned to be a vocal leader from the bench and was praised by the seniors for being their No. 1 hype man.
"You don't have to be on the court to be a big part of the team," King said.  "It taught me to be happy with what you have."
And while she couldn't contribute physically in the games, she began using her athleticism on the court in practice. She put everything she had into practices, pushing the starters to give them better competition. If she couldn't help them in-game, she would in their training.
"If I'm not trying, then they're not getting better, and that's not helping anyone," King said.
She turned her dose of humility into motivation. It propelled her to claim a spot in the starting rotation the following year in fall 2018.
She finished third on the team in kills, helping the Lyncs to their 22nd straight state playoff appearance and third state title in five years. Not bad for a first-year starter competing with a group of six seniors who had played together since they were 12 years old.
Those seniors, Liv's sister Emilie, along with Kelsey Otter, Sofie Fransen, Gracelyn Weg, Torina Hommes and Jacci Plenkovich, instead of balking at the idea of an underclassman taking minutes away from them, accepted King.
"I never felt like any of them doubted me just because I was younger," King said.
Even so, it wasn't without challenges.
The upperclassmen had never outright won their own state title as starters, and had come close with the third-place finish. So King's new role as an outside hitter had some added weight to it.
"It was a lot of pressure," King said. "I wanted that season to be great for the seniors, and I knew they wanted to win the state championship so bad."
It helps that King has played year-round for seven straight years. She began playing for travel teams as a freshman, when she joined Skagit Island Volleyball Academy's U-18 club in 2017. Last year she was with most of the Lyncs' high school players on a U-17 club team.
Playing 11 months out of the year starts with high school at the end of August to mid-November. Then is a week of club tryouts, followed by club ball from mid-November to May. June is back to summer ball with the Lyncs, then finally a three-to-four-week break from the end of July to the end of August before school ball starts again.
"It is my life," King said. "I haven't gotten sick of it yet."
What she loves most about the game is the camaraderie. Volleyball players have to learn every spot on the court. They're always next to somebody different in the rotation, and are forced to figure out how their teammates play. That helped King learn about her teammates.
"Everyone has their part and when everyone commits and everyone succeeds, it's the greatest feeling ever," King said. "If we win, that means the whole team did their part. So we can all celebrate together."
The sport has brought her lasting relationships from around Whatcom County and even beyond, from playing on different club teams. From fifth to eighth grade she played with all of Lynden High School's current varsity team on the Lynden Volleyball Club.
"That's what volleyball does," King said. "It's a really great sport to create friendships with your teammates, not just play with them."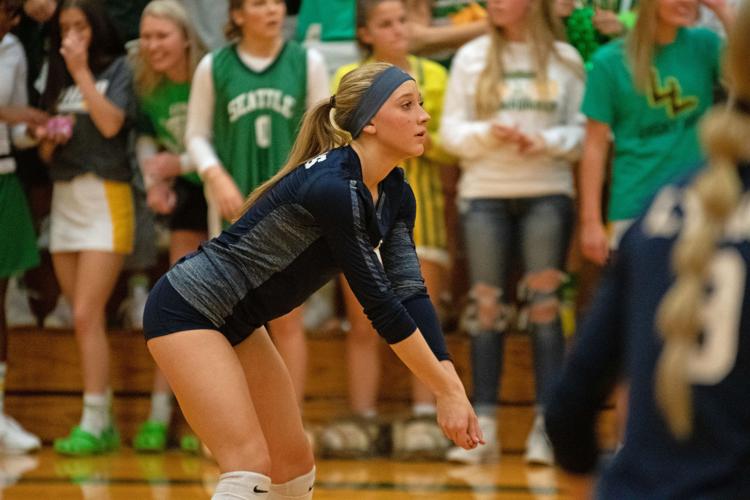 And her parents have motivated her to keep reaching higher and not settle for each plateau she's hit. Her dad, Jon King, and mom, Corey, have dedicated their time and money to supporting Liv's volleyball pursuit. They've traveled to Oregon and Las Vegas to watch her play in tourneys, and have driven her on hour-long trips to club practices. 
"My parents and family have always been there for me and made sacrifices," King said. "I'm really grateful for that."
She hopes to continue her career into college and has been looking at prices of schools. No college coaches have reached out to her yet, but recruiting of high school juniors just opened up in September.
"I'd love to keep playing after high school," King said.
Right now, she's just focused on this season. As defending champs, she and the Lyncs face a little added pressure. She and same-named senior Liv Mellema are the only returners with considerable varsity experience, and the team suffered an early-season loss to Burlington.
But the Lyncs hit their groove about three weeks ago with an upset win over 2018's Class 2A runner-up Lynden, then two days later had another upset over Ferndale, Class 3A's fourth-place team at state last year.
With a 7-3 overall and 7-2 Northwest Conference record, the Lyncs have just a few regular-season matches left before district play starts on Oct. 30. Then the Lyncs begin their road, hopefully, back to state and another trophy, King said.
"We just have to believe in each other, have confidence and believe in ourselves," King said.