Baker holds its own fate; all classifications on own track
WHATCOM — The regular-season schedules for Class 3A and 2A football have come to an end, while the four 1A teams have one final week remaining of battling each other before district playoffs begin.
Here is a look at the postseason picture for each classification in the county:
Mount Baker holds its fate in its own hands. The Mounties (7-1, 4-1 NWC 1A) can claim their first 1A NWC title since 2016 with a victory over Nooksack Valley (2-6, 0-5 NWC 1A) in both teams' regular-season finale at 7 p.m. Friday at NVHS.
Baker and Lynden Christian (6-1, 4-1 NWC 1A) are both tied at the top with one league loss apiece (and they split their head-to-head games), but the Mounties won the preseason tiebreaker draw over the Lyncs back in June. LC's game versus Meridian is on Thursday, Oct. 31. In the event that both Baker beats Nooksack and LC defeats Meridian (2-6, 2-3 NWC 1A), then Baker will get the No. 1 seed and LC gets the No. 2 seed. If Baker loses and LC wins, then LC gets the No. 1 seed and Baker takes the No. 2 seed.
The Trojans, with three league losses, settle for the third and final 1A NWC spot in the playoffs. They will compete against the 1A North Sound's fourth-place team in a play-in game at 7 p.m. Tuesday, Nov. 5. A victory then would pit the Trojans against the North Sound's top seed at 7 p.m. Saturday, Nov. 9.
Nooksack Valley, with five league losses, has been eliminated from postseason contention.
Wins by Mount Baker and Lynden Christian in their opening district games would send them to state. Meridian needs two straight postseason wins to advance to state.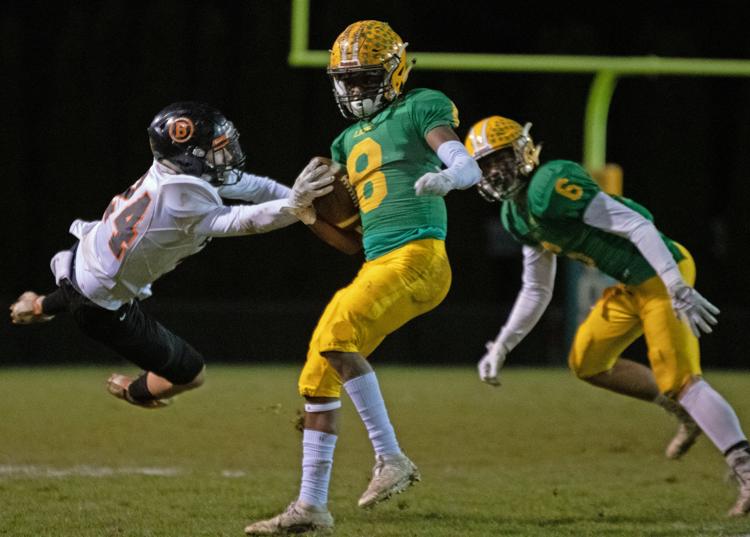 Fourth-ranked Lynden (6-2, 4-1 NWC 2A Sky) staked its second straight Sky division title with a 34-7 win over Blaine last Friday in the regular-season finale. The victory gives the Lions the top seed in the district playoffs and a first-round bye.
Sehome (6-2, 3-0 NWC 2A Lake) won its second consecutive Lake division with a forfeit last Friday from Bellingham, the team they shared the league title with last season. The Mariners get the RPI's No. 2 seed, which gives them the eighth out of nine seeds in the district playoffs. They travel to fifth-seeded Burlington-Edison (1-7, 1-4) to take on the Tigers at  7 p.m. Friday.
All Sky teams — the upper division over Lake —  are guaranteed a spot in the district playoffs and host their first games. Top-seed Lynden, second-seed Lakewood and third-seed Archbishop Murphy all have first-round byes until Nov. 8. 
The first-round games are Sehome at Burlington-Edison, Cedarcrest at Sedro-Woolley and Liberty at Blaine. The three winners of those games will be seeded by coaches from remaining teams and matched against Lynden, Lakewood and Archbishop Murphy in reverse order for Nov. 8. The three winners of those games advance to state.
This is the first time in three years that neither Squalicum nor Ferndale has captured the division title. The Golden Eagles, the Storm and the Arlington Eagles all ended in a three-way tie for second place in the division, with 4-2 records behind first-place Marysville-Pilchuck at 6-0. Based on a preseason draw, Squalicum gets the No. 2 seed, Arlington No. 3 and Ferndale No. 4. 
Both the Storm and Golden Eagles host crossover games against the 3A Wesco South team that holds the same place in their division.
Squalicum (6-2, 4-2 Wesco 3A North) hosts Edmonds-Woodway (5-3, 5-1 Wesco 3A South) at 7 p.m. Friday at Civic Field. Ferndale (4-4, 4-2 Wesco 3A North) hosts Shorecrest (6-2, 4-2 Wesco 3A South) at 7 p.m. Friday.
The winners advance to the Week 10 crossover games on Nov. 8 or 9, and the winners of those matchups will move on to the state playoffs.