Lyncs are the surprise of the tournament, Trojans are right on schedule
The two Whatcom County teams in the 1A state tournament are going to the semifinals. 
One of them is mildly expected, as No. 6 Meridian keeps rolling. The other, not so much. Last-seeded No. 16 Lynden Christian pulled off the upset over No. 1 Overlake and didn't stop there. 
If each win their semifinal matchups, they will go head-to-head in the state championship. Each team last played a week ago in the 1A District 1 tournament that saw Meridian sweep LC.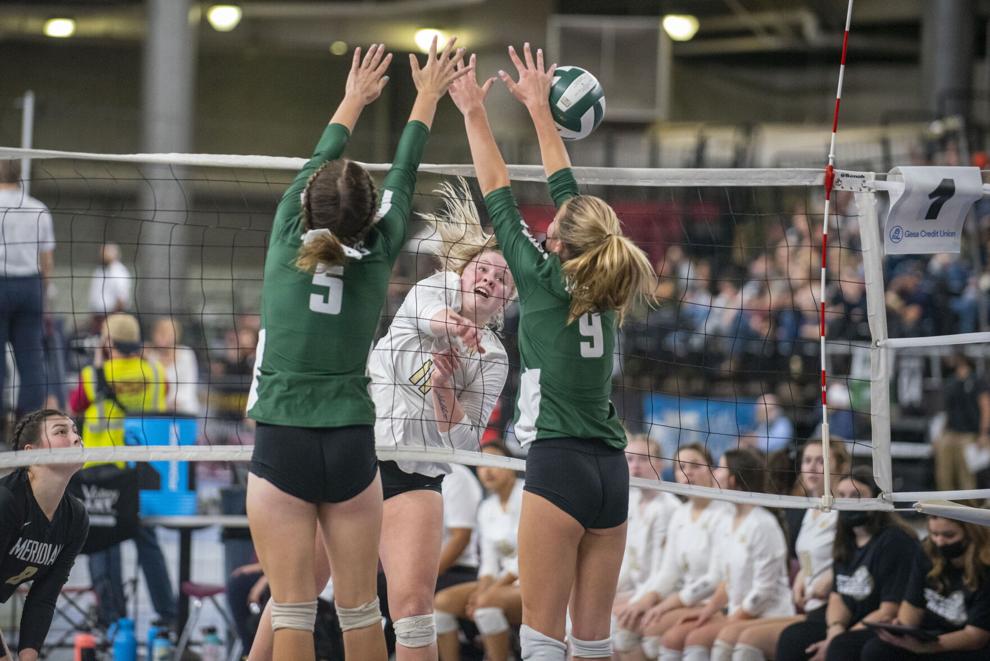 No. 6 Meridian vs. No. 11 Charles Wright
Even after dropping the first set, Meridian stayed the course and emerged victorious.
The Trojans won three straight sets to defeat Charles Wright in the opening round of the 1A state volleyball tournament on Friday afternoon (18-25, 25-17, 25-20, 25-20).
Meridian led the entire second set to even the match at 1-1, getting back on track and displaying their ample talent.
That was just the beginning of an outstanding run.
The lead bounced back and forth during the third set, but Meridian built up a three-point lead and gained a 9-6 advantage.
They built that lead up to four, but a Charles Wright run saw the Trojans trailing 16-15 late. Meridian embarked on a 3-1 run to lead 18-17 and didn't surrender the lead from there.
The Trojans took the third 25-20, taking a 2-1 lead.
Meridian trailed for most of the fourth set. It looked like a fifth set was imminent. However, with Charles Wright leading 16-9 late, the Trojans hit overdrive again en route to a 10-2 run and a 19-18 lead.
They pulled out the fourth set 25-20, and advanced to the quarterfinals.
Trojans junior Hayden Claeys finished with 37 assists, 10 digs and 2 aces, as senior Jolena Hoefer also had a double-double totaling 16 kills, 14 digs, an ace and a block.
Emry Claeys, a sophomore tallied 10 kills (.526 hitting percentage) and a block. The outstanding Claeys trio was rounded out by senior Finnley Claeys who had 8 kills, 24 digs, 4 aces and a block.
Last but certainly not least, senior Skyleigh James had 7 kills (.700 hitting percentage) and a block, as junior Avery Neal totaled 4 aces and 17 digs.
The Trojans were moving on to No. 3 Castle Rock.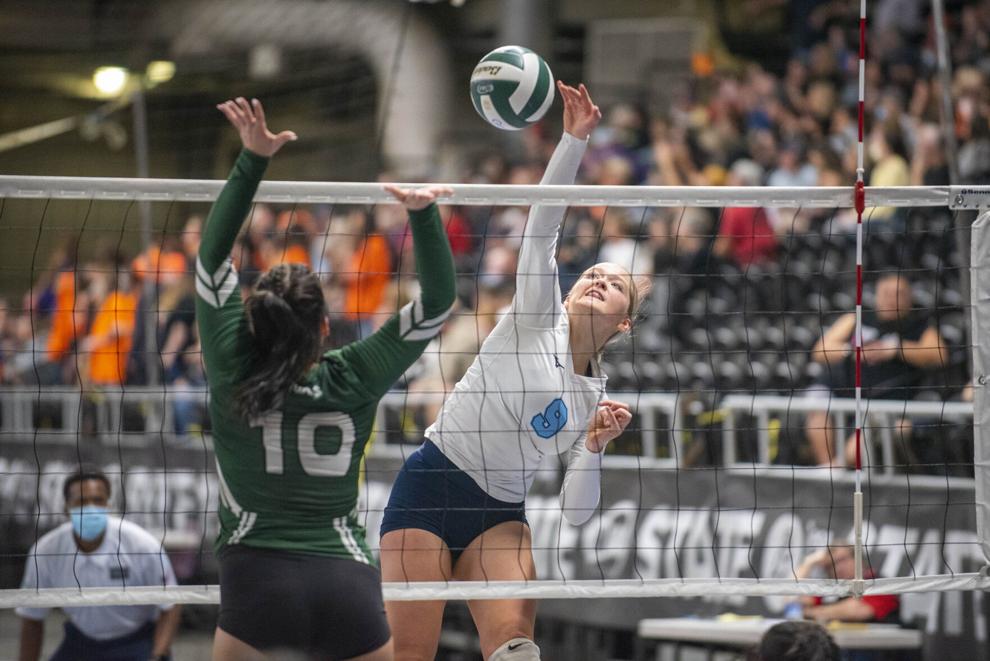 No. 16 Lynden Christian vs. No. 1 Overlake
This was … insane. The Lyncs took a massive upset against top-seeded Overlake to win in four sets (21-25, 27-25, 25-20, 25-23).
That's high school sports for you. A team that went 8-7 can defeat one that is 16-0, purely by wanting it more.
To be clear: Lynden Christian is very talented. They have size, powerful hitters and solid defense. They played regular season matches against great teams, and they are much better than their last-place seed showed.
The first set loss clearly didn't discourage the Lyncs.
LC trailed 4-0 early, but quickly gained a 5-4 advantage after a run. They held that lead the rest of the second, taking a narrow 27-25 victory into the third set.
Simply put, the Lyncs weren't scared of the top seed. They led the entire third set and showed dominance in many areas. In a lot of ways, it looked like the seeds should have been reversed.
They took the third 25-20 and controlled a 2-1 advantage.
Heading into the fourth, it was obvious Overlake was playing for their lives. When you're seeded No. 1, and about to be upset by the lowest seed, reality kicks in.
Overlake led 13-5 early, and even had a 18-10 advantage midway through. The Lyncs went on a 12-4 run to even it at 22, before taking the next three to win it.
How do you even describe such an upset? It was a win well-earned for the Lyncs, and they were headed to the quarterfinals to take on No. 8 Freeman.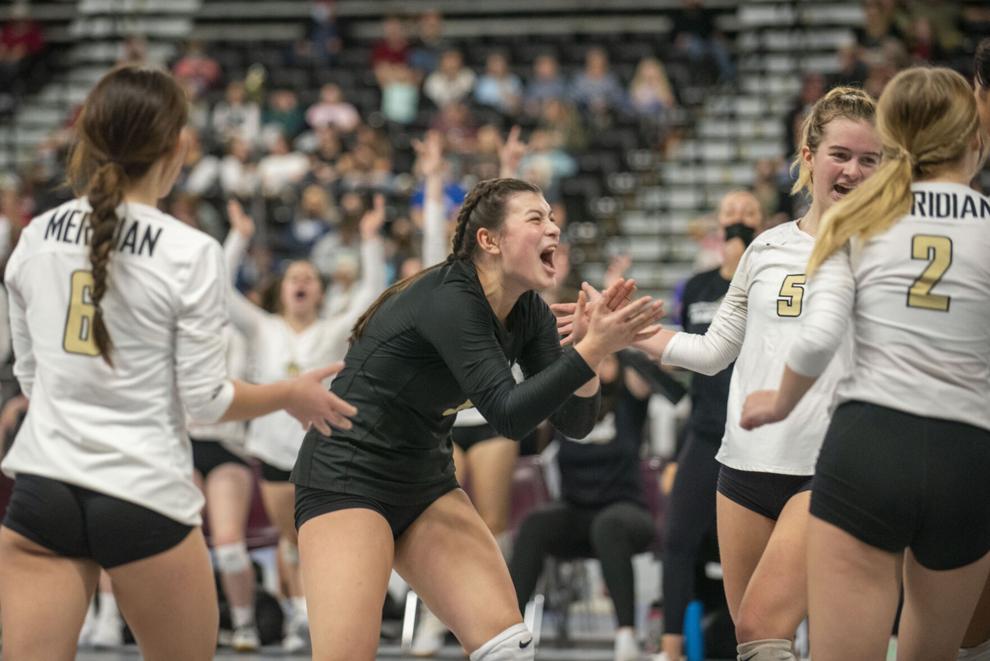 Quarterfinals, round of 8:
No. 6 Meridian vs. No. 3 Castle Rock
In another dominant performance for Meridian, the Trojans swept higher-seeded Castle Rock to advance to the tournament semifinals (26-24, 25-10, 25-18).
The Trojans are showing off their ability to close out narrow sets and stay on the ball.
Senior Jolena Hoefer recorded her second-straight double-double, recording 14 kills, 10 digs and 2 aces.
After the first, the Trojans jumped out to a 10-1 lead in the second. That grew to a 16-5 lead later, and it was cruise control for Meridian into a 2-0 advantage.
They kept their foot on the gas pedal.
Meridian controlled the third set, leading 16-10 late. They rolled that into a 25-18 set, and match, victory.
For the Trojans, Hoefer was obviously as dominant as she's been all season. Also leading the way for Meridian was senior Finnley Claeys with 10 kills, 15 digs and 2 aces. Sophomore Emry Claeys totaled 9 kills (.368 hitting percentage) and 2 blocks.
Junior Hayden Claeys tallied 39 assists and 6 digs, as junior Avery Neal had 23 digs and 2 aces.
Jessica Pounder, a junior, rounded out the Trojans' notable stats with 6 kills (.364 hitting percentage) and a block.
Meridian will play No. 2 Chelan in the semifinals at 1 p.m. tomorrow, Saturday, Nov. 13, on the Yakima Valley SunDome's Court 1.
No. 16 Lynden Christian vs. No. 8 Freeman
This one will be short but sweet. The Lyncs are defying all odds.
LC swept Freeman (25-18, 25-21, 26-24) to advance to the quarterfinals as the lowest seed in the tournament.
The first set was close, but the final two were even closer.
In the end, the better team won. It was pandemonium from the Lyncs bench after winning back-to-back matches against two teams that should have dominated them.
Even though it seemed like it could go to four sets, LC exemplified their ability to win close, high-pressure matches.
Tomorrow is going to be fun.
The Lyncs will play No. 4 Annie Wright in the state semifinals at 1 p.m. tomorrow, Saturday, Nov. 13. on the Yakima Valley SunDome's Court 2.