Grandpa's old shop space now reclaimed by Rachel Hernes for business and storage
Editor's Note: This story was written originally to be included in the Fall Home & Garden section of Sept. 25.
"Although home still represents stability in an unstable world, we're beginning to see that home can be how we live, a situation that we create and recreate.
Home is less attached to bricks and mortar and more about the lives we lead, the ways that we connect with each other, the communities we build ... Home is a state of mind, something we make for ourselves wherever we can.
... Hygge is the home we make in the flux and flow of our lives."
— Louisa Thomsen Brits, "The Book of Hygge: The Danish Art of Living Well"
LYNDEN — Once upon a time, then-Lynden High School student Rachel Verbree met and befriended a nice foreign exchange student, Oystein Hernes (pronounced "her-nez"), who stayed a year in Lynden with Dave and Claudia Vander Hoek — and then he went home to Auli, Norway.
The story could have ended there, but it didn't. It has a part two — where friends come back together and figure out they are more than friends and that living on different continents wasn't going to be a solution.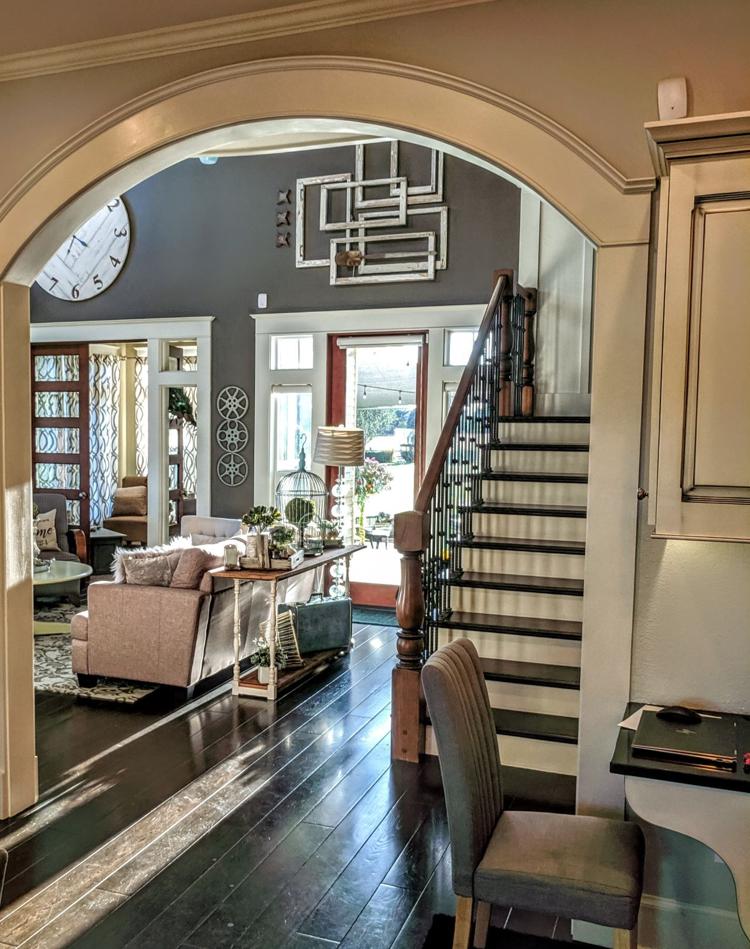 In very fast summary: Oystein and Rachel emailed back and forth a lot. He came back to the States for a visit, and they had several dates. He returned to Norway for a time, Rachel went for a visit, and they were married 17 years ago at Faith Community Church. They now have two sons. They built a comfortable "farm" house south of Lynden overlooking farming lowland with Mt. Baker in the distance, on property once owned by Rachel's maternal grandparents, Gert and Cornelius Huisman. Eventually the original 22 acres was subdivided into a series of two-acre parcels along the ridge. Grandpa passed away in 2005 and grandma remarried. A new family legacy was being created.
There once were chicken coops are now the neighbors' properties. Rachel's 6,000-square-foot house is also her working/creating space for her ReCreated creative woodworking business. This includes 3,000 square feet of space for storage and hosting special events such as well-attended holiday open houses with craft vendors. This year's show is Nov. 1.
The self-proclaimed "Super Dutch" values-conscious stay-at-home mom/artisan also added, "I love DIY (do it yourself)."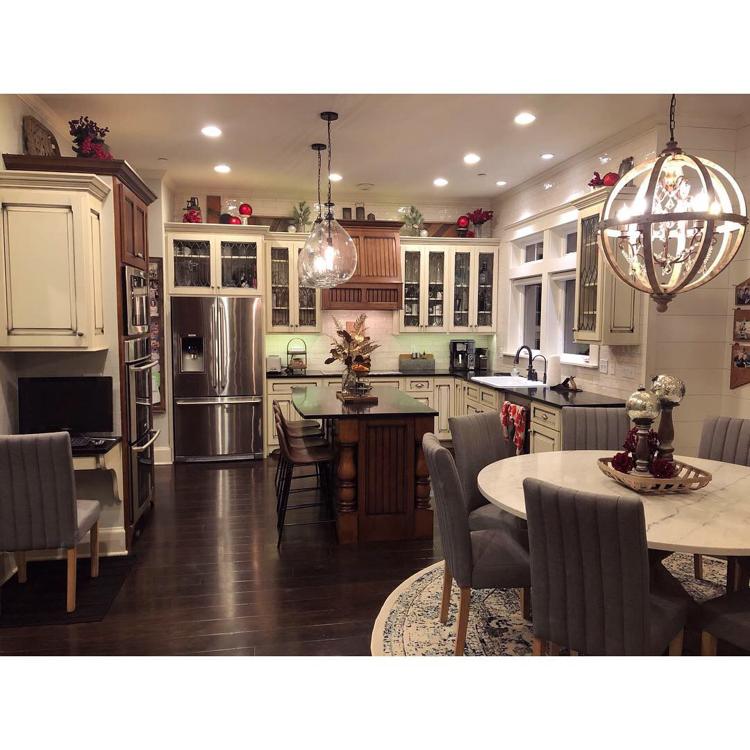 She was a licensed beautician for 16 years, with a small hair salon in the home, when she realized she was taking her creative talents in a new direction, in the woodworking footsteps of both of her grandfathers. Her husband willingly gave up what would have been his shop space for her. When a neighbor needed a large clock, Rachel made it and ReCreated was founded in 2015. (She also consults with clients on interiors and as part of her fee can suggest and procure items as needed.)
A quick visit through the work space shows the type of tables her grandpa Huisman made and the legacy he left. Last winter, Rachel was called by a friend at Cheeks boutique shop on Front Street, who had the option to take over a new space, but had to do so in just weeks before Christmas 2018. Rachel and her family came to help, building fitting rooms, display areas, tables, a clock, and the register checkout area. They all worked as a team.
Outside at the Hernes place, the base of a play area to the side of the house is an oversized sandbox with moats and trails from the onsite spigot on a sunny summer day. An abundance of dahlias line the long fence along the open side yard. The tubers are divided and shared with Rachel's sister, Jessica Stuart, who is also an avid dahlia gardener and owner of Jessica Stuart Designs. Their shared love of beauty and cost-consciousness is apparent. Pumpkins are planted at the base of the flowers for a "double purpose" effect, with corn nearby, and also serve as decorations for fall on Rachel's oversized wrap-around porch that rivals any Martha Stewart magazine's curated display — until cedar and fir take over the space for the Christmas holidays. A nearby hothouse addition, against the shop, grows the small plugs bought in winter/early spring in trays from Van Wingerden's Nursery, a huge cost savings for the many spring and summer hanging baskets and pots that are later transformed for fall. Compost from nearby Green Earth Technologies makes everything grow incredibly well, she said.
Handy Homes LLC, owned and operated by "Chuck" Handy and his sons of Sumas, was the builder and finish carpenter of this project. The building process took 14 months this time and the Hernes family was able to live in their other home much of the time, due to a slow real estate market, and then transitioned briefly to their camper.
"We don't live in a museum," Rachel said. "We live in a house. We wanted the house to have a timeless feel."
Rachel, as interior decorator, scanned magazines before the advent of Houzz.com. The couple defined "timeless" with features such as six-inch trim, crown molding, open and closed spaces to give definition and privacy alike — although with modern amenities, including a theatre room. "Historic" items found in the barn and property have been "reclaimed" as well, to become decorative items in the living room along with frames and a large handmade rustic wooden clock to fill the large wall space. Ceiling heights are 10 feet on the main floor, nine feet in the basement, and eight feet on the second floor in the 5,400-square-foot home.
"We didn't want it to have any specific time stamp on it," she said, pointing to two large trees retained outside that appear to be age appropriate to the home.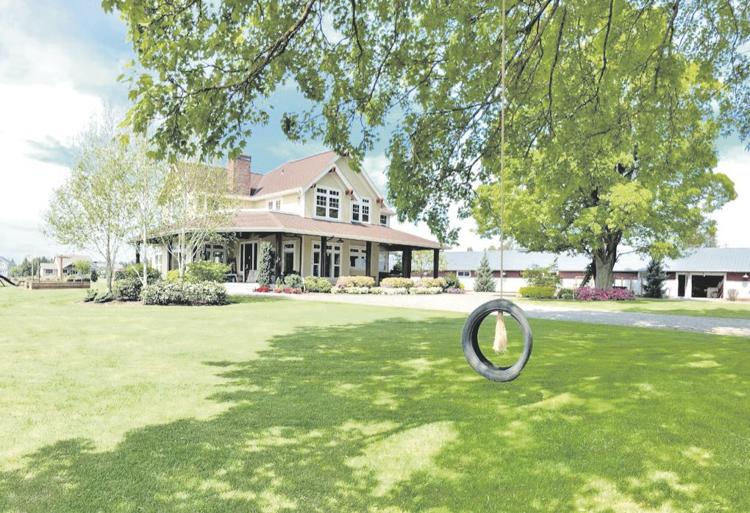 While the home has a definite feeling of being created by an interior decorator, Rachel assures that this home is lived in. Her children, and husband, enjoy friends visiting, working on hobbies, and having friends over. A small apartment above the garage, originally intended as a space for visiting family, is occupied now by missionary friends.
Crossing the circular drive and the porch, the dining area and kitchen are first at hand on the main floor. Rachel recently updated the area with an incredible quartz-topped large round table to be able to seat more friends and family than the former black square table, which was then relocated to the bonus room/apartment. Rachel made the large base for the table. Tall white cabinets with true leaded glass fronts are across from hand-blown glass fixtures from France. The flooring is a white oak with a dark custom stain, the white selected to age well versus the yellow or red options.
Through a doorway, the high-ceilinged living room gives a glimpse of a glass-surrounded small-curtained family room and a staircase winding to the second floor. (Up there are a guest room and the rooms of the boys, Mikah, 13, and Maddox, almost 8. Maddox has a platform bunk bed with his rock collection using the space below.) Further down the lower hallway are the master bedroom suite with incredible spa-like bath with travertine basket weave tile and walk-in closet with additional storage space for holiday décor. A laundry room and a powder room are near a back stairway to the separate small "apartment" with framed old news articles about farming to remember and honor what matters to them.
Two stairs access the basement, one being a black spiral staircase going directly into the library. A playroom with a Lego wall and table is in the next room, as well as Rachel's hair salon space and Oystein's office; he works from home for Amazon as a software programmer.
There is beauty in each season at this home. Since the family had anticipated having a larger family, they use the space to help other families ­— to be able to "give back," Rachel said, as they view everything as given to them by God. They also enjoy incorporating family memories into the mix of vintage and modern décor: grandma's mandoline for slicing, pallets, smaller old farm equipment. Norwegian family have also given them children's folklore-inspired dishes and plates.
Her life verse: "Everything bring praise and glory to God."
"We hope to live here forever," she said.