Candidates for County Council  speak at LWV forum Saturday
BELLINGHAM — Supporting the oil refineries at Cherry Point "that produce the cleanest fuel in the world" is one way to combat climate change, said County Council candidate Kathy Kershner at the League of Women Voters forum Saturday at Whatcom Community College.
Trying to mitigate traffic in the county and planting gardens and trees are other ways, she said.
Her opponent on the stage, Brian Estes, who has been a performance auditor of governments in his career, said not much has been done to reverse "human-caused" climate disruption, and he would like to see more land-use and transportation planning linked to the issue.
The two are vying for an open County Councll spot from new District 4, generally north-central Whatcom  "Farmlands" including Lynden. Positions are nonpartisan. Candidate Brad Kelly could not make this forum.
In other topics posed to them, Kershner said Bellingham needs to "take its fair share of housing" inventory needed in the county and not let smaller cities and rural areas absorb so much, sprawl and lose their character. She said small towns have had twice the rate of housing growth as Bellingham.
Estes said "we need more housing choices and options" and perhaps the county Limited Areas of More Intense Rural Development (LAMIRDs) can be expanded.
Kershner, who had a term on the council representing the south county before moving to Lynden, said she still supports the 2012 analysis that led to county proposals to build a new jail on purchased land in Ferndale — which voters twice rejected. Few other sites met criteria, and she doesn't want a jail that is too small for the future when inmates are already being sent to Yakima County.
Estes said he supports the framework that has been put out by the current council to build a smaller jail in downtown Bellingham and to have a new Bakerview district 32-bed facility that deals with drug-related or mental health issues that accompany many admissions into jail. 
Both candidates said they would like to see stronger county leadership to solve water rights and water management issues that affect farmers, stream health for fish, and general supply. Estes pointed to Yakima and other counties where all parties "collaborated to reach solutions and we can do the same here."
He critiqued state law that mandates "use it or lose it" on water rights, saying that is not good conservation.
Kershner said living-wage jobs are the "backbone to success" in the economy, and she touted Cherry Point industries for providing them. 
In opening and closing, Kershner emphasized she wants to be "a voice from the heart of District 4" on the council, "level-headed," and not let outside interests dictate what Whatcom County should do. She noted she has the backing of the Whatcom County Farm Bureau and said she would be "a real voice for farmers." She has a Navy officer background and also ran a business providing services for the families of those with disabilities.
Estes, a resident where the district dips into Bellingham, said he has the experience needed on a wide variety of issues to be on the council. His performance auditing with the federal "government watchdog" General Accounting Office got him into the evaluation of agencies, and recommendations on improvement, in many policy areas. He cited Teamsters as one of his endorsements.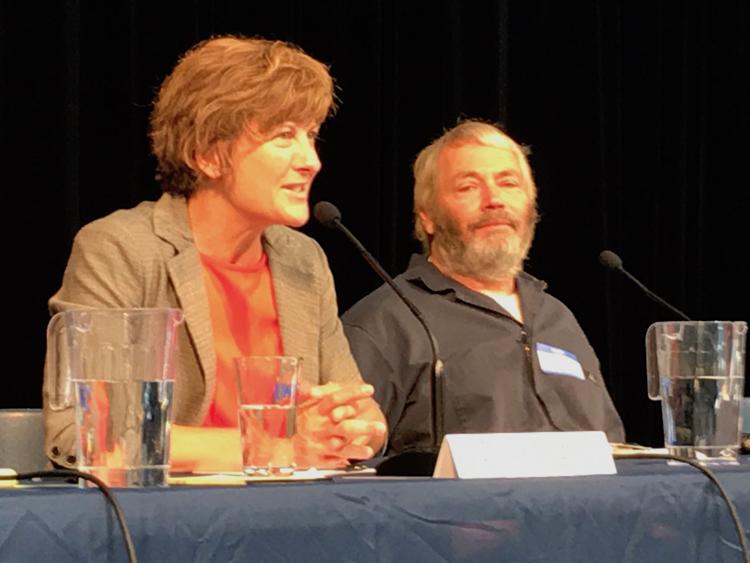 Eight-month incumbent Carol Frazey is running again for the County Council At-Large Position B. Bill LaFreniere, one of two active challengers, was present at the forum. David Ramirez was not. Brett Bonner's name is on the ballot, but he is not campaigning.
Frazey said she "takes to heart" every vote she makes because she knows it impacts someone directly. She wants to "continue to reach out" to hear from those she has not heard from before. Truly listening to all voices is important to her.
LaFreniere said he believes there is a "crisis" due to organized labor's power in Washington State leading to "socialist" objectives and influence. A small business operator from 1979, he saw the effects in "government over-regulation" and he aims to reverse the trend.
Businesses need to be able to "make a living without having the boss looking over their shoulder," he said.
He would like to see a heavy steel mill at Cherry Point; designated parks for homeless to live as they wish; and a different approach to sewage disposal in rural areas, using better technology, to allow more people to live there.
Frazey didn't directly refute LaFreniere's ideas. She said she has been a teacher and small business owner, has children ages 17 and 19, and her husband works at the community college.
Frazey said that, especially on water issues, lack of trust among the stakeholders gets in the way of finding solutions. Farmers fear conservation will cut their water rights, while tribes suffer "generational trauma" from rights to land and water taken from them long ago.
LaFreniere said he could be considered a climate change denier, not believing the science is accurate. Nor does he agree with the intent of the Growth Management Act to "shove everybody into cities."
Frazey cited the Kulshan Community Land Trust as a model toward adequate and affordable housing. "Everyone is invested in their housing. Government has a role, but not the only role. Everybody has a role to work together to make housing affordable to all," she said.
She said she was glad to vote for a new 32-bed triage center dealing with drug and mental health issues of those arrested. Likewise, she believes that services of the county must be available to all who live here, whether documented or not. "That is key — take care of the health and safety of all," she said.
LaFreniere said, "We need to look after our citizens first."
He said the county needs a new bigger jail, actually two buildings with one to deal with immigration detention. Frazey sees "a smaller jail downtown (Bellingham)" that can connect easily to pre-trial services, as best.