This is one of quite a few local farms letting the robot's arm take over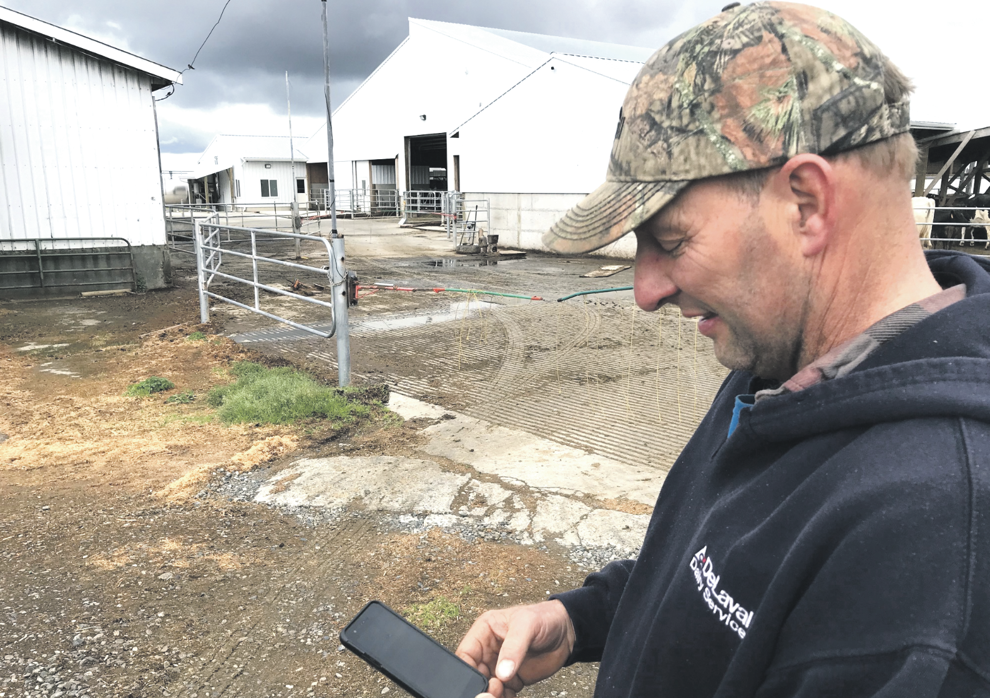 LYNDEN ­— No longer does Tim Vander Veen have to get up at 3 a.m. to milk his cows. Daytime he can more peacefully walk the family Pangborn Road farm and take care of other chores like feeding cows and calves, cleaning barns and field work.
  It's been almost a new life since the Vander Veen farm put into operation three new DeLaval robotic milking units on April 27, 2020.
  "I call it a more calm lifestyle because you're not tied to your milking job," said the 55-year-old farmer as he showed and talked about the changes last week. "It's nice to know the cows are being milked, and it frees me up for more family stuff and to do other things."
  Not only is there less stress on him, but also less stress on his 175 Holstein and Jersey cows, once they got used to the new system, he believes.
  Milk production is up because the cows are milked an average of three times per day, versus Vander Veen's twice-daily milkings in the old parlor. 
  The cows' reduced stress shows up in better overall herd health, with less feet and leg issues, less mastitis and less culling.
  "Over time you start realizing the value of (a robotic system). It's hard to put a number on it, but you do realize it makes a difference," he said.
  Vander Veen has also cut out the equivalent of a full-time milker position — an even greater factor since Washington dairy farms are now mandated by court and legislative actions to pay workers overtime for more than 40 hours per week.
  In fact, Vander Veen is one in quite a surge of Whatcom dairy farmers who are making the switch to robotic milking systems. Besides DeLaval, the main other system is Dutch-built Lely, installed locally by Daritech Inc.
  Vander Veen was already thinking about this possibility when he had a large new loafing barn built in 2014. He made sure it was positioned far enough back that robotic milking stations could be added at the front.
  As it turned, exactly one 12-foot section of barn was added. This is where two of the DeLaval (VMS V300) units were put in, for use by the main cow herd of Jerseys and Holsteins on either side of the barn. 
  Beyond, a new building had to be carefully built, with DeLaval installers and local De-Young & Roosma builders in close consultation, to house the variable-speed vacuum pump, compressor and an assortment of tanks of cleaner, teat dip and disinfectant that the system uses. Here also is a water heater and electrical panel. 
  Back toward the old barn — which Tim's dad, Nick Vander Veen, came to as a Dutch immigrant in the 1960s — is the "waiting area" of cows headed out of lactation, with its own, the third, robotic milking unit.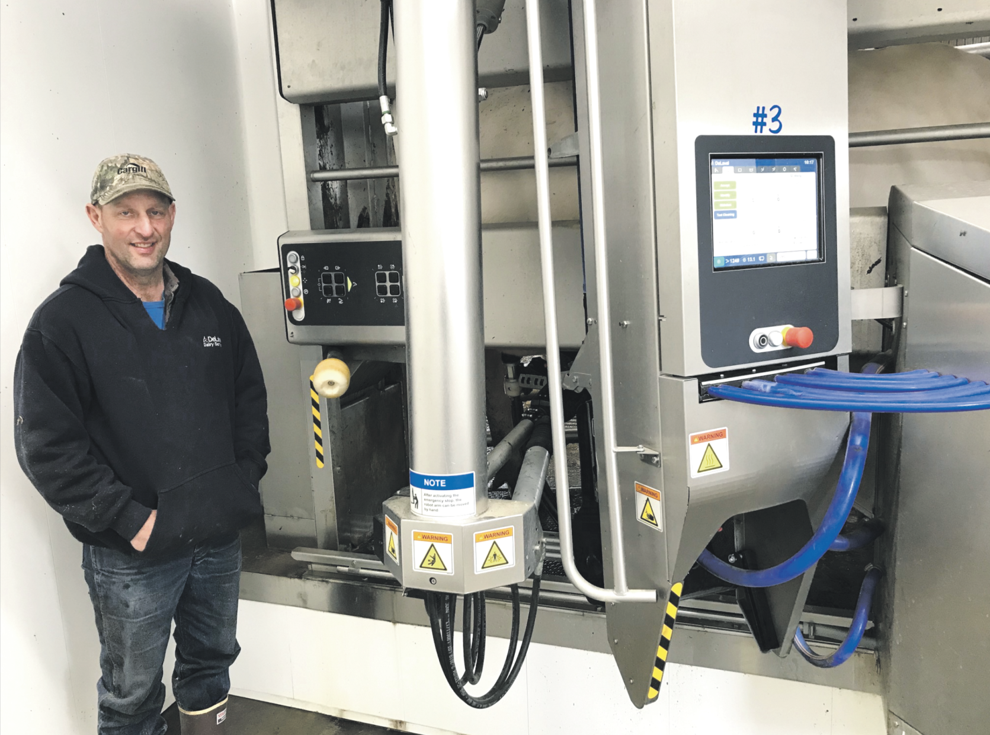 It took a few days for cows to accept that an entirely new routine was happening, but through the enticement of grain for them in the milking enclosure, they pretty much all caught on to it, Vander Veen said.
  He hasn't lost his marvel yet at just how a robotic system can be so fully programmed with its sensors and computer brain to actually milk a cow, overcoming all the moving around and kicking that a cow might do. 
  If something is not quite right in the system — for instance, a cow somehow kicks a hose loose — Vander Veen will get an alarm on his phone. "Usually I can fix it myself," he said.
  Or he may get notice that a cow has not been milked in the last 12 hours, which is his "fetch cow" tip-off to actually track down the cow to see if something is wrong.
  Vander Veen said that in addition to gaining for himself — and probably his cows — a more calm lifestyle, he figures he is "setting up for the next guy" to carry on dairying on this farm in a better way for the future.
  He becomes at least the third Whatcom County farm with a DeLaval robotic system, and a major installation with a very large local farm is reumored to be around the corner. 
  Tim remembers his dad starting out in a flat barn carrying buckets of milk by hand to the cooling tank, before getting a double-6 parlor, and he thinks: "He would probably shake his head at too much technology."