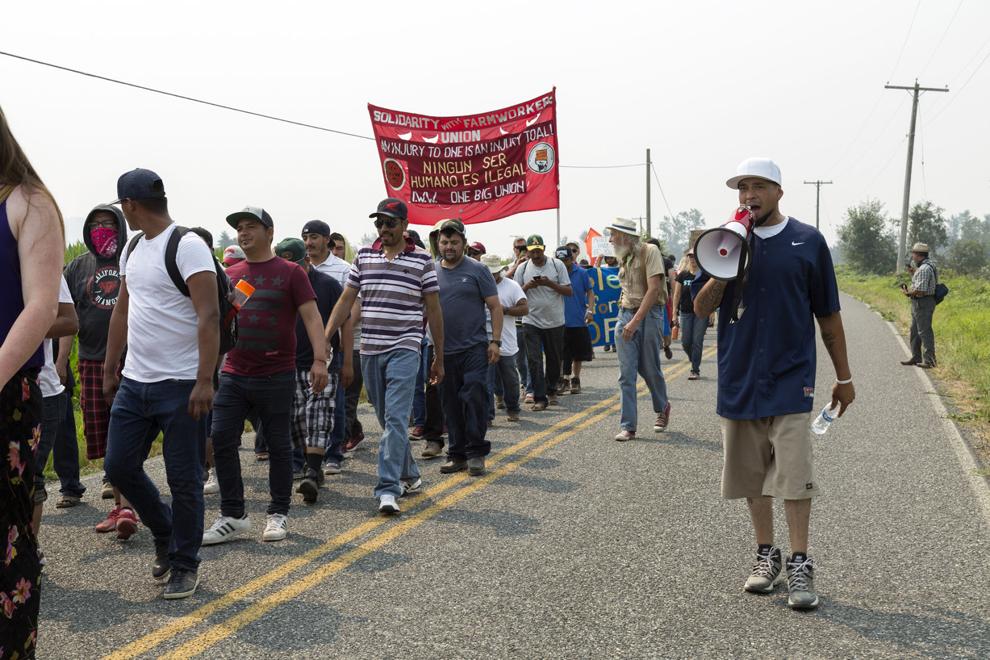 Company response: Sarbanand responded on this story about 5 p.m. Tuesday. See full statement here.
Honesto Silva Ibarra died at Harborview over weekend
SUMAS — A 28-year-old temporary worker for Sarbanand Farms, Sumas blueberry grower, died over the weekend at Harborview Medical Center in Seattle after he became ill working last week and was denied needed medical attention by the company, co-workers say.
Then more than 70 farm workers were fired by Sarbanand, and currently remain displaced, for refusing to work Friday as a demonstration against the man's alleged mistreatment.
This week Tuesday afternoon, a group of workers, along with supporters from around the county, marched along Telegraph and Rock roads near Sumas to the farm. Around 60 protesters held signs and chanted "Si se puede" in unison. Translated from Spanish the phrase means "Yes we can." 
A dark van led the rally, carrying supplies including water and Gatorade that was handed out often during the walk. In the back of the van rode a farmworker who had just returned from the hospital. His feet were wrapped in white bandages and had been infected for three weeks, he said. He was one of five Sarbanand farmworkers treated Monday night for dehydration.
When the group came to the business office for the farm, attempts were made by some of the workers to obtain back pay they say they have not received. But the workers were turned away by security and told they would be contacted by management at a later time.
Honesto Silva Ibarra became ill last week Monday, suffering from head pains caused by a combination of heat and extensive hours worked, say workers who were at the farm.
Temperatures reached to 90 degrees in Sumas in the heat pattern — along with unhealthy air drifted in from fires in British Columbia — that settled over Whatcom for most of last week.
After Ibarra notified his supervisor of his sickness on Wednesday, he was denied medical attention by the company, said co-worker Barbaro Rosas Olibares.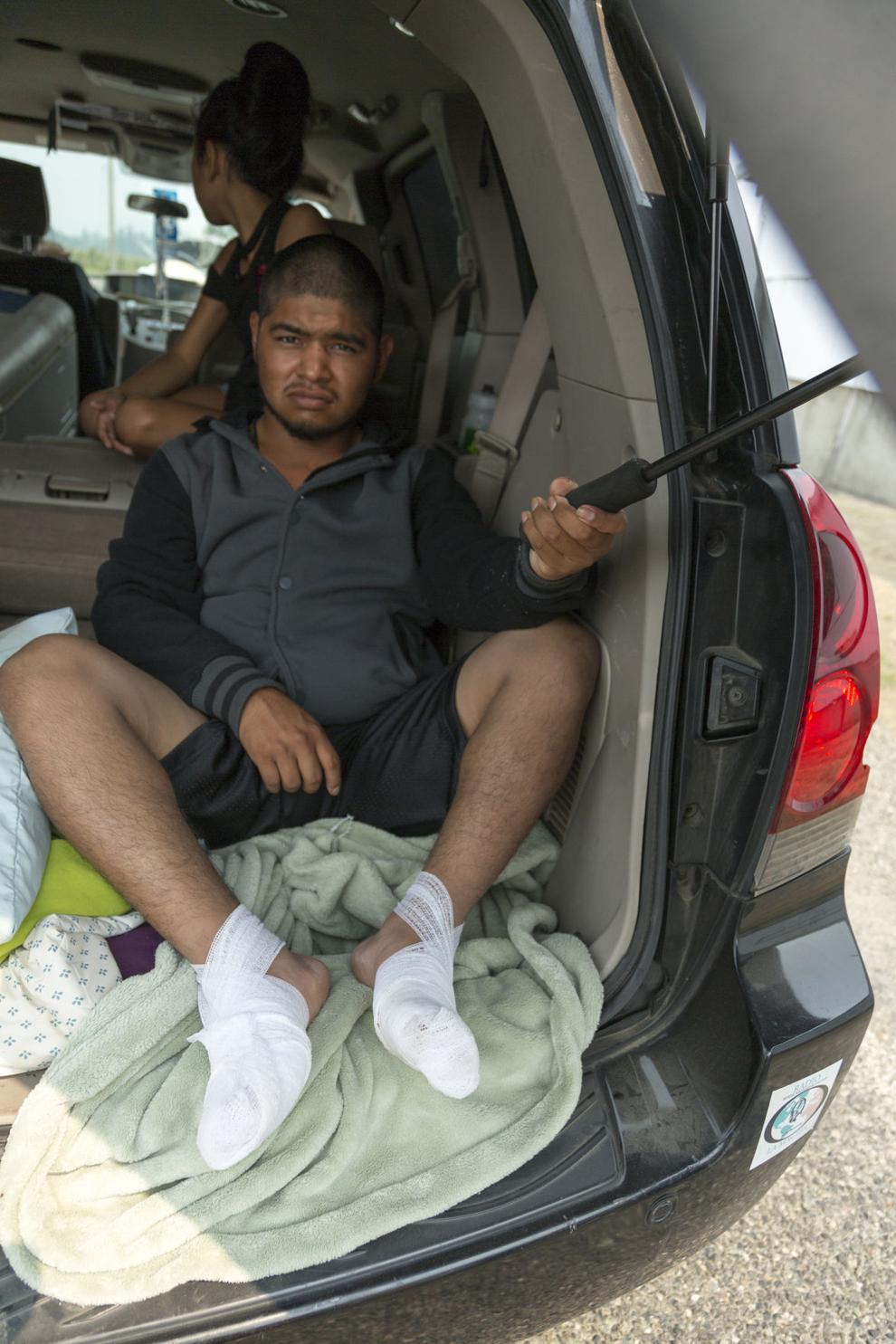 So Ibarra sought out other options, including a flight home to Mexico, but he was unable to purchase a ticket due to the expiration of his work visa on June 30, Olibares said. He added that the company said it was working on extending the H-2A temporary visas that the employees held. Some of the workers had been relocated from a farm in California to the Sumas blueberry farm.
According to U.S. Citizenship and Immigration Services, H-2A classification may be extended for qualifying employment in increments of up to a year. Responsibility falls on the employer to renew work visas, and Olibares said farm managers said this was in the works.
Unable to wait any longer, Ibarra sought out medical attention at a Bellingham clinic, coworkers said. At some point he collapsed and was transported to Harborview, the region's main critical-care medical facility in Seattle, where Ibarra died.
Other farm workers at Sarbanand have also suffered from illness including face paralysis, farm workers say.
Farm workers of Sarbanand then decided to strike on Friday, refusing to work due to the alleged mistreatment of their coworkers, Olibares said. Workers have complained of being "threatened to be sent back to Mexico" if performance measures weren't met — and their food portions and conditions were poor as well, they said.
"For us, it was very unjust that he was left by himself without any kind of support," Olibares said. "And in regards to that, in order to be heard, we decided to stop working one day so that way we could be heard by the company."
When workers who had demonstrated the day before showed up for work on Saturday morning, they were fired due to "insubordination" and told they had an hour to leave the premises and places where they had been living.
Farm representative Norm Hartman said this in an email: "We are aware of the situation. It is a labor issue and we do not comment on such matters other than to say we hope the issues can be resolved."
Sarbanand Farms has been operating for about four years based at 4625 Rock Rd. east of Sumas. The mailing address of Sarbanand ownership, according to the Whatcom County Assessor's Office, is in Delano, California, at the same location as Munger Farm, a large marketer of nuts and berries.
Sarbanand farm workers who were fired were left without valid visas and without a way to work legally or return home. "They left us pretty much (homeless), outdoors, without money and no place to go," farm worker Cristo Rodriguez said.
But there has been community outreach. A local resident allowed those who were told to leave the camp a place to stay. Camping supplies including tents and blankets, food, gas for a generator and medical supplies are some of the items community members brought out to a plot of land on Telegraph Road south of Sumas.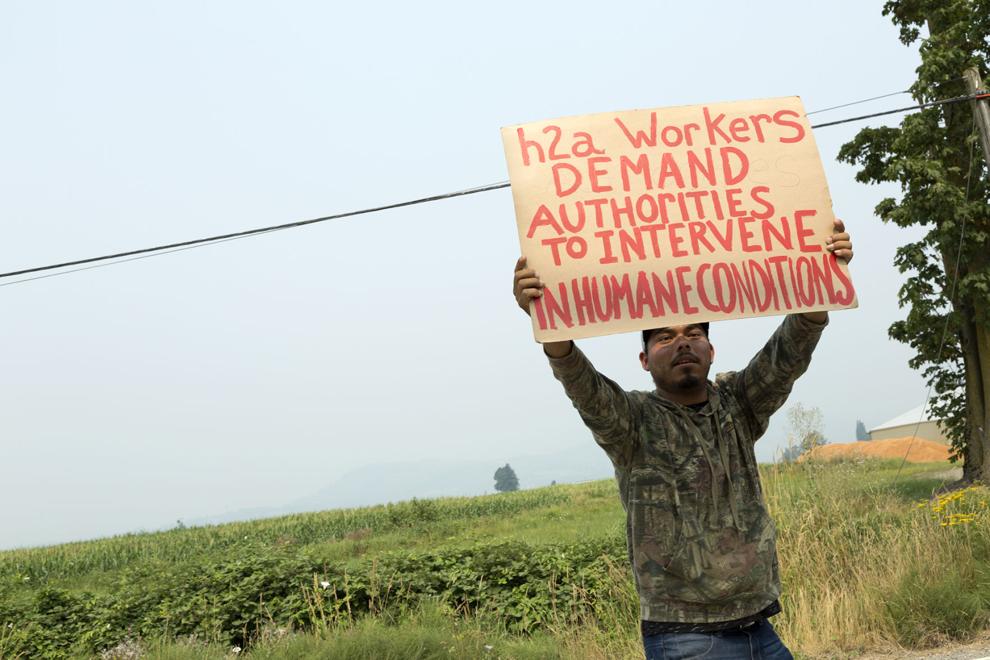 "It's not only about us. There were about 80 people who left," farm worker Pablo Vicente said. "The people who are still working with their visas there, they are afraid still. Those who remain working there, they have told us they're afraid of leaving, but they're also tired. We don't know what they've been told."
The fired workers say they are seeking justice. They hope to receive four days of pay for work they did and to get their visas renewed so that they can continue working in the U.S.
"We're here to work," said Olibares. "We're not here to ask for anything. We want to earn our own money based on our own efforts. That's why we're here. That's why we came in the first place."
The comments of Barbaro Rosas Olibares, Cristo Rodriguez and Pablo Vicente were translated to English by Maru Mora Villalpando, a core member of Community to Community Development.