Pastor Chad Hammond's congregation was eager to help out the community
SUMAS ­— Sumas Advent Christian Church is hosting local students who lack internet access in order to assist them in distance learning. 
Pastor Chad Hammond said the idea of creating a WIFI hotspot came about when he and his wife were trying to figure out how to manage their own kids and the start of distance learning in the Nooksack Valley School District.
"We have three kids in school and knew it would be difficult to get internet fast enough to have three Zoom calls at once," he said. "We figured that there would be lots of families in Sumas struggling with the same thing."
Hammond met with school administrators for Nooksack Valley Middle School, Sumas Elementary and Nooksack Valley High to see if opening the church for students who need  better internet access would be helpful.
"They all responded enthusiastically," Hammond said. "I also met with another local pastor, Kyle Hopkins, whose church was thinking of doing the same thing. We brainstormed together about how to move forward."
Megan Vigre, principal of Sumas Elementary, is excited about the partnership.
"Many of our local churches including Sumas Advent Christian are supporting our students with internet connection by providing space for students to login and be with their class," Vigre said. "We are grateful for these partnerships! We love our community."
Hammond said he brought the idea to his church and they were enthusiastic in wanting to help the community. 
"They enthusiastically agreed, which was no surprise. Serving our community in tangible ways is at the heart of what we do as a church. For many years our church has run a clothing bank and hosted meals for the underserved in our community. We do this because we believe God has called us to care for and love our neighbors, especially those on the margins of society. Hosting kids, then, was a natural thing for us to do," he said.
The next step was to contact PogoZone to help boost the internet speeds that could be offered — which Hammond says PogoZone was able to do to a significant degree.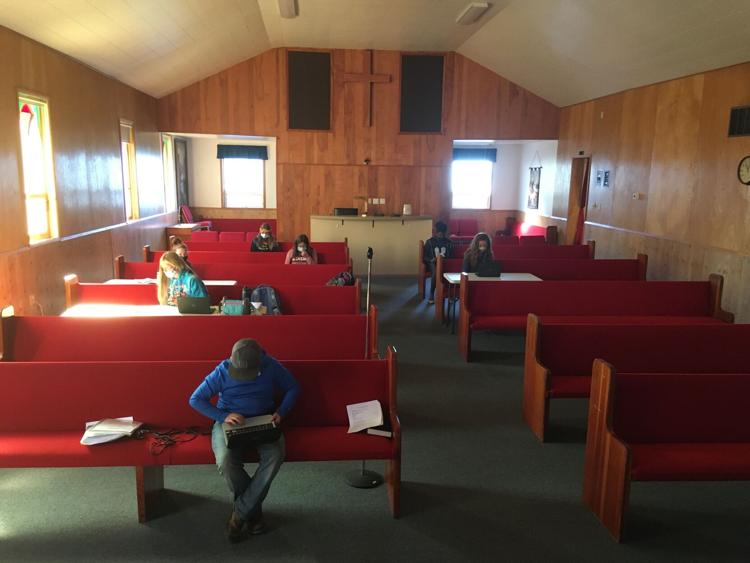 The church then acquired more tables to be able to set up different learning spaces so the students could stay socially distanced. 
Hammond said the church is now hosting 15-20 students ranging in age. 
"Since school has started, we have been working directly with Sumas Elementary to connect with kids who don't have internet," Hammond said. "We have limited space and our goal has been to reserve that space for families who have limited internet. So far that has worked well.  As the school learns what families don't have internet, they direct them to our church, and as those kids are able to get internet they begin to stay home, opening up space for others."
The church plans to continue the service until schools open back up in-person, Hammond said.