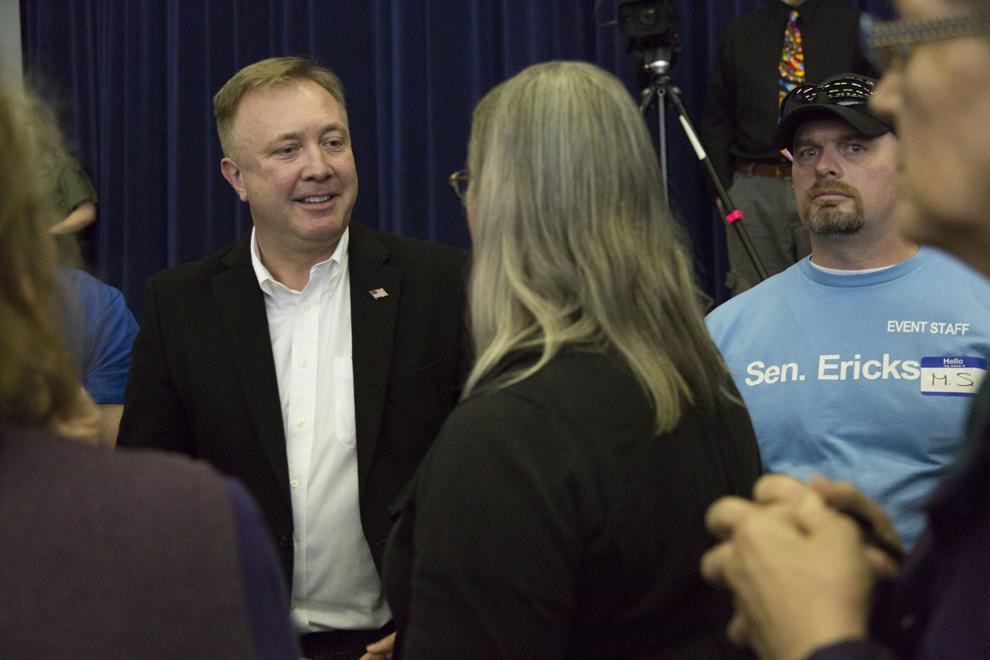 WHATCOM — State Sen. Doug Ericksen, R-Ferndale, returned to his 42nd District to hold a town hall meeting on Saturday, and it drew hundreds both in favor of and opposed to his positions on education, taxes and the economy.
News of the town-hall meeting came just days before the event. Still, the Meridian High School auditorium was filled to capacity, with overflow, before Ericksen took the stage at 10 a.m. A large line of attendees remained outside when the doors were closed to any more entering. Banging on the school doors, from those still outside, could be heard later within the auditorium.
Earlier last week, recall charges against the state senator were denied in Whatcom County Superior Court. Constituents argued that Ericksen hasn't been doing his duties since accepting a temporary position with the U.S. Environmental Protection Agency. Lack of a standard to hold against Ericksen's physical absence in Olympia and insufficient evidence were reasons cited by Judge Raquel Montoya-Lewis in her decision. Ericksen was not present for that hearing on Thursday morning.
In attendance at the Saturday town hall meeting was Elizabeth Hartsoch, 42nd District constituent and founder of the Riveters Collective, a group of civically active progressives in Whatcom, Skagit and San Juan counties. The group was a main proponent in the recall effort.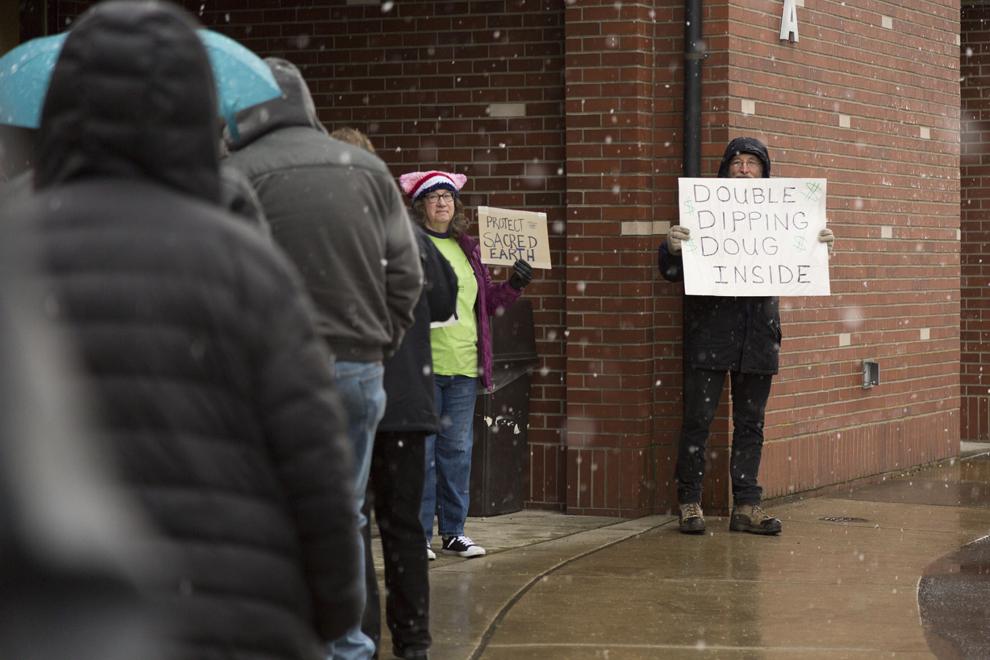 In mid-February, the Riveters Collective and others asked for a town-hall meeting with Ericksen in Ferndale. Their letter, signed by approximately 300 constituents, listed a number of available dates in March and stated, "If none of these Saturdays works for you, please advise on an alternate date which fits your schedule."
"I think we have been effective," Hartsoch said when she learned of this event. "He's not telling us it's in response, but I'll take."
Prior to the town hall, a list of restrictions was given. There was to be no booing or cheering — although that did in fact occur several times in the two hours — and also no signs, large bags and noisemakers.
Ericksen himself paid for at least four county sheriff's deputies to be present in and around the building, and there were also many blue-shirted Ericksen supporters visible.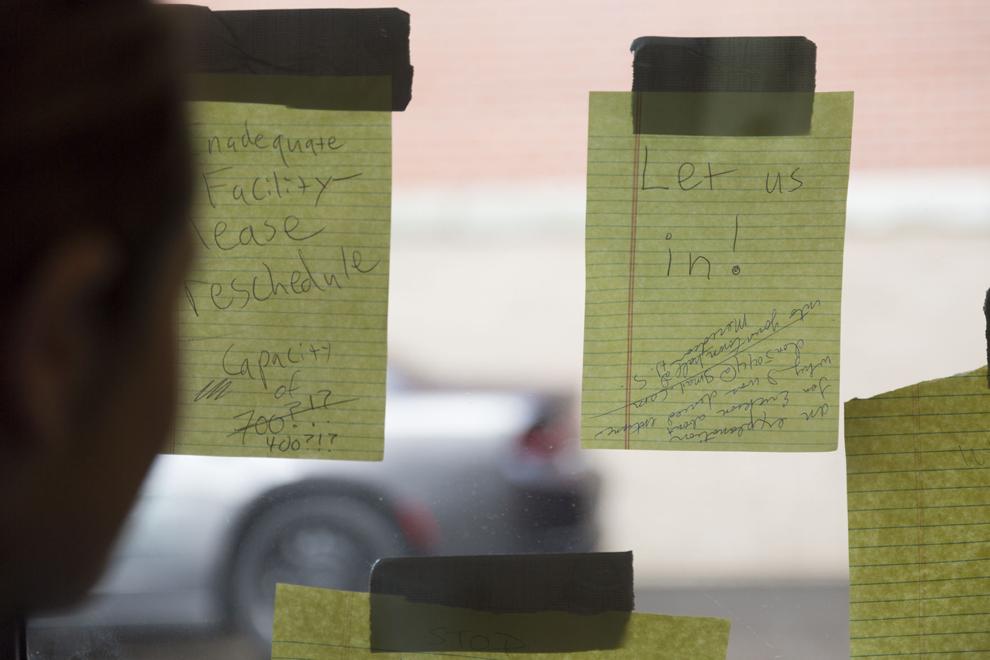 Ericksen began the morning by addressing current issues working their way through the state Legislature, the first being "the Hirst decision" on rural water issues made by the Washington Supreme Court in October. The Whatcom County case has changed the way counties can approve or deny building permits when a private well as a water source is involved. The court ruled that Whatcom County must meet guidelines on protecting water resources set by the Growth Management Act, right down to proving that a new well does not draw down stream or ground water.
Another large topic was the current state of progress in adhering to the McCleary ruling on state education funding. Ericksen spoke in favor of the Senate Majority Coalition Caucus plan, the Education Equality Act. The plan proposes a "levy swap" in which levy dollars would go to the state, and then be re-funneled back into school districts based on student numbers and some other criteria.
"Obviously K-12 this year is taking up a lot of the energy and effort in Olympia, which is a good thing," Ericksen said. "We need to focus in on education. It's an important thing that people care about."
He said the plan would bring Washington's education funding back into compliance with the state Constitution, which mandates making education "a paramount duty." The MCC, which Ericksen is a part of, passed the education reform bill in the Senate in February.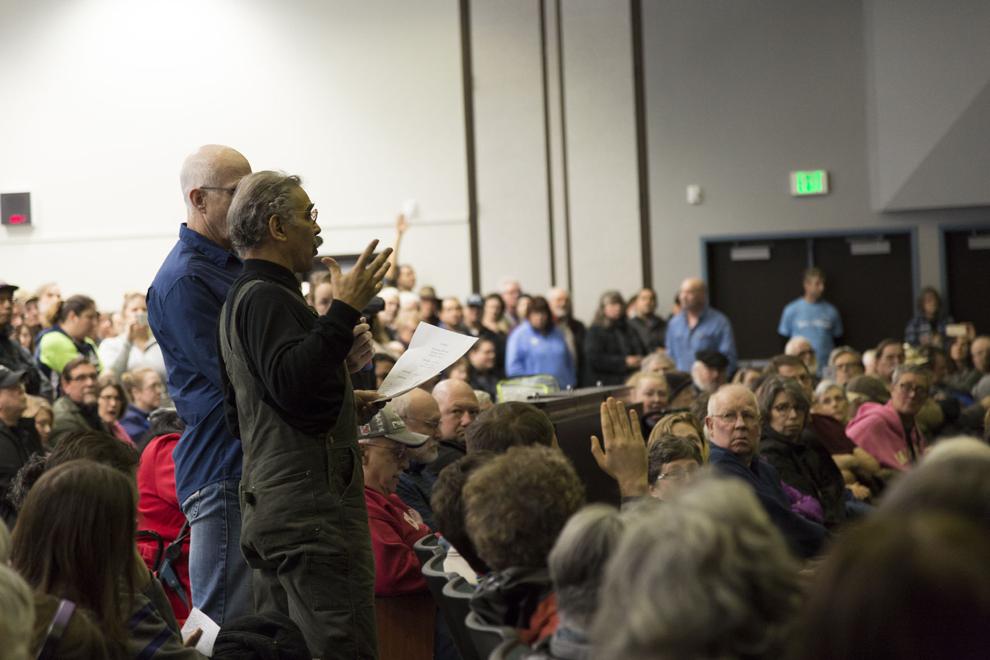 As the state senator moved on to taking questions, the conversation changed from policy to one scrutinizing the senator's actions.
An initial question denounced Ericksen's decision to invite Tony Heller, blogger and an overt skeptic of climate change, to speak before the Senate Energy, Environment & Telecommunications Committee, which Ericksen chairs.
"What I believe is all voices need to be heard," Ericksen said in defense of his action. His response was followed by an uproar of conflicting applause and jeering. "The more outbursts there are, the less time there will be for questions," he said in an effort to calm the room.
It wasn't long before Ericksen's missed Senate floor votes were addressed. The state senator responded by listing other state senators, including Kevin Ranker, D-Orcas, and the number of votes they have missed. This argument was similar to one his lawyer, Jackson Maynard, used to defend Ericksen during the recall hearing.
But it was a question posed by Bellingham junior Emma Ritchie that was met with a standing ovation. A member of the local Planned Parenthood teen council, Ritchie, along with the council, had taken an annual trip to Olympia for the last three years in hopes of meeting with the state senator.
She directly questioned the senator's inability to meet with her and the group. Ericksen blamed scheduling conflicts.
There is no word currently on if, and when, another town hall will be held by Ericksen during the current legislative session that runs until the end of April.