Nooksack Elementary replaces 20-year-old equipment
EVERSON — Students and parents of Nooksack Elementary have welcomed in a new school year, and with that also comes a new playground. 
Through fundraisers and community donations, the school was able to excavate the old playground and replace it with a new one in just over six months. 
Conversation about bringing in a new playground began back in January with the Nooksack PTA, school principal Katie Brown said. 
The Mount Baker Rotary Club, which frequently partners with schools in the area, was a large donor to the project, contributing $36,000. 
The previous playground equipment at the school was more than 20 years old and desperately needed replacement. Student safety was a concern cited in the district's grant application to the Mount Baker Rotary. 
A celebration of the new playground was held on Saturday, Sept. 7, during Nooksack Elementary's back-to-school family barbecue. Families gathered and children played on the new structures while Brown thanked donors and anyone else who had donated time or money to the project.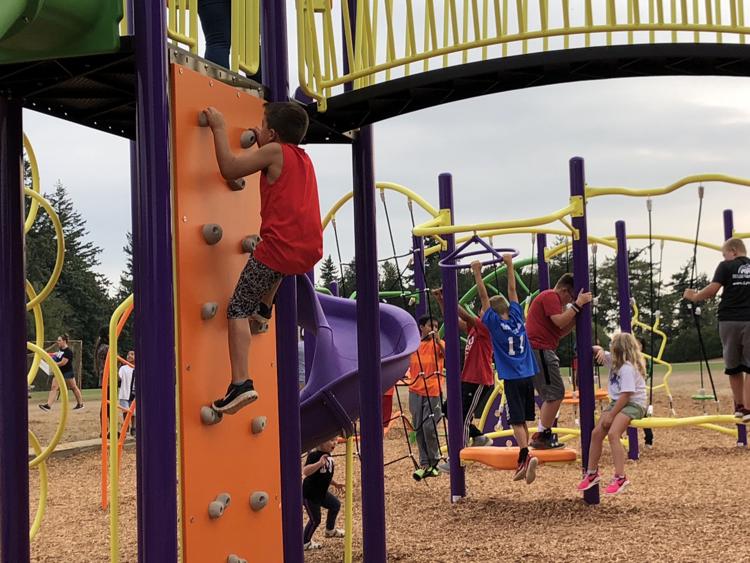 Students also contributed to the project with different fundraisers. The school had raised $46,000 of its own before seeking help from the community. 
Craig Telgenhoff, past Rotary president, told the Tribune back in July he thinks Nooksack is one of the underserved parts of the county, so contributing to a project like the playground had a large impact. 
"One of the blessings of being a part of Rotary is our ability to partner with schools and youth," he said, "provide education opportunities both physical and academic. To be able to partner with a school like Nooksack, I think our contribution to their project was greatly appreciated. It's a privilege to be a part of that."
Removal of the old equipment was done by Cowden Gravel and Ready-Mix and DeKoster Excavating. Installation of the new equipment was done by local contractors Mike Brevik and Tom Fenton. 
Brown also thanked Brevik and his crew at Summit View Construction for coordination of many details of the project.