Brian Mouche has been here 21 years, now deals with an eye ailment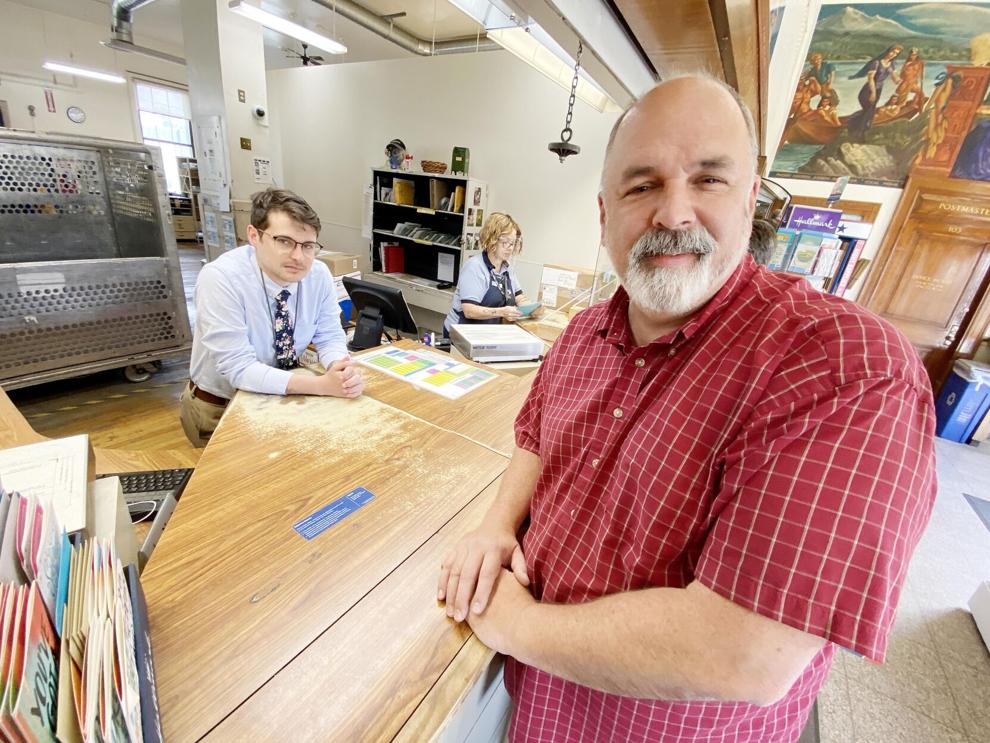 LYNDEN — Brian Mouche figured he had another four years before he'd retire. Unfortunately, retinitis pigmentosa had other plans.
On March 30, Lynden's postmaster since 2006 took medical leave and has not returned to work.
"April 1 is when the doctor said I couldn't drive anymore," Mouche said recently.
Mouche's retirement is all but official. Only thing left is for paperwork to clear.
After seven years as a mail carrier in Seattle, Mouche accepted a job as supervisor at the Lynden Post Office in June 2000. Six years later, Mouche became postmaster. The post office, he said, is "an honorable organization."
"We serve the public, we provide them their correspondence and medications, and their packages, and we get to know the people in the community," Mouche said. "When I see people I know in the grocery store, I like that."
According to Trevor Oram, Lynden's postal carriers collectively make as many as 10,000 deliveries each day.
"It really is an honor being the person so many people count on," said Oram, Lynden's acting postmaster. "But it's not just customer service. We're pivotal in making sure they get a positive experience."
At 23 years of age, Oram has five years of experience with the post office. Recently, he recalled how Mouche had been part of the Lynden Post Office's management team almost as long as he's been alive.
Earlier this year, Oram transferred from the Mount Vernon Post Office to Lynden to help Mouche with his transition into retirement. In the few months they worked together, Oram noticed Mouche working roughly 16 hours each day, six days each week. Not just working, Oram said, but also making time to communicate with his customers.
"Brian was very customer service-oriented," Oram said. "It was very refreshing to see. He was so knowledgeable of the area."
Although it's been more than two months since Mouche last worked, he visits the downtown post office about once each week. He also still talks about his former profession in the present tense.
"Being postmaster is like being the CEO of your own business," Mouche said. "You're on call 24/7. Sometimes you're sorting mail even on Sundays. I even check my (work email) on my off days … I care about my customers, and I care about my employees. It's not just a nine-to-five and 'don't think about it when I'm at home.' But the employees do a lot of hard work. It's really the employees who serve the community. I'm just the administrator."
Retinitis pigmentosa is a genetic disorder of the eyes that causes loss of vision. Symptoms include trouble seeing at night and a decrease in peripheral vision.
Eventually, Mouche could need a seeing-eye dog or a cane, he said. For now, and for some time now, he relies on his wife Anne to drive him around. Soon, Anne and Brian will move their family to South Carolina to live near their eldest son, Ben.
"It's going to be hard to leave Lynden," he said. "But it's a dream to be near them."
Ben was 8 when the Mouche family moved to Lynden in 2000.
"I knew this was a great town to raise a family," Mouche said. "Didn't want to climb the corporate ladder. I wanted to establish roots."