'Candy Bar Heist' segments shot at Dutch Mothers, Northwood Market
LYNDEN — Filmmaker Jonathan Holbrook sets his movies in a universe called "Sloughtown," and Lynden is now part of that universe.
Holbrook said Lynden is the third town to contribute to the Sloughtown shared universe. Several locations around town served as shooting spots for Holbrook's latest, a short film titled "Candy Bar Heist."
Normally, Holbrook's pictures fall into the horror genre, but that's not the case with "Candy Bar Heist." While still set in Sloughtown, "Candy Bar Heist" isn't a horror flick. It follows a young girl who is caught shoplifting. She escapes and hides out in a cafe.
"She meets up with a stranger and both of them basically have a lot in common," Holbrook said. "There's fate involved with the story."
The site of the theft, the cafe and the small-town streets shown in "Candy Bar Heist" will look familiar to Lyndenites. The theft was filmed at Northwood Market on Badger Road on Aug. 25, and the cafe is actually Dutch Mothers restaurant in downtown Lynden. That scene was shot into the evening of Saturday, Aug. 31.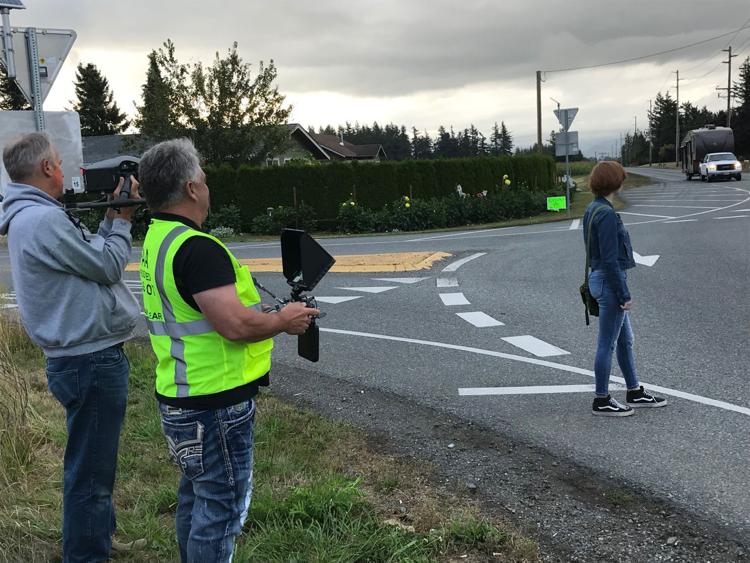 Producer and actress Jennifer Angelucci-Medina lives in Lynden, and when Holbrook's co-producer Dave Shecter came up with the story idea, Holbrook wrote the screenplay and Angelucci-Medina knew the perfect place to film.
"She said, 'You guys can always come up here. Lynden's a great place to shoot,'" Holbrook said. "We just kind of worked around that idea too, going up to Lynden."
Holbrook, based in Everett, said city officials and police were very accommodating to the shoot, and Lynden residents were friendly as well. A car prowl scene was filmed in a Lynden neighborhood, and locals were quick to come out and greet the cast and crew.
"They came out with ice cream and they invited us into their homes," Holbrook said.
"Candy Bar Heist" marks the first time Lynden has served as a Sloughtown location, but Holbrook said he doubts it will be the last.
"I don't see why I wouldn't come back, with how friendly everybody was," he said. "It was so easy to shoot there."
Holbrook said he expects to make "Candy Bar Heist" available online prior its entry into film festivals. It will temporarily be available on ChronicleFactory.com, the home page for Holbrook's production company, potentially around late October, he said. Anyone interested should follow the Candy Bar Heist Facebook page to learn when it's available to watch.