LC team takes second, Lynden team third
WHATCOM ­— County high school FFA teams had some representation at the National FFA Convention & Expo in Indianapolis Oct. 30 through Nov. 2, although less than normal. Those who attended report these outcomes: 
Lynden Christian — The Washington state champion Farm Business Management team from Lynden Christian did very well at nationals as well, taking second behind only Wyoming.
Team members Juli Dickinson and Mason Rutgers each placed among the top 10 individuals, sixth and seventh, respectively.
Kase Lautenbach and Braedon Van Berkum joined them in receiving Gold Emblem individual awards, signifying about the top 50 contestants.
The top 10 individuals and the national winning team received cash awards to recognize their success in an event. John Deere is the sponsor of Farm Business Management.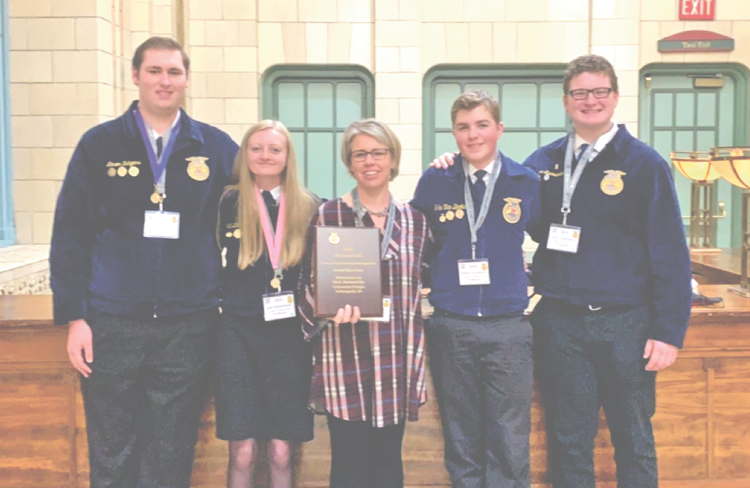 Lynden — A team competed in the Hall of States for the first time ever for Lynden and placed in the top three in the nation overall, said advisor Tammy Brandvold.
She explains that Hall of States is a competition of creating a booth representing the agriculture of a state. Lynden had won the Washington competition with a carnival theme covering the state's five main agricultural commodities, using questions, games and prizes at each commodity station. In Indianapolis the Lynden students also manned their booth for the entire national convention "answering lots of questions and meeting new people from all over the country," she said.
On the Lynden team advised by Brandvold were Dillon DeJong, Layla Todd, Mia Berry and Jordan Simmons.
Mount Baker — Mount Baker FFA was honored as a 3 Star National Chapter on the strength of an application made by last year's chapter president, Bailey Harkness. 
"Although our members were not in attendance to accept in person, our FFA members, officers and boosters should really take a bow for the amazing opportunities and events they organize each year," said advisor Tamara Whitcomb. "Last year's application that was judged this past summer was made up of some important events that helped our FFA members develop leadership skills and made a difference in our community." These local Mount Baker FFA efforts included: Chicken Cooperative, Community Leadership Night, Salmon BBQ, Rome Grange Breakfast, Relay for Life, Paper Plane Basketball Game, Trapshooting, FFA Fall Social and the Booster Club Auction. "Thanks to everyone for supporting the Mt. Baker FFA," Whitcomb says.