Kids, dads, even great-grands help to find their luck in stocked creek
LYNDEN ­— Dozens of 5- to 7-year-old kids with fishing poles in hand line the bank of Fishtrap Creek that snakes through Lynden City Park on Saturday morning.
Jeff Price of the Lynden Camels Club counts down from 10 with a microphone as a hushed silence spreads across the park. As Price calls out number one, monofilament lines fly across the water in every direction as children hope to hook one of 900 to 1,000 trout that were transplanted into the creek for this 78th annual Camels Club youth fishing derby.
With a thick cloud cover overhead, everyone is jockeying to land the first fish in case the weather turns worse. Pandemonium erupts as the first hooked fish breaks surface and tosses water into the air. Cheyenne Walser and Mason Ryker catch the first girls' and boys' fish, respectively, and they sprint over to the judges' table with their haul.
Before long, many more kids with big smiles across their faces are running with their parents in excitement toward the central table with various sizes of trout in their dip nets and buckets.
The judges take a quick photo, clip the trout's tail and then write the child's name. Afterwards family members and spectators take photos of the kids holding their prized fish.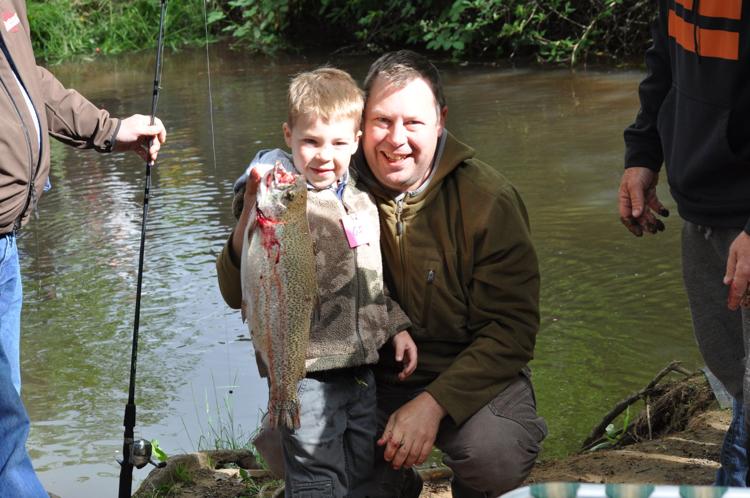 Five-year-old Conrad Vanderhage caught one of the largest fish of the day, a bulky triploid of at least 10 pounds. Triploids are sterile trout that won't breed with native stock. 
This is Conrad's first time fishing in this derby and trout are his second-favorite fish to catch, with lingcod being his favorite, he says. His father, Henry Vanderhage, takes him saltwater boat fishing often.
For siblings Jackson and Savannah Viola, this is their first time fishing ever. Their debut into the sport couldn't have ended any better, as the pair each caught their two-fish limit. Savannah said her favorite part of fishing is "catching them."
the derby, for 5- to 13-year-olds, lasted a little over two hours on Saturday, from 9:15 a.m. to 11:30 a.m. The youngest kids fished first, then the 8- to 10-year-olds, then the oldest. By state law, only these ages of kids may fish in this stretch of Fishtrap Creek.
In all, 233 kids caught more than 400 fish in the derby.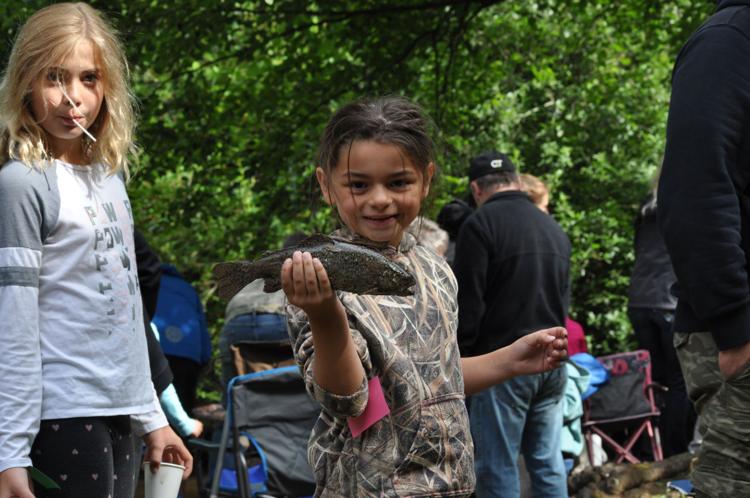 The Camels Club, now with 20-30 Lynden business sponsors, started this popular event in 1941 and has done it continuously every year since 1946.
"The founders of the Camels Club thought it was a good thing getting kids participating in fishing, showing good sportsmanship and enjoying this beautiful park that we have here in Lynden," Price said. "It's been going a long time and we're just proud to keep the tradition going."
This year also happens to be the Camels' 90th anniversary. The club was begun on April 14, 1929, by eight Lynden residents.
"This has been going so long that we have great-grandparents bringing great-grandkids, and the great-grandparents fished in this derby," Price said. "It's been going a long time and they're sharing the tradition. It's all good sportsmanship, people having fun, and they're outside enjoying the weather."
Here are this year's prize winners:
5- to 7-year-olds
 
 
 
 
 
 
 
 
 
 
 
 
 
GIRLS
 
BOYS
 
 
 
 
 
 
 
1st Fish
 
Cheyenne Walser
 
Mason Ryker
 
2nd Fish
 
Brayleen Jackson
 
Dylan Roberts
 
3rd Fish
 
Holly Wilmore
 
Kruze Van Dalen
 
1st Limit
 
Aubre Crydlskey
 
Bryce Roberts
 
2nd Limit
 
Casyn Mulder
 
Riley Loomer
 
3rd Limit
 
Emily Outlaw
 
Kane Boatwright
 
 
 
 
 
 
 
8- to 10-year-olds
 
 
 
 
 
 
 
 
 
 
 
 
 
GIRLS
 
BOYS
 
 
 
 
 
 
 
1st Fish
 
Josy Van Coreach
 
Declan Seigman
 
2nd Fish
 
Lily Lohrer
 
Suylas Tijerina
 
3rd Fish
 
Coralee Demeyer
 
Alex Cardona
 
1st limit
 
Jacalyn Bartlett
 
Yanni Koldert
 
2nd Limit
 
Sydney Bode
 
Tucker Kolling
 
3rd Limit
 
Alisa Libolt
 
Julian Arevalo
 
 
 
 
 
 
 
11- to 13-year-olds
 
 
 
 
 
 
 
 
 
 
 
 
 
GIRLS
 
BOYS
 
 
 
 
 
 
 
1st Fish
 
Dianelle Ray
 
Will Lowe
 
2nd Fish
 
Kylie Likkel
 
Luke Van Kooten
 
3rd Fish
 
Julia Chao
 
N/A
 
1st Limit
 
Allyson Bartlett
 
Oleg Kasko
 
2nd Limit
 
Kayla Chao
 
Dennis Katsyuba
 
3rd Limit
 
Olivia Scott
 
Carter Walser