Helen Solem is a mentor of her values at Sumas River Farm
SUMAS ­— Helen Solem and and her 1.9-acre Sumas River Farm are  daily living proof of the resurgence of small-scale organic agriculture.
On a Monday already at 6 a.m. in this busy time for all farmers, Helen was up and at it, with key helper Chrissy Hoefgen joining her at 7 and new trainee Savanna Pasko not far behind. There was much to be done on this sunny growing — and harvesting and marketing  — day.
For one thing, the tiny fragrant Alexandria strawberries Chrissy was picking would be going to Canlis restaurant of Seattle, one of the top dining destinations of the region.
"They look like little jewels packed in a box," Solem says of this dainty berry that also goes to other classy venues such as The Crysallis Inn in Bellingham or The Willows Inn on Lummi Island or "all the way out to the San Juan Islands."
It's no secret that this is diverse, high-quality and totally organic food for any who can value "slow food" and the horticulture it takes to grow it. 
Sumas River Farm has a deal to supply sugar snap peas to Haggen stores, and Solem also grows the Blue Lake variety of pole bean that was the dominant favorite when she picked beans as a kid.
"I have Lynden people come to the market and if it's not Blue Lake they call it a poor substitute. They grew up with Blue Lake, and it's so superior in flavor."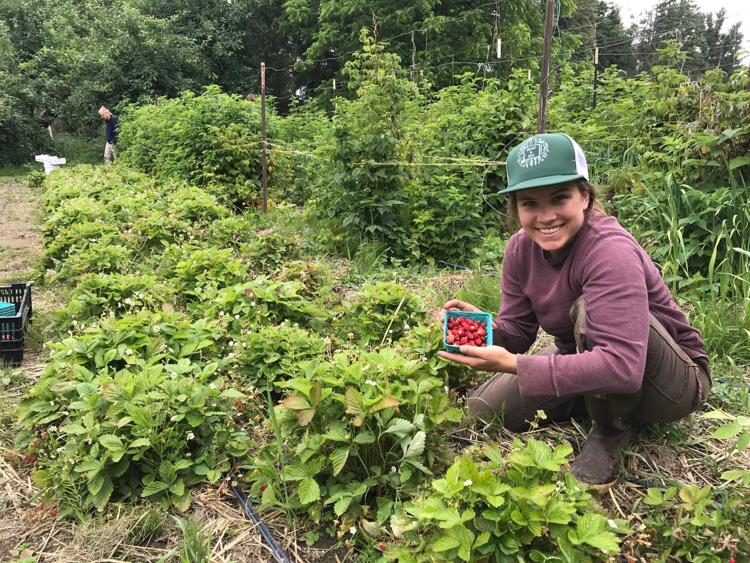 This little farm is also taking produce to four county farmers markets: the new one in Barkley on Wednesdays, downtown Bellingham on Saturdays (for 11 years now), and the two locations of the Twin Sisters Farmers Market at Kendall and Nugents Corner, both on Saturdays as well.
In what some call a "food desert," now that traditional grocery stores have disappeared, Solem also is supplying fresh produce very close to home in the Super Duper gas station convenience store right in Sumas.
Especially through Hoefgen's effort, Sumas River connects into the Puget Sound Food Hub that draws in produce from throughout the region to the population centers.
Word-of-mouth affirmation of the quality of one's food is the most sure way to build and sustain a reputation in this business, Solem says.
Solem immerses herself in deep knowledge about the fruit and vegetables she grows. Of the tiny alpine strawberry, for instance, "it grows on the slopes of the Alps and Carpathian mountains," she quickly explains. She can speak of the roots of carrots in the Nile valley of Egypt.
She has five kinds of basil. She even has a fig tree.
In all, eight varieties of berry come from Solem's little patches: two of strawberry, two raspberry, one blueberry and three blackberry. She calls it her "berry medley" and a beautiful picture of what the Pacific Northwest has to offer.
Of her young proteges — who maybe need to take over this operation for her someday — Solem, 71, says, "They are really knowledgeable, and they really want to learn."
Solem is excited that she is able to mentor others like herself who are "passionate about growing" and doing it as nature intended and then finding markets or kitchens that can use the Sumas River Farm produce creatively.
She sees the growth of small farms — in Whatcom County as well, as recently confirmed in the 2017 Census of Agriculture — that this is "a bandwagon that people want to climb on."
Another key person on this all-female farm is Onjira Bunnag, a chef originally from Thailand. "Her tremendous value is that she knows how to cook the food I grow," Solem said.
A few years ago, Solem received a U.S. Department of Agriculture grant that is meant to boost farmers like her who add value to raw products, expand markets and hire workers — to say nothing of her being a senior-status woman doing all this.
Solem participates in Farmer Chef Mixers set up by the local Sustainable Connections group. Through Whatcom Farm-to-School she will at times visit classrooms to show-and-tell to school children about growing food — so they know that what's on their plate didn't just come from the grocery store.
She appreciates also the strong farmer support given through the Mount Vernon-based Northwest Agriculture Business Center.
"It's not just me," she insists. "I would have nothing without all these connections."
"There is technology and there is support out there for someone on a small scale like me," Solem said. "I am an urban farm in a small town, Sumas."
With a laugh she will note that Sumas has been proven to have the best water in Washington — it won a 2012 state taste test for its artesian well flow and did well at the national level as well.
Solem uses the water efficiently with a drip irrigation system that puts each drop right at plants' root system where it is needed.
Solem has now been 41 years on her historic acreage with 1,000 feet of frontage along meandering Sumas River. Many people are said to have lived in the house on the property across its 109 years.
On the edge of town, where she can get a pile of rich manure delivered by a dairy farmer, it isn't surprising either that she regularly gets deer looking for easy munching on the lush greens here. Solem has equipped her workers with some basic slingshots that have dented their targets but not totally deterred them.
Solem inherited a green thumb from her mother, Elizabeth Timmer, who long wrote a gardening column for the Lynden Tribune, and from her grandfather, Cornelius Buizer, who had "world-class soil" on his place along Fishtrap Creek in Lynden.
She wants to revive a knowledge of the diversity and breadth of plants for food — tomatoes and potatoes, peppers anot narrowed down for mass consumption.
She reads widely about people doing this kind of careful growing on small acreages. "It's been done all over the world for years and years and years," Solem said. 
And now she is a part of it too.