Lynden Christian Elementary operates a 'real work' CREW system
LYNDEN ­— Fourth graders at Lynden Christian Elementary School have a unique opportunity to get involved at school. 
Students may join one of eight leadership teams. These teams come under different CREWs, with CREW standing for Caring, Responsible, Effort and Worship.
Chapel CREW leads singing during chapel on Monday mornings. Card Makers CREW designs and makes cards for elderly residents of the Meadow Greens retirement home. Playground Supervisors CREW help teach first and second graders to play games correctly during recess. 
Also available for fourth graders to serve on are the School Greeters CREW, Library Helpers CREW, Volunteer CREW, Set Up CREW and Beautiful School CREW. 
Principal Don Van Maanen said these teams are a way for students to realize they can make a difference both at school and away from school. He said he wants the fourth graders to understand they don't have to wait until after graduation to make an impact on the world around them.
"That's the goal of CREW: getting our kids to do some real work and realize how important it is," Van Maanen said. "You're not too young to go home and do some real work for your parents and show appreciation."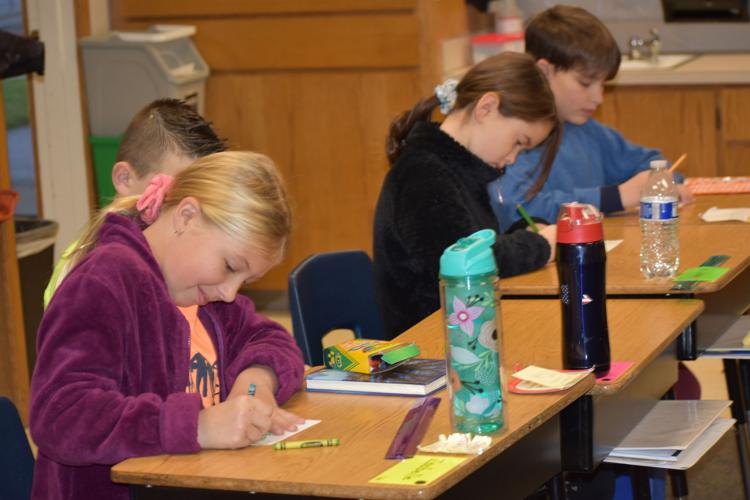 It the beginning of the school year, Van Maanen meets with all the fourth grade students about CREW. They go home with information and, with their parents, can fill out an application to the CREW they want to be a part of. 
Van Maanen said students get placed in one of their top two choices. At the break between semesters, in January, it's possible for students to switch to a different CREW and  be on two different ones during the school year.
This all serves as a chance for students to become more accountable even at a young age, Van Maanen said. "It's not about taking a class in high school to become a responsible citizen. It's them doing real work all the way through."
The leadership program at Lynden Christian Elementary started four years ago, and in the early stages staff were looking at different ways students could help out. 
"The fourth graders are our oldest students, so I want them to realize they are leaders and what they do makes a difference," he said. "My goal was getting kids to realize they can make a big difference around our building."
Van Maanen said he wanted students to see that school isn't just about paperwork.
"We want our kids to realize in first grade, second grade, third grade and fourth grade, they can make a very positive difference to the world around them just by how they talk to one another, how they treat one another, how they pick up after each other," he said.