Police agencies, organizations send their condolences
WHATCOM ­— The Nov. 6 death of Lynden interim police chief Michael Knapp, a day after he was struck by a vehicle while crossing a Lynden street, will be memorialized as a line-of-duty death by the law enforcement community.
However, the date of any memorial service for Knapp, 79, was unknown yet on Friday.
Honoring Knapp, flags at City of Lynden facilities went to half staff, confirmed City Administrator Mike Martin. 
Knapp was also the chief of police for Ferndale for 11 years, ending in 2016, and flags were ordered to be flown at half mast in that city as well until his interment.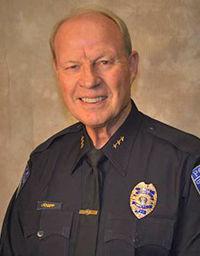 Police agencies from around western Washington shared their condolences on social media after news of Knapp's death was announced Wednesday afternoon.
"He had a long, honorable career. Our officers will wear mourning bands in his honor," was the message from Swinomish Police.
Other condolences came from Lake Stevens, Bellevue and Bothell police agencies. Prior to coming to Ferndale, Knapp had served as chief of police in Medina in King County, arriving in 1998 after 27 years with the FBI.
The National Law Enforcement Officers Memorial Fund reported that Knapp was the 33rd law enforcement officer to be killed in a traffic-related incident in the nation this year and the third officer fatality from the state of Washington in 2019.
The death of Knapp also was reported on the Officer Down Memorial Page and on the Blue Lives Matter and Law Enforcement Today websites. 
Chief Knapp died as a result of injuries he sustained in a vehicle-pedestrian collision. Knapp was crossing Lynden's Fourth Street about 5:20 p.m. Tuesday, Nov. 5, from attending a special meeting at City Hall Annex for the introduction of three finalists for the permanent police chief position. He was transported to PeaceHealth St. Joseph Medical Center in Bellingham, then airlifted that evening with critical injuries to Harborview Medical Center of Seattle, where he died.
Martin said that Lynden's action on selecting a new police chief will be delayed a few weeks now.
Martin also said that within the Lynden Police Department operations lieutenant Jeremy Bos is now the acting chief, and administrative lieutenant Russ Martin is also involved in the department's command.
The Washington State Patrol, which took charge of investigation of the collision scene, has said that no criminal charges are expected to be brought, although the investigation continues.
Brant J. Hilverda, the 19-year-old Lynden driver of a 1988 Chevrolet GMT-400 small pickup truck that struck Knapp, remained at the scene and cooperated with investigators. 
The point of Knapp's crossing of Fourth Street was not in a crosswalk. The State Patrol reported that Hilverda was driving without headlines turned on at the time of the crash after sunset. 
The basic rule of Washington State law (RCW 46.37.020) on vehicle headlight use is that lights must be on from a half hour after sunset to a half hour before sunrise. Sunset was at about 4:42 p.m. on Nov. 5, two days after the fall time change that moves darkness up an hour.