This will be at two spots in July and August
WHATCOM — A State Route 9 fish passage project is just around the creek bend, and travelers can expect delays in the South Fork Valley work zone.
Counting all the migratory fish had to be done ahead of the upcoming Tawes Creek Fish Passage Project along the state highway at Van Zandt, state Transportation reports.
Environmental teams from partner agencies conducted a fish count just downstream of the project area. In early 2012, five coho salmon were counted in Tawes Creek. Flash forward to last month, the environmental crews found 156 aquatic species. Among them were eight coho, 54 cutthroat trout, 75 lamphrey, 14 crayfish and six stickleback. It means the fish passage project is happening at the right time, toward a goal of increasing those numbers even more.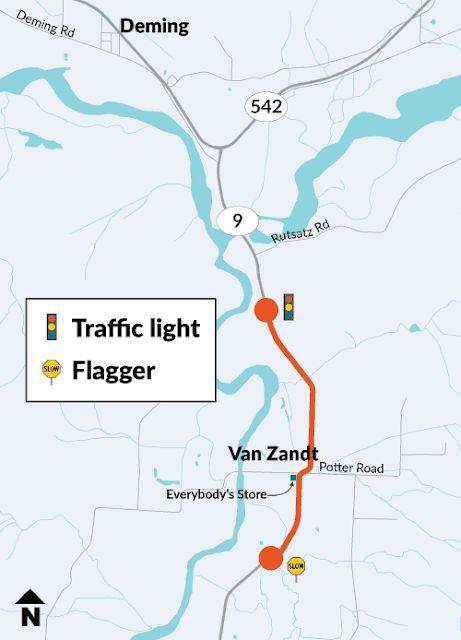 Two tiny passages near SR 9 and Potter Road will be replaced with 12-foot-wide box culverts.
Farther north near Williams Lake Road and Rutsatz Road, a new 20-foot bridge will be built over Tawes Creek.
To help keep traffic flowing, contractor crews will create a temporary bypass lane on SR 9 at the south end of the project. Flaggers will alternate traffic on that bypass when SR 9 is reduced to one lane. A bypass lane will also be used on the north end of the project. A temporary traffic light will alternate traffic there. Expect delays on this portion of SR 9 in July and August, especially during the morning and afternoon commutes.
Why is this work important? When water is funneled through small spaces, such as tiny pipes under highways, the flow of the water is very swift. Many young fish aren't strong enough to swim against the current, which prevents them from continuing their journeys. But when this $5.5 million project is complete this fall, the water will flow at a slower rate through the wider passages, making it easier for these juvenile fish to connect with roughly two miles of previously unreachable habitat.
This new fish passage also helps Washington State comply with a ruling in the federal courts requiring replacement of nearly 1,000 culverts blocking fish passage under state roads to restore historical tribal fishing rights.