Baker wins state Ag Technology/Mechanics event; LC Creed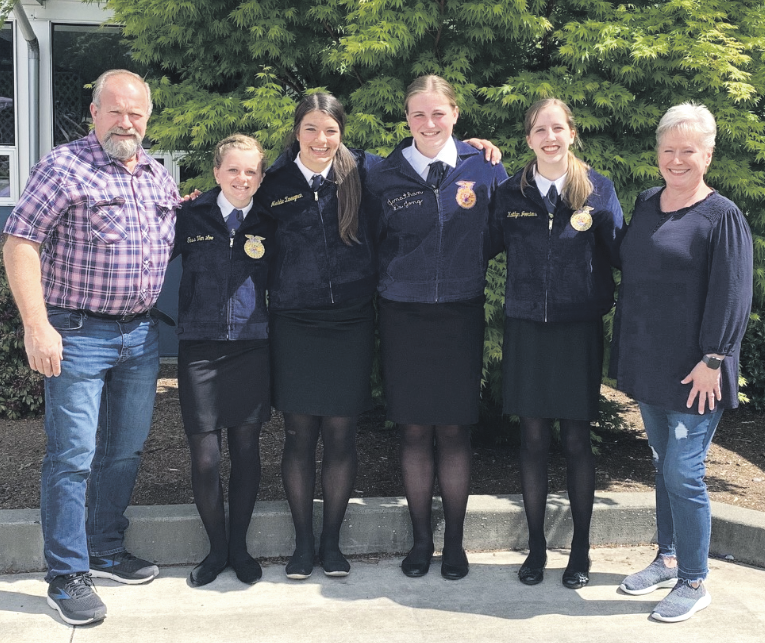 WHATCOM — Mount Baker FFA placed first at the state Agriculture Technology and Mechanics Career Development Event held at Moses Lake's Columbia Basin Skills Center on Saturday, May 22.
  This was the only state in-person career development event in the state this year, reports Mount Baker FFA adviser Todd Rightmire.
  Sophomore Jorey Johnson scored high individual in the state. Eli Freeman was second, Michael Weber third, Nico Johnson 10th, and Collin Favro was in the top 15.
  Universal Technical Institute awarded Johnson a $10,000 scholarship, Freeman $5,000 and Weber $3,000.
  Students completed a very challenging general knowledge test, small gas engine parts identification and problem solving, sprayer parts identification and calibration, electrical circuits and wiring, and welding practicums.
   The team will have a virtual contest in all practicums and general knowledge test in September and travel to Indianapolis for the team activity for nationals.
  Garrett Smith and Aidan Corning were also on the team this year and helped Baker to not lose a contest in over a year, Rightmire said. Also, Jed Grimes, who graduated last year, should get credit for mentoring, teaching and showing this year's guys what to expect and he was not able to enjoy the success due to the cancelled event last year, the adviser said.
  • Lynden Christian FFA won the state Creed Career Development Event for the first time in school history. First, second and third places individually were won by Mackenzie Joostens, Maddie Zweegman and Tess Van Loo, respectively. Joostens will go on to represent the state of Washington at nationals in the fall.
  • Two state marketing teams of Nooksack Valley FFA made top-8 in the state. Placing fifth was a team consisting of Nicci Vermeer, Aubree Bird and Faith Bartl. Placing sixth was a team of McKenzie O'Bryan, Ally Gebhardt and Macie McMillen.
  From Nooksack FFA is this shout-out: "So proud of the professionalism and hard work these ladies have put into the two marketing plans this year!"