Pursuit was from Everson traffic stop about midnight Saturday
WHATCOM ­—  A driver fled an Everson Police traffic stop on Hampton Road around midnight Saturday at speeds topping 100 mph before crashing into a house at the road's turn into Lynden and setting it afire.
Leaving the scene, the driver was taken into custody later Sunday morning back at his residence in Everson, Police Chief Dan MacPhee said.
The Everson officer had made contact with the driver on Hampton and was holding his identification when the vehicle suddenly sped off and "just about took the officer with him," MacPhee said. The address linked to the license took investigators back to Baker Street in Everson.
The driver suspect, Jose Pablo Matias, 27, was booked into Whatcom County Jail a little after 7 a.m. Sunday, Sept. 1, jail records show, on investigation of six charges: reckless driving, reckless endangerment, driving under the influence, hit-and-run of an attended vehicle, attempting to elude a police vehicle, and obstructing a police officer. Preliminary bail was set at $50,000 on each charge.
MacPhee said one of his officers had made a different traffic stop on Van Buren Road Saturday evening when a small red passenger car came by, being driven erratically and at a high rate of speed. A second officer, Mark Tiemersma, was called to respond, pulling over the second vehicle on Hampton just west of Van Buren. He saw evidence of possible intoxication by the driver, who had a passenger with him, MacPhee said.
During pursuit, the suspect driver "at one point turned off his headlights" and Tiemersma decided to back off on speed for the sake of safety, the chief said. Upon coming to the Lynden curve, neither the Everson officer nor a Whatcom County Sheriff's deputy could at first tell what had happened until they saw the smoke and flames arising from the house that had been struck by the car.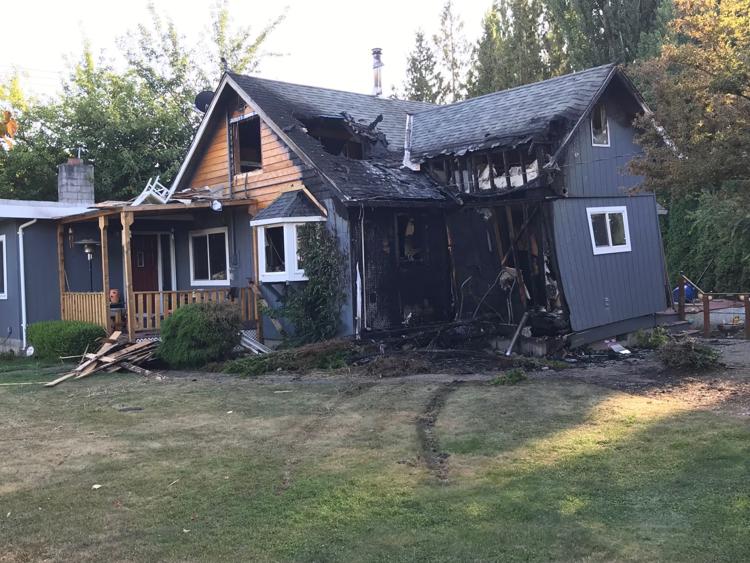 Responders tended to the house fire first, but did use a tracking dog to try to find the driver in the area, without success, MacPhee said. But four officers in all converged to the area of the suspect's listed residence in Everson, and Matias was arrested without incident as he tried to get out the back door of a unit, the chief said.
William Chisholm, co-owner of the house at 911 Hampton Road, said he had gone to sleep in a back first-floor bedroom opposite where the car struck the house at about 12:05 a.m. Sunday. The force of the impact — "it was like a bombing" — awakened him and shook the whole house, he said.
Chisholm got up and, looking out a kitchen window, saw car lights against the front right corner of the house. He was quickly outside to see if he needed to help anyone, but the car's doors were open and no one was inside. 
The crash ruptured the natural gas line feeding the house. Chisholm said fire first broke out in the car, a 2005 Mazda 6 — and eventually gutted it, then quickly jumped to the walls of the house and on up toward the roof. He went back inside to rescue a family cat and dog.
Because of the chase and a call-out to other agencies to help, "there were a lot of cops here," Chisholm said. Lynden and North Whatcom fire units and ambulances also were on scene. 
His wife, Judy, happened to be in Phoenix visiting grandkids at the time, William said, and he didn't tell her the bad news about their house until he picked her up at the airport later Sunday.
The back entrance section containing a mud room, laundry area and a bathroom is charred and shoved two feet off its foundation.
"At least a good two-thirds of the house is gone," Chisholm told the Tribune Monday afternoon. The electrical system is ruined, and three upper-level bedrooms are totally shot from firefighting on the roof. "It disintegrated the kitchen and dining room. There's a lot of smoke and water damage throughout the house."
Due to the holiday weekend, the Chisholms still had not reached anyone for answers on insurance questions.
They happen to have a small converted shed on their property that they can sleep in for a while, and they were finding places to do laundry and get showers, William said. Judy was out getting a new microwave on Monday.
It may be possible to get cold water restored in a back bathroom.
He said their spot on the curve of Hampton, where they have lived since 2006, has been hit by vehicles at least twice before, either into the house or a garage. The path of this car through a patch of grass also took out a post holding several mailboxes of the neighborhood.
"It's not livable now," William said as he surveyed  his burned home Monday. "It's going to have to be divided up between me, my wife and the insurance company — you know how that goes."
William is retired from the U.S. Coast Guard while Judy operates a Treasured Memories shop in Bellingham.
A 2003-06 property owner, Sean Taylor, said on Instagram that he went through a $100,000 rebuild of the house after it had been hit by a drunk driver.