Elementary students show, and teachers tell of their latest learning themes
LYNDEN ­— Talk about good cheer coming from kids! Bernice Vossbeck Elementary School is leading the way.
Character Strong is one social-emotional learning goal, reports principal Michelle Nilsen. In November the aspect of character focused on in classrooms was Gratitude, and now in December it is Creativity. Teachers take that trait to reinforce with their students, varying by grade level.
Teachers choose their own theme to work with and then use both artistic and writing/literary means with their kids, Nilsen said.
Students' artwork was posted in BVE's hallways, and teachers give comment.
Teacher Heidi Petersen, first grade, Reindeer
"My first graders made the 'Reindeer Looking in the Window' art projects and wrote friendly letters telling Santa why they would make good reindeer.
"Reindeer is a theme in my class every December. There are so many great reindeer projects, stories and poems to connect with learning targets.
"The 'Reindeer Looking in the Window' project always makes me smile! I use it to review shapes, but it is one my favorites because I love the personality in each project!
"In their friendly letters to Santa, students wrote why they would make a good reindeer. My first graders wrote that they are 'strong,' 'smart' and 'hardworking' — just to name a few qualities that make good reindeer for Santa!"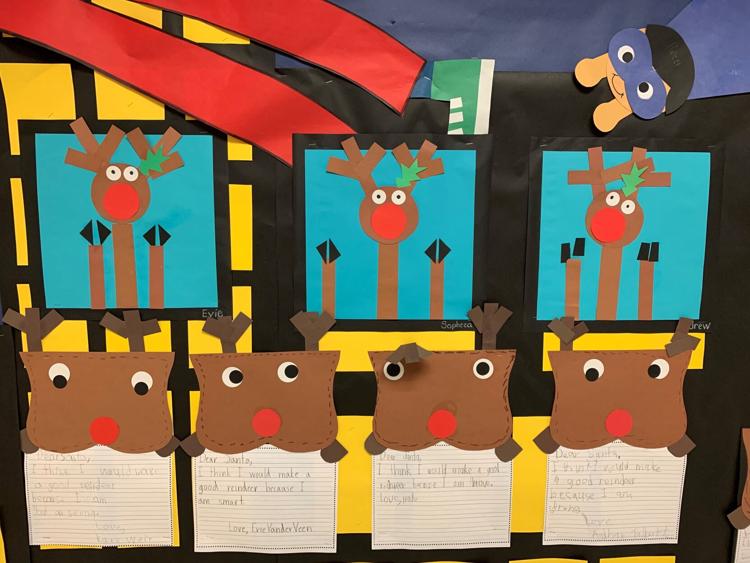 Teacher Rebecca VanSlyke, second grade, Chimney Stockings
"Last month, our school's character quality was gratefulness. To finish up November, we talked about the people in our family that we were grateful for. Instead of writing a letter to Santa Claus asking for presents for ourselves, we thought about what the people in our families might like and asked for presents for them instead. 
"This month, our character quality is creativity, so we were creative when we designed the stockings that covered the letters. It was fun seeing the kids think about what might be meaningful to their family members. They asked for everything from a cat toy for their kitten to chocolates for Grandpa, to an airplane ticket for their mom so she could have a much-needed vacation."
Teacher Marianne Hollander, third grade, I Can Grow Kindness Bulbs
"A little history about this fun project: one of our [paraeducators], Melissa Alison, came up with the project last year. Every class had made the bulbs and then they were strung from the south hallway to the north hallway. It was a beautiful idea to encourage kindness and connect all grades as a community. Being that it was such a great project, I had to bring it back this year but on a smaller scale. 
"I tried to tie in our Character Strong lesson with being creative when we spread kindness. The kids have had such a great sense of community since coming back to our face-to-face learning model. Not only are they loving being back at school, but they are loving the cohort model we have to adhere to for safety reasons. In fact, most of their ideas had to do with including each other in games, talking to each other respectfully, being honest and then, of course, giving to others that are in need.
"I am very proud of this project. It's simple but extremely intentional in the social-emotional rebuilding of my students.  I'm hopeful for the kindness that they will spread in the world as they grow."
Teacher Beth Hartokolis, fourth grade, Thankful Quilts
"In this time of COVID and restrictions, I wanted to help my students to see that there are still good things in our world, in their worlds. We have had great discussions about the things we are grateful for, and that there are often 'silver linings' when bad things happen. It was really inspiring to hear them think and talk about some good things that have come from COVID!
"In addition to the Character Strong lesson on gratitude, we tied in a lesson on how to make a sentence better by adding things such as adjectives, when, where, how and who. Adding more specific descriptors gives the reader more of a 'mind picture.' We used examples from one of our favorite authors, Kate DiCamillo.
"We also did a short review of symmetry in discussing how to color the design portions of their quilt square.
"The best thing to come out of this activity was the discussion we were able to have and continue to have regarding gratitude.  The students shared honestly and made connections with each other over shared celebrations and even some disappointments. They continue to look for positives and support each other in a myriad of ways. It is such a blessing to see their interaction with each other.
"When the class saw the quilt all put together, you could see on their faces that this was pretty special.  I notice that when we walk by it, they still look at it with smiles on their faces (under their masks)."