It will occur at 10:30 a.m. on Saturday, July 17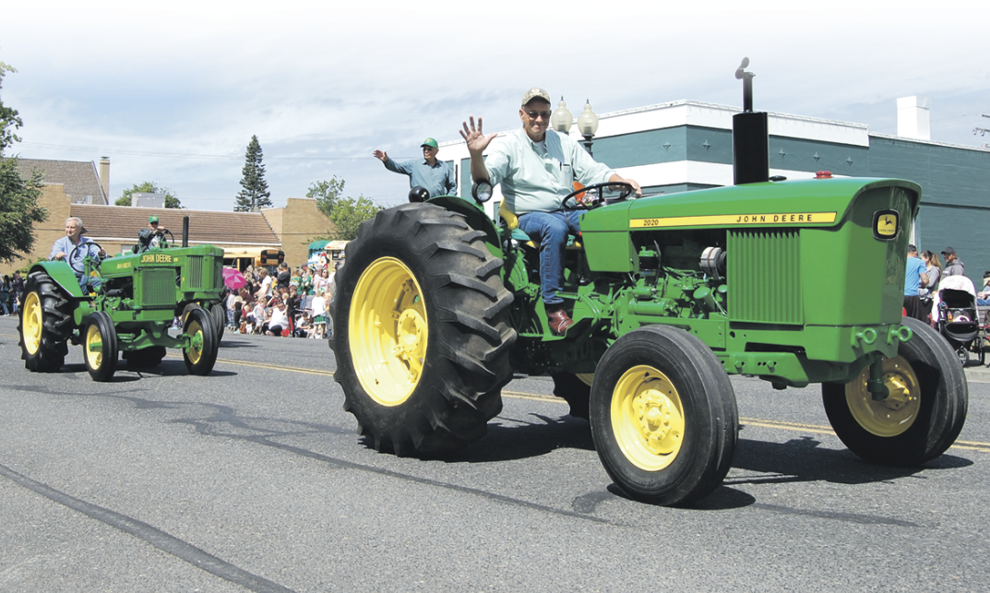 LYNDEN — A year ago, Lynden's annual Farmers Day Parade was a COVID-19 casualty.
Until recently, it seemed as if that would be true again this year. But Gary Vis, executive director of the Lynden Chamber of Commerce, announced last week that the annual event will indeed take place this year — on an unusual date.
"This is an opportunity to do what we do best," Vis said. "Because of the nature of the parade, we felt we could pull it off."
In April, the chamber announced that the 2021 Farmers Day Parade would be canceled. At the time, Vis told the Lynden Tribune that guidelines coming from Washington Gov. Jay Inslee's office would be impossible to meet for the event.
The July Northwest Raspberry Festival was also nixed.
However, Inslee changed direction on COVID-19 safety protocols on May 13, a decision that ultimately opened the door for larger gatherings, such as the Farmers Day Parade.
So now the Farmers Day Parade will occur on Front Street from 10:30 a.m. to noon Saturday, July 17. That would have been when the raspberry festival with its street basketball occurred. 
For more information or to enter a float, visit lynden.org or call the Lynden Chamber of Commerce at 360-354-5995.
Admission is free for parade entries from nonprofit or youth organizations, churches, and Lynden Chamber member commercial businesses. Non-Chamber member commercial businesses can enter at $50 each.
The parade will be presented by title sponsor Peoples Bank. The Lynden Chamber recommends that folks arrive early.
Blur of events that didn't happen
Steve Vander Yacht was born on the day of the 1966 Farmers Day Parade. The third-generation owner of Northwest Propane hadn't missed a parade until the cancellation of last year's event.
"Every so often it rolls around that my birthday falls on the parade day," Vander Yacht said. "It's always been a big deal for us, the parade. I remember always going to it."
The cancellation of last year's parade, he said, is part of a "blur of events that didn't happen." Which is one reason why Northwest Propane plans to have its first delivery truck in this year's first delivery truck in this year's parade, as well as one of its newest trucks.
"Three trucks, and a six-horse hitch of Belgian draft horses, just something a little different," Vander Yacht said. "It sure is a lot of preparation for seven or eight city blocks."
Each year, the Farmers Day Parade travels east on Front Street in Lynden between Tenth and Third streets, a veritable cornucopia of cars, bands, tractors, trucks and horses celebrating Whatcom County's farming industry.
"This is truly about agriculture and the tremendous impacts agriculture has on Lynden and Whatcom County," Vis said. "Injecting into the economy, jobs for our youth, they offer the fruits of their labor to just being supportive of the community. It truly is a way of life and has helped shape what Lynden is today."
It was back in the early 1900s when Lynden area farmers first took to the streets to show off their produce and animals. Vis estimates the first parade took place in 1905 or 1906.
Regardless of the parade's origins, last year's parade cancellation still chaps Vis's hide.
"I was madder than hops," Vis said. "And I still am. So to have it not happen last year and (in April) have to tell people it wouldn't happen this year was a bitter pill to swallow. This event is a celebration of success, celebration of people. That is a mighty fine thing to celebrate."
At 53 years of age, Vis said he's attended 52 parades. Like with Vander Yacht, the only parade Vis missed was the one that never took place — 2020's. Although he doesn't have specific memories of his first parades, Vis said it's the emotions that still run deep.
"The excitement of seeing the roads barricaded, candy being thrown, the horses, the friends in the band, others riding in floats, hanging out with friends and family, a time to connect," he said. "That's the core of a community."