LHS math seniors visit middle school 10 times to help students there in math
LYNDEN — Students from Jordan VanderVeen's AP Calculus class at Lynden High School became teachers for the past month, working with students at Lynden Middle School to present and then help solve math problems. 
VanderVeen's students visited the middle school 10 times in May and June presenting problems to students and helping them work through them. Their first day at the middle school was May 16, two days after the national exam for their class.
"After the exam, students have finished the curriculum, so we look to learn other facets of mathematics than simply being able to 'do more math,'" VanderVeen said.
This was the fourth year of AP Calculus students working with younger students after the national exam. 
"During this process, each high school student presented a challenging, accessible and extendable problem to a group of about 20 middle school students," VanderVeen said. "In this way, each high school student had a chance to be the teacher to a group of middle school students."
For the high school students, mostly seniors, it is also a way for them to give back to younger students.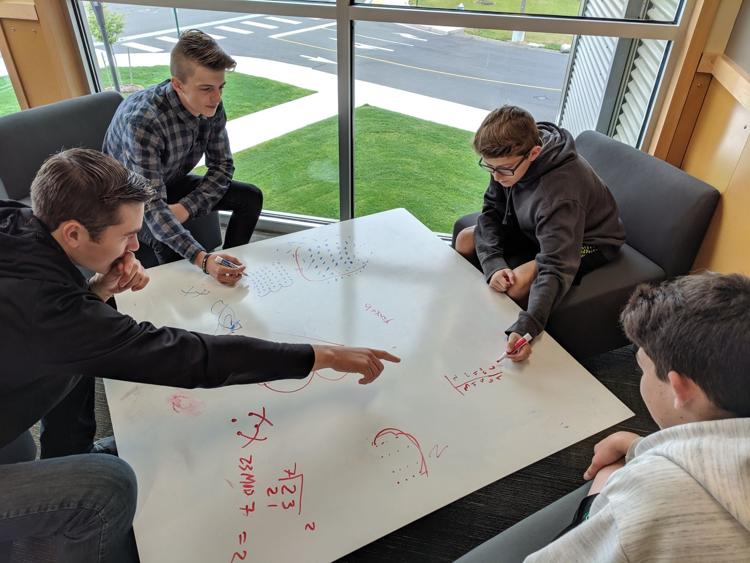 Elijah Vander Haak said it was great to be able to help younger kids who are excited to learn and think in new ways. 
VanderVeen's students also had to work through the challenging parts of being a teacher. 
"I learned that there is a fine line between helping too much and making it too easy and not helping enough," Tabita Revak said.
Revak also said she saw students learning that making mistakes isn't something to be embarrassed about, but something that ends up being helpful in figuring out the right answer. 
Jonathan Irion said he learned that teaching is a careful mix of doing and letting others do work. 
There were also some alternative methods of problem solving the high schoolers were able to share with the younger students. 
"During our time at the middle school while working on math problems with younger students, I attempted to share problem solving skills I've found useful in the last four years of high school — the main skill being consistently banging our heads against the problem until we get a break," Ben Valley said. 
Having high schoolers in the middle school classroom served as a way for both groups of students to think about math in different ways. Katie Vopnford said she had to find new ways to explain things in a way that would actually help a middle school student. 
"It was really hard to be hands-off and let the students take the lead," she said.