If not OK with remote learning, parents get creative — and here's what some are doing 
WHATCOM ­— Public school districts generally expect to see a fall enrollment decline, when the numbers are compiled, due to remote learning mode in the COVID reality of 2020. 
It means parents are considering their options and alternatives — and doing some adapting.
Here's the story of two situations, one in Lynden and the other of Ferndale.
Lynden School District mom Lindsay Ives pulled her three girls out of school to homeschool. She has teamed up with friend Cassi Tagliareni, who also held back her two children, in order to homeschool together. 
"Our children are used to the public schools system and all it offers. Friends, group activities, a real classroom setting, and a teacher that isn't always mom," Ives said. "We are both committed to homeschooling the entire year, as we don't like the idea of masks and social distancing in a learning environment, so homeschooling was the best choice for us."
Ives has a kindergartner, third grader and fifth grader. Tagliareni has a kindergartner and a third grader.
"We are enjoying having the kids in small group settings! We have the kindergartners together at one table, and 5th and 3rd at another. They get to socialize, help each other and do art projects together, and I think that's going to play an important role in their education this year," Ives said. 
Ives said that with kids at three different grade levels, teaching them all alone would have been challenging, so partnering up with another family was the best for both children and parents.  
"As far as handling multiple grades at once, I'll tell ya, since I have three different grades myself, it likely would have been too much to juggle all three at the same time," she said. "The kindergartners need teacher supervision and help with assignments basically every step of the way. But they also require more breaks."
Ives and Tagliareni have split up the responsibilities of teaching to lean toward their strengths.
"We bounce back and forth when needed for teaching, but we definitely have our strong suits. I cover math, while [Tagliareni] covers a lot of the subjects in English, and we share the other subjects like history and science," Ives said. 
Ives said she finds it helpful to switch off. 
"Kids usually listen to other parents more so than their own. They can get stressed out, overwhelmed and emotional when it's just mom  — as we quickly found out last year with at-home learning," Ives said. "Having another parent present makes all the difference."
Ives and Tagliareni have set up two specific days for in-classroom teaching, but can set up for other days if needed. 
"All of our kids honestly seem to be doing better with a full classroom, so we have been taking advantage of the afternoon option when needed," Ives said. 
Only being a week into their new set-up of 2020-21, Ives says she's trying to stay optimistic. 
"However, I know that once my business opens back up, I will have more on my plate," Ives said. "So of course, I have a fear of falling behind, or simply losing momentum. I think that's one of the biggest perks of homeschooling though — working at your own pace, on your own schedule. No one wants to let their kids down. And this year, a big part of their education lies on us, the parents. It's a lot of pressure, and that's why I'm so glad to be doing this with one of my closest friends. It helps keep us both reliable and on track."
Tagliareni and Ives have worked out any kinks as best as they can, with a rewards system in place and a separate space for kids who need alone time. 
Lynden isn't the only school district to see a decline in enrollment.
Michelle Vander Pol Sturtz kept her high schooler enrolled in the Ferndale School District, but pulled her 7-year-old son from Custer Elementary. Sturtz says she used to have weddings on her property and the old bridal cottage was turned into a homeschool room for her second grader, Trevin.
"I was lying in bed worrying about how I was going to make the online schedule Custer offered work around my work schedule — two mornings a week," Sturtz said. "I didn't want my parents, who babysit, to have to deal with the Zoom and online schooling, and our internet, and theirs, is really unreliable. We've tried so many internet options here, and nothing works well. Finally, I just decided it was ridiculous to try and make it all work, when I could do it myself."
Sturtz used to teach first grade and because of that, in homeschooling she has been able to match the curriculum pretty closely.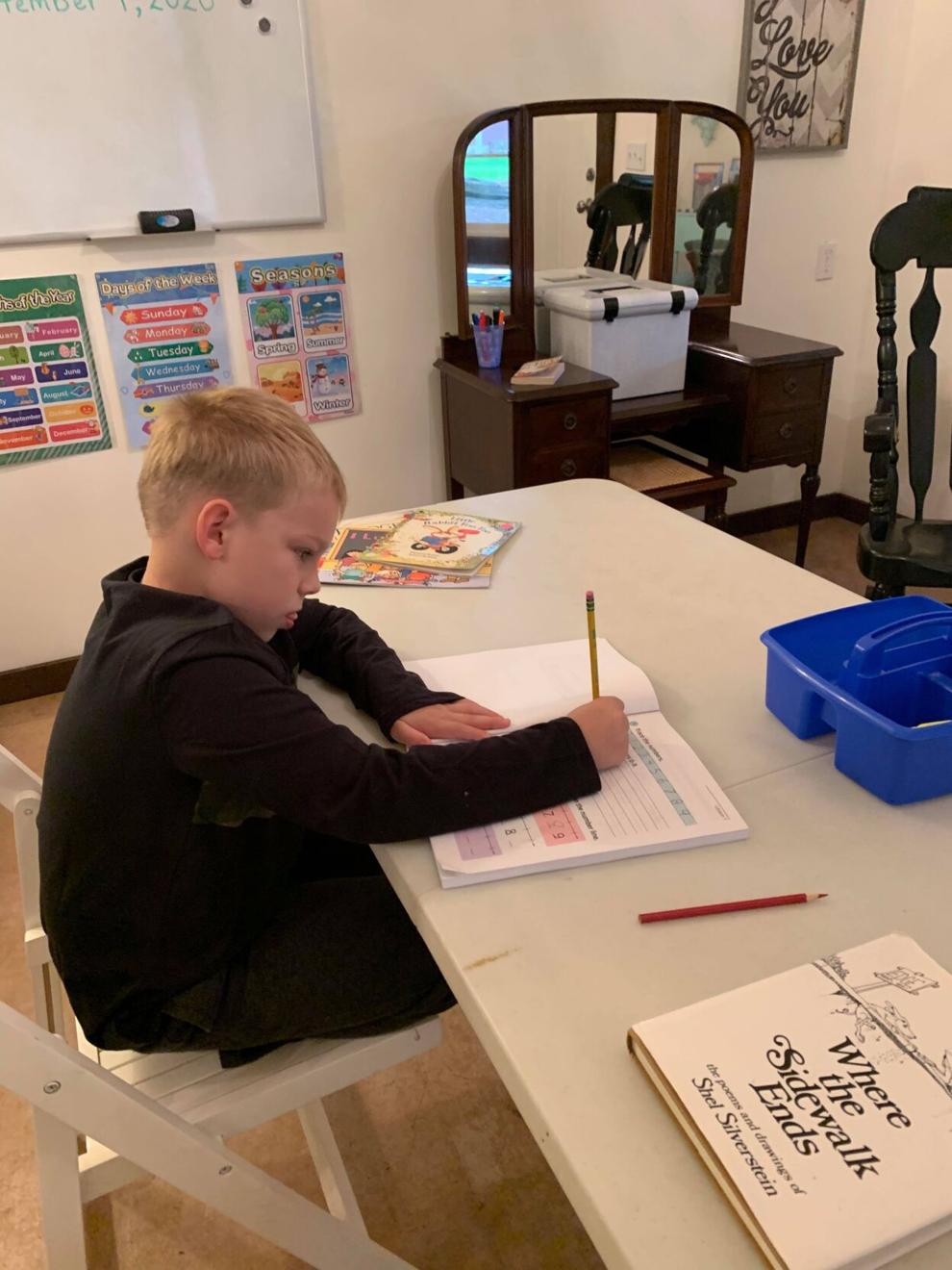 "I love that our schedule is flexible and we can cover more, doing more one-on-one instruction in 2-3 hours than I was ever able to cover in a 6-hour day with an entire class of kids. I do miss the social interaction the boys got in school, but that's not really an option in public school right now anyway. I love what we're doing, and we'll do it the rest of this school year," Sturtz said. "The bonus is, he doesn't spend all day online and gets a traditional hands-on experience tailored to him."
When it is possible to go back to school, Sturtz isn't sure if they will continue homeschooling or not. 
"It's going to be tough to decide what to do next year. It will partially depend on how my 7-year-old feels about going back," she said.
Sturtz said it was decided to keep their 15-year-old enrolled in Ferndale High School because they wanted to ensure he stays on track for credits and he's old enough to stay home alone if needed. 
Tne struggle so far for them has been the internet. 
"Internet has been hit and miss, but doable. We have had to drive to Custer Elementary twice for WiFi, though, for him," she said.