October is busy time in the Pumpkin Patch
EVERSON ­— Family history blends with this year's pumpkin crop at Willetta Farm. And it's where Tim Cramer gets to exercise his draft horses.
What might not be so evident the rest of the year becomes very visible each October when the Pumpkin Patch is an orange-spotted destination for school groups during the week and whole families on weekends to find their favorite specimen to take home, after enjoying some farm fun.
The family heritage on this land along East Badger Road goes back to 1913. That's when Henry Ripperda, a Dutch immigrant via Michigan and Whidbey Island, paid just $6,500 for the mostly cleared 100 acres near Kamm Creek. Upon Henry's death, son William took over the farm in the 1930s.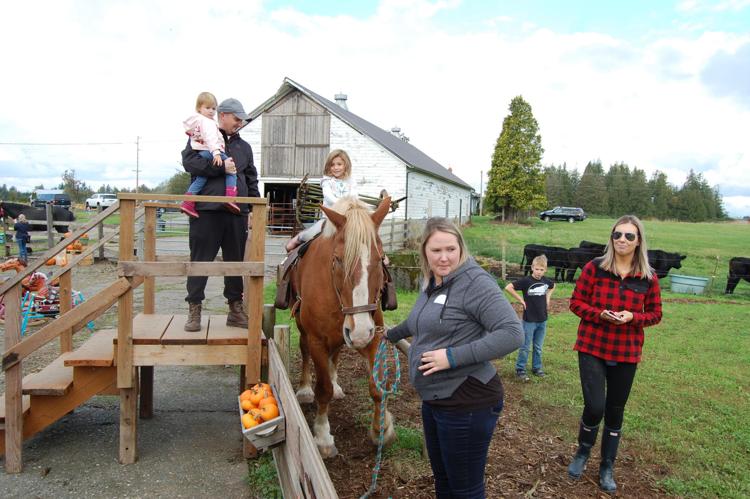 The union of William Ripperda and Etta Jorrisen produced four daughters, and now the family of second daughter Louise and Rob DeVries, and their four children who run the Pumpkin Patch, honor grandpa and grandma with the Willetta Farm name. 
This history is recorded, with artifacts and supporting documents, in the "world's smallest museum," a converted shed on the property, or it might be told in brief by horseman Tim, married to granddaughter Marissa, as he takes visitors down a lane by wagon pulled by two of his black Percheron draft horses.
Cramer also plows and cultivates the one-acre Pumpkin Patch as field work for his horses in the spring. He uses a plow that grandpa Ripperda used.
Sarah DeVries, married to grandson Bryn, supervises the grassy corral area where kids can ride Bobby, the lone big Belgian horse on the farm, for $4 per mount.
DeVries said this is already the fifth year of  Willetta Farm doing the Pumpkin Patch, with ongoing improvements each busy September. "October is the time to shine. All our work comes to fruition," she said.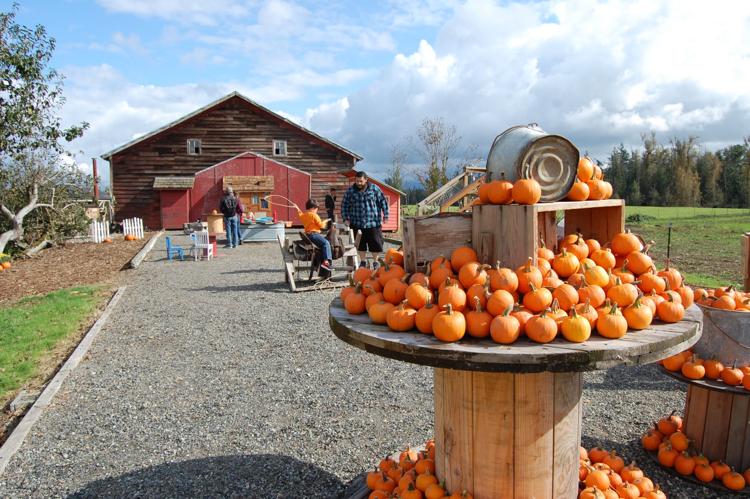 Of course, there is a chance to pick out a pumpkin in the patch, or from one of the farm displays, and pay according to weight. "Any pumpkin that is on the property is for sale," DeVries said.
Other animals to enjoy at Willetta are two small goats, a chicken roost and Daisy the rabbit in a hutch.
There are play areas with slides off a hay wagon, a slingshot pumpkin launcher to try to hit distant targets, a miniature Club House, a Bug Shack, a Pirate Deck and a double water pump — plenty of places to fire the imagination of a youngster.
The write-ups in the "museum" further detail that William Ripperda had a 96-by-40-foot "swanky new barn" built in 1951, headed up by Jake Bovenkamp and his crew. The three-stall milking parlor of Surge machine — one of the first such setups in Whatcom County — at one end of the barn made milking 17 Jersey cows much easier for the grateful farmer. 
The family estimates that Ripperda kept dairy farming until around 1969. He had already been a member of the Whatcom County Dairymen's Association, producing Darigold brand milk, since 1938, with a certificate to prove it. A cow bell and milk scale are authentic relics too.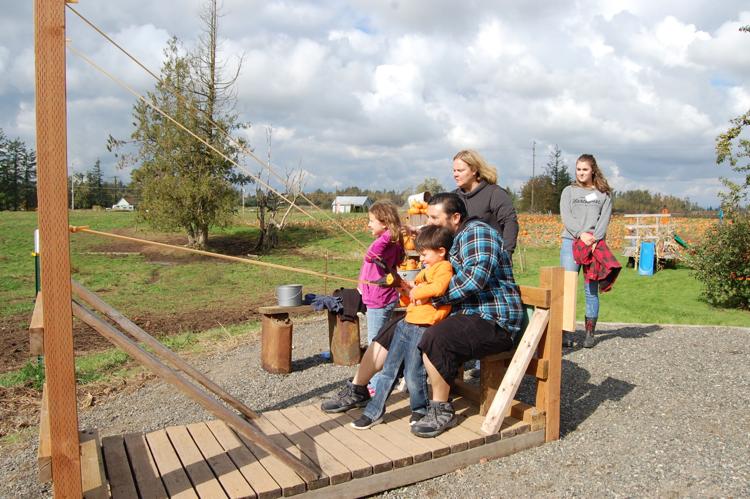 Still in 1946 a box of Trojan explosives came to the Ripperda place, also with DuPont's booklet about safe use, for "blasting stumps" still remaining, according to a saved invoice. 
Also documented in the little museum is the progression of clothes washing for the farm homemaker, from a wood cranker to a steel Speed Queen.
William Ripperda passed in 1989, Etta in 2007. The farm was bought by the DeVries family around 2001, keeping it in continuous succession. Portions of it have different uses or renters.
In last February's windstorm, an old shed on the farm was lost, but damage to the roof of the oldest barn was repairable, and it is still usable for storage, Tim Cramer said.
Open hours to the public are 10 a.m. to 5 p.m. each Saturday and Sunday in October at 1945 E. Badger Rd.