Randy Small's hobby becomes an online job, and the skyline is the limit
WHATCOM — Snow. Wind. Rain. Floods. Many of us don't love winter unless we love Christmas décor or skiing. Randy Small is different. He loves weather (and his family and faith), and he gets quite animated discussing it.
Randy Small, a long-time local resident, has been balancing pastoring with 20 years of varied work at Ferndale's Perry Pallet operation.
Now that second job can end as Small devotes himself to running the Whatcom County Weather page on Facebook. It's a dream come true — with the help of quite a few friends for mentoring and for funding online, once he got brave and put up the donation option.
Here's the chain of events: He joined Twitter in fall 2009, started following Storm Chasers faithfully by 2011, and eventually started to get breaks. Across the years he has had only one negative response and he is deeply appreciative of all his followers.
Growing up was being one of six kids on Hemmi Road near the Smith Road "dividing line" — for weather in Whatcom County, that is. His father, Gary Small, pastored the Liberty Baptist Church. In a 2013 transition, Randy assumed this role. 
At Perry Pallet, both part-time and full-time, he's done "everything but maintenance and driving truck." It helped provide family health insurance, something the church didn't. Now he can leave his job in "good hands" and return, if needed.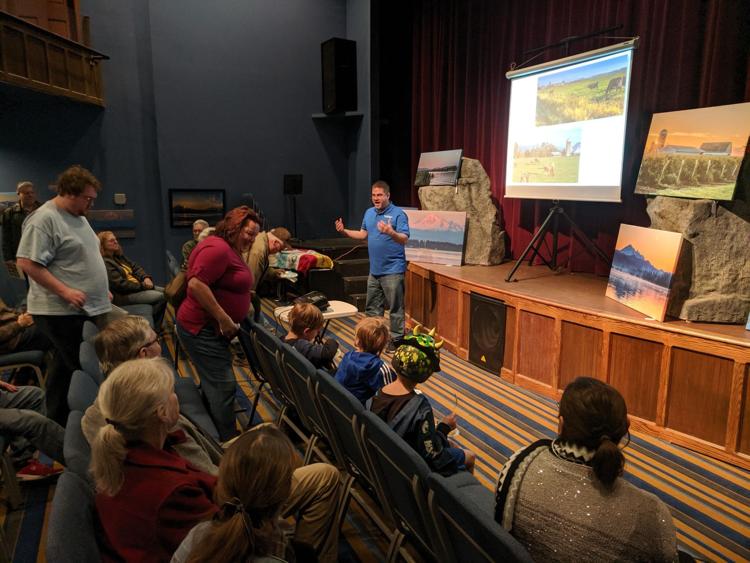 Being a pastor is not always easy, he said, and these days there can be the added stress of counseling through drug and domestic abuse. Small hit a time of deep depression about 10 years ago and got through with the help of family.
"I'm looking forward to having a 'day off'," he said. He picked this winter season to transition since inclement weather happens more often in winter.
An open house was recently put on by family and friends at the Claire vg Thomas Theatre in Lynden. While Small hoped for 30 to 50 in attendance, he was pleasantly surprised by closer to 100 fans of his social media efforts enjoying a weather-themed cake. He shared his story and goals, along with prints of his images.
"Weather sells ... huge," he said. While he focuses on what happens in the Pacific Northwest, and almost entirely within Whatcom County, he could go around the country chasing storms such as hurricanes, and get more notice.
The bad weather in Whatcom County rarely conflicts with that occurring elsewhere in the country, he said.
Within weather circles, he has connected with and learned from Jim Cantore of The Weather Channel and James Spann. Spann, one of the foremost experts out there, has shared much of Small's work. He is an expert on weather, but not a photographer himself.
Local resident Sean Wheeler is another "part" of the page. He helped Small by driving around the county in his big truck and taking video over the last nine months. In addition to supplying their page with imagery, they also have it brokered to larger news agencies — for a fee. So far, he's taken in several thousand dollars. They want, he said, quick 10-second segments to broadcast., without narration. He puts together different groups of "scenes" and uploads them. Competition is from those on social media willing to give what they have — for free.
"He loves weather and I do too," Small says of Wheeler.
The love of weather, and the recent connections, also led to a bit of a pilgrimage in 2017 to the National Weather Service complex at Sand Point on Lake Washington in Seattle.
Another team member is Small's Aunt Karen Coleman, his dad's twin sister, who relocated to Lynden to help provide graphics for the website. Randy's wife, Judy, appreciates the family efforts, but isn't part of the team.
While the original goal wasn't photography, Small developed the interest to go along with his weather interest. He has gone from grabbing the point-and-shoot camera of his wife to investing in better cameras to operate on manual settings.
KOMO-TV's Scott Sistek, who works behind the scenes as a digital meteorologist and blogger, provided a first big break by featuring a shot. In March 2016, Small had stopped along Hannegan Road to take a photo of the Twin Sisters. Not great on his composition, he didn't realize until he looked at it later that he also managed to get in a quaint barn ­— accidentally.
It was an "aha" moment. It was a turning point. He set to learning composition and that entailed "patience." At that time Sistek was starting a special Twitter group (now via a private Facebook group) for photographers. So on June 6, 2016, Small joined the first 25 in the "Legion of Zoom."
"Yes, I wasn't very good and I felt honored just to be included." As he has improved, he is both seeing photography as a way to help with stress and to "see the faithfulness of God on display each day."
He found a Canon Rebel camera initially with three lenses at a garage sale for just over $100. Now he uses a higher grade Canon EOS 80D. He started reading books from the library and became familiar with operating the camera in manual mode, aperture, shutter speeds and ISO (film speed).
"I'm no longer the worst (in the group)," he said and smiled. One of his photos taken at Lynden High School in a big snow storm went viral.
He found that Twitter was the best way to communicate and get a quick response from the experts, both about becoming a better photographer and more knowledgeable about weather. He followed Storm Chasers such as Reed Timmer and Brett Adair. Adair is now Small's "storm broker" getting his images to "Good Morning America," "The Today Show" and "The Weather Channel."
More contacts keep coming, including a Portland, Oregon-based weather group of national and retired meteorologists with the ability to learn "model writing" from weather data.
Seattle-based photographer Sigma Sreedharan, who is a serious hobbyist and senior manager at Amazon, has stopped by to offer advice. Brie Hawkins of Little Bear Creek Weather Facebook page also became a friend and an inspiration — for him to want to do his own local page. "She said to 'go for it'."
Surprisingly, "the" page has brought him 13,000, and counting, loyal fans who recognize him as he takes his camera out and about to catch those early-morning and late-day shots of the sunrises and sunsets. The alarm rings at 4:30 a.m. and he is out the door. Camera in hand.
"I'll sleep when it rains."
Sales of his 2020 photo calendar have enabled him to invest in a top-notch F3 lens. Photos are available through his website and Facebook. He is also open to meeting page followers for coffee. He's been able to run his page successfully without drama and swearing, and instead with kindness and respect.
Now his children have been learning with his old camera. His work has won numerous local photo contests and been published in several magazines as well as on the Lyndenopoly board game. He is learning more about sports photography by practicing at Lynden High School football games.