111 canoes from Coast Salish tribes around the Pacific Northwest converge for traditional potlatch
LUMMI -- When George Jones of the Port Gamble S'Klallam Tribe participated in Paddle to Seattle in 1989, the tribe didn't have a single traditional tribal song to sing when they pulled up to the shore. This year, as he and other members of the tribe introduced themselves on the shores of Lummi Island, he was proud to be able to share two songs that his people had preserved.
"When we started back in 1989 we didn't have one song to sing," Jones said. "Now we can probably sing for over an hour and a half."
Sharing and preserving Native language and song is one of the key aspects of the annual Canoe Journey, an inter-tribal gathering hosted each year by a different tribe. This year's Canoe Journey is called Sqweshenet Tse Schelangen, which means "honoring our way of life" in the Lummi's traditional language. 
This year, marking the 30th anniversary of Paddle to Seattle, was estimated to have more than 18,000 people in attendance and over 100 canoes arriving at the shores of Lummi Island.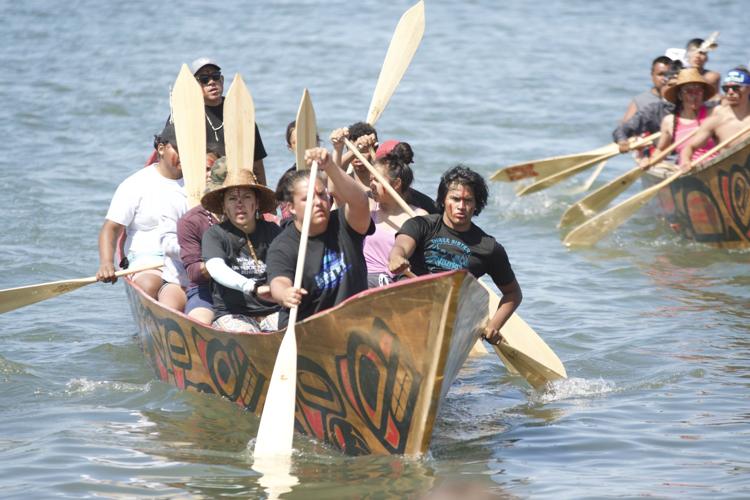 The six-day celebration began with the canoe arrivals Wednesday afternoon and lasts until Sunday, July 28. Over the next days, paddlers will celebrate with a Potlatch Protocol Celebration with traditional food, songs, dance, drumming and other events.
As canoes began to line the shore on Wednesday, tired and hungry paddlers were welcomed by the Lummi hereditary chief, the Lummi Stommish Princess, the Lummi Stommish Warrior and tribal cultural leaders. A representative from each canoe introduced themselves and briefly shared their journey, tribal history and elders, oftentimes sharing songs. 
Shoshanah, this year's Lummi Stommish Princess, said it was very healing to be one of the people welcoming the paddlers as they arrived.
"Seeing that there's so many people out there still gave me hope," Shoshanah, 17, said. "We are all one people, and we've got to work together to assemble what we have left to build upon that." 
While the majority of tribes came from Washington, Oregon, British Columbia and Alaska, there were also attendees from Australia and Papua New Guinea. Many journeyed multiple days to reach Lummi Island, with some stopping at checkpoints such as Jamestown, Port Townsend and Alki Beach in Seattle. 
Some tribes came with multiple canoes, such as members of the Port Gamble S'Klallam Tribe in Kitsap County, who paddled two travel canoes and one family canoe. One of their paddles, adorned with a red and black orca, was used in the first annual canoe journey, the Paddle to Bella Bella in 1993. In addition, one of their dugout canoes was used in the first Paddle to Seattle. 
"The one-peice dugout canoe is carved out of one cedar log and is very delicate. It's priceless. It was in the first Paddle to Seattle. Its name, in our language, is killer whale; orca," said Jones, who skippered one of the S'Klallam canoes for the 60-mile, five-day journey to Lummi from Port Gamble.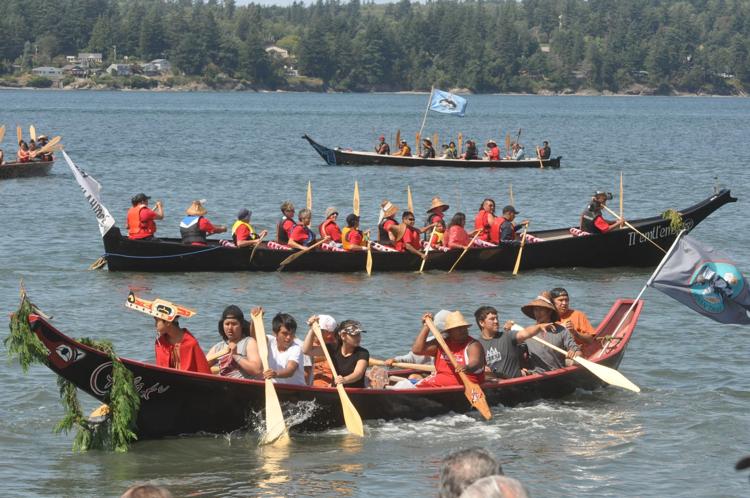 The tradition of the annual canoe journey began with the Paddle to Seattle in 1989 when Emmett Oliver of the Chinook Tribe organized the event to revitalize the centuries old tradition of canoeing on the state's centennial. 
A small amount of tribes set out from La Push in July of 1989, with more canoes gathering along the way, ending in a celebration at Golden Gardens Park at Shilshole Bay in Seattle. A paddle to Bella Bella, British Columbia was organized four years later, and in 1993, the traditional Canoe Journey began to take place annually. 
Now Coast Salish tribes from the Pacific Northwest converge at a new site each year.
"There were eight to 12 canoes in Paddle to Seattle, now we have 111," Jones said. 
Fourteen-year-old Nizhoni paddled for the first time this year with others from the Port Gamble S'Klallam Tribe. She wore a large copper ring around her neck, symbolic of her participation in the canoe journey, the string adorned with 14 colored beads.
"Each bead represents how many journeys you've been on. I've been on 14, so far," she said, explaining how although this was her first year paddling, she has been on the canoe journey every year since was born.
Joe Price, who co-leads the tribe's song and dance group with Jones, said it's encouraging to see the event grow over the years.
"It's getting bigger and bigger every year. Events like this, it's a cultural gathering that revitalizes the youth, it revitalizes that culture. It reinforces all the teaching that we've been taught, and now we're teaching the younger guys," Price said.