Hundreds come to Meridian High swearing-in Saturday
LAUREL ­— Supporters of Satpal Sidhu filled the auditorium of Meridian High School on Saturday to witness his swearing-in as Whatcom County Executive. 
Washington State Attorney General Bob Ferguson, one of six speakers at the event, called the election of Sidhu historic. 
"Today, we celebrate coming full circle as a community and as a state," Ferguson said, making reference to early 20th-century worker riots that chased Sikhs out of Bellingham.
Sidhu thanked voters and the many people that helped him on his campaign. He won by 1,849 votes over Tony Larson in the Nov. 5 general election. 
"I am so humbled and honored by the support and trust from varied groups of people," Sidhu said. "That's the reason I'm standing in front of you today. Thank you for giving me this opportunity."
He said his leadership vision is simple: Working together, people can achieve something bigger than themselves, Sidhu said. 
"This is a tall promise. It's hard work. It's easier said than done," Sidhu said. "I'm ready for that."
Other speakers included Hardev Juj, former vice president of the Bonneville Power Administration; Mohinder Sangha, former president of the Lynden Sikh Temple; Jay Julius, Lummi Nation leader; and Sidhu's son, Mandev, who graduated from Meridian High.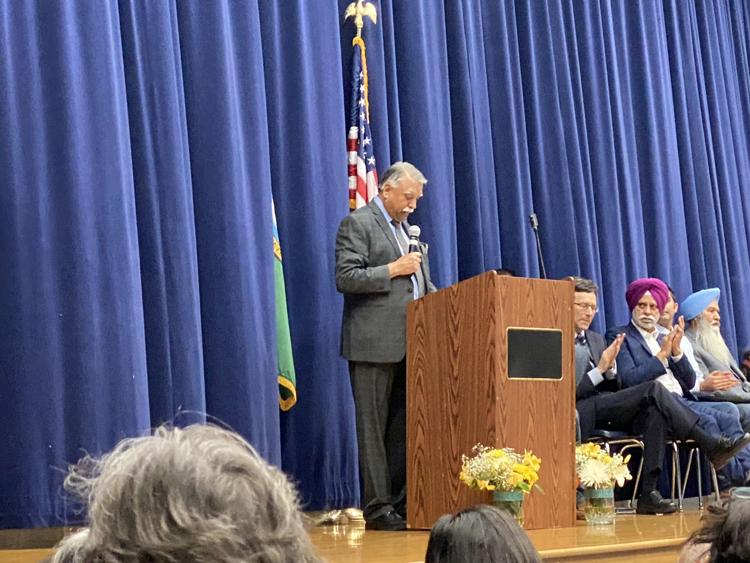 Each speaker described their history with Sidhu and what they thought made him fit for the position of County Executive. 
Juj spoke of his history with Sidhu going back more than 40 years to their days in college, and he shared advice on how Sidhu should handle and approach his role in public service. 
Julius said he felt a strong connection and sincerity from Sidhu when he first met him. He also thanked Sidhu's family for allowing him to make the sacrifice that comes with being a public leader. 
Sidhu comes from a term on the County Council.
"You've served as a leader and you've done great work and been very community-oriented," Julius said. "You had the courage to step up and answer that call. You've earned the right to serve in this position through your leadership, through your honesty, through your truthfulness, and for that I am thankful to you and your family."
Sidhu's son, Mandev, said the best way to describe how he feels about his dad being sworn in is "proud."
"I'm just proud of my dad for all of the hard work he put into the campaign," he said. "But, more than that, I'm proud of him for all of the hard work he's put into the community for the past 40 years." 
He described his dad as someone who has the ability to bring people together. 
"He just sees everybody as people," he said. "He genuinely wants to get to know you and genuinely wants to connect with you. I think this is the reason why so many people know my dad. They don't just randomly know Satpal. I think they know him because he's taken the time to get to know them."
Mandev said the ability to bring people together will create long-lasting solutions for the community. 
Sidhu's family and friends joined him on stage as Whatcom County Auditor Debbie Adelstein spoke the oath that Satpal repeated.