EVERSON ­— The first thing Rhonda Juergens has to do as the one-and-only ag teacher at Nooksack Valley High School is to be in command of her subject matter.
And so on a Monday morning, as her Environmental Biology class of 25 sophomores is gearing up for a new week of learning, Juergens is expounding on chloroplast function — yes, how the cells in plants perform photosynthesis. 
And she must be a good organizer, on top of each minute. She efficiently dispatches the kids in two successive classes out to the greenhouse for 10 minutes of measuring and watering their recently received poinsettia plants.
And, of course, she needs to engage well and be attentive to the needs of each student — all 85 of them across four classes right now.
She does it all, and well.
What folks at Nooksack Valley already knew is now recognized by the rest of the state: Rhonda Juergens is the best ag teacher around.
Juergens has taught since 2004 at the rural Whatcom County high school — where the smells of agriculture are right outside. Over the summer, she was named the 2018 Washington Ag Teacher of the Year by the Washington Association of Ag Educators during the group's annual June conference.
"I couldn't believe I was selected," she says. "It is something you are very proud of because you know how much time and effort all the other teachers put in. Just to get the nomination and be up there with the other teachers, it was a pretty big honor."
Each of the state's nine districts nominate one teacher, and the state winner is chosen from those nominees.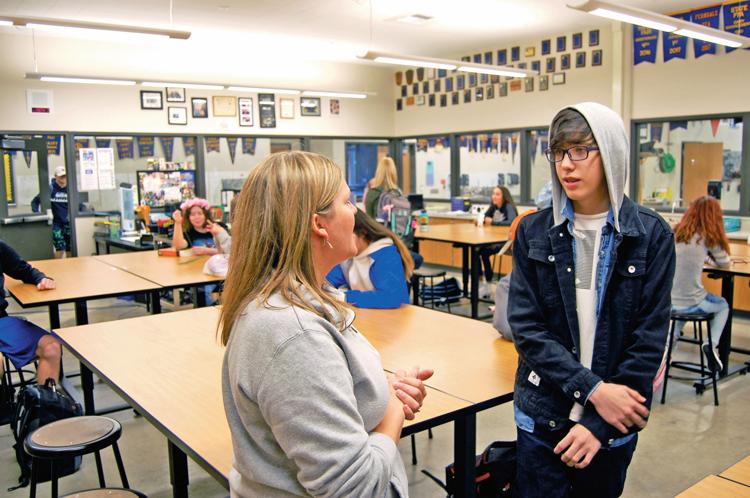 For Juergens, her dedicated work to support students was unparalleled. As the only ag teacher in the school, she teaches integrated ag science, environmental biology and two levels of floral design. She runs the greenhouse, heads up the metal shop with a beginning metals and advanced metals classes, and also serves as the lone FFA advisor for over 50 members.
Doing it all requires dedication. But the students keep her going.
"I will brag about our kids until the cows come home," she says. "They are the reason you do this. You know how hard they work and just to see the growth they make from year to year —that is why I do it."
During the school day, while Juergens has her own unique interests, it is the totality of her work that serves the students. She will say that she really loves the plant biology.
"The greenhouse and the science, that is where my love and passion is, but I have a great appreciation for the metal shop and I love the connection it can give kids. The kids who may not excel in English or history, but can come out and just be the star, it makes it hard to say you love one (class) or the other as a little piece of your passion is in each class."
Finding that home for students to shine is part of what makes an FFA program succeed. Juergens bases each year's teams on the interests of the students, whether it's a veterinary science team, a dairy foods team, a marketing team or a milk quality team. Whatever the emphasis, Juergens will work to organize and coach while networking with local industry professionals so students can connect to real-life learning and relevant workplace experience.
In the biology class Monday, Destiny Dunlap, who is also in FFA, was one of Juergens' appreciative students.
"She explains stuff a lot — aspects of it you don't understand, she'll help you. She's always giving us examples," Dunlap said.
"She's a great teacher. She explains science well," said Megan Heinzen, who might pursue some aspect of science in a career because of teacher Juergens.
Kendall Newton, an FFA officer who assists Juergens in classes, says the teacher absolutely deserves the honor she won. "She gives all of her time to her students. She wants them to succeed. She knows what we can do."
Newton knows what is involved in running FFA on top of daytime classes, and she is sure the main credit for the ongoing program at Nooksack Valley goes to Juergens.