WCLS had some Ferndale help in new vehicle's design, construction
WHATCOM — The Whatcom County Library System can't be everywhere at once, but its Bookmobile services extend the reach far beyond brick-and-mortar facilities.
WCLS celebrates its 75th birthday this year, and for 72 of those years the Bookmobile has been a staple of the system's services, serving places in Whatcom County that lack their own central community library building. This year, a brand-new Bookmobile enters service, with the help of Ferndale's TriVan Truck Body and a variety of local businesses.
WCLS began using the current Bookmobile in 1997, and while the vehicle's motor is in great shape, its body has started to see some age-related problems, said Sarah Koehler, WCLS Mobile Service branch manager.
When it became obvious that a replacement was needed, Koehler said, she and WCLS Deputy Director Michael Cox spent the better part of 2017 considering their options.
"It was time to make a decision of whether we would replace the Bookmobile or whether we would discontinue Bookmobile service," Koehler said.
They looked at the routes and the mobile services situation as a whole and eventually reached a consensus.
"We decided that we definitely should replace it," Koehler said. "It's an important service."
Part of the Bookmobile's value stems from the relationships it builds, Koehler said. She serves a dual role in the library system, working as both the mobile service branch manager and the manager of the Ferndale Library, which sees between 600 and 1,000 people each day.
Koehler said she knows many of the clients who come through the Ferndale doors, but it's more difficult to get to know them on a deeper level.
"The Bookmobile has such a smaller clientele," Koehler said. "You see a lot of the same people every week, and you get to know them in a different way. You get to know their reading tastes. Those relationships are really important."
Having access to books helps build literacy in these remoter areas of the county served, and that's a very important function, Koehler said.
When it came to constructing a new bookmobile, weight and versatility were big factors.
"We needed one that did not require a commercial driver's license to drive it," Koehler said. "Our current bookmobile requires a CDL. It's heavy."
Only three current WCLS employees have CDLs, including Koehler, so having something that any employee with a regular driver's license could operate was paramount.
WCLS also emphasized familiarity in order to ensure that the new Bookmobile had the same look and feel as that being retired. 
"We wanted something that's fairly economical, something that has good work processes and something that maintains the same flavor, for lack of a better word, as the one we have now so that it still seems familiar to people — like the wooden shelving for the inside," Koehler said.
For the Bookmobile's construction, WCLS turned to Ferndale's TriVan Truck Body. WCLS put out a request to bid and TriVan was one of several companies to respond. TriVan ultimately won out, in part due to its experience with creating bookmobiles.
"We've built several of them, and this was a very nice project considering that it was going to be used locally. That was a really nice feature because often we're working on projects that are going to a faraway community," TriVan's Bob Lodder said.
Lodder said a fair bit of design, engineering and manufacturing expertise goes into creating a bookmobile, and many factors must be considered when planning the build.
"They have to be comfortable to ride in, and they have to last a long time because the library puts good money toward them, so they have to be very reliable, leak-free, and stand up to all kinds of road conditions and weather conditions. And, of course, be sturdy enough to handle the load that you put in," Lodder said.
Lodder said TriVan is honored to have worked on a bookmobile that will operate so close to the company's home base.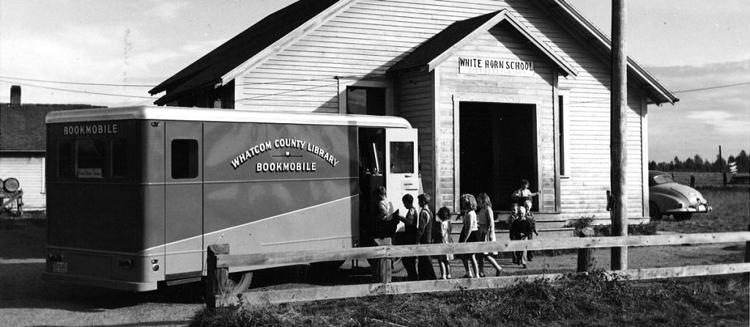 When the first Bookmobile began doing its route in 1947, the job was much larger than it is now.
"Years ago, there were only a few branches, so the Bookmobile had a huge route and went out almost every day," Koehler said.
Through the years, as various communities around Whatcom County got their own libraries, WCLS reevaluated the Bookmobile's role and rerouted it to communities still without libraries. Today, the Bookmobile spends time in Glenhaven, Birch Bay, Wickersham and Lake Samish. As seen in Birch Bay, successful Bookmobile stops can help determine where WCLS sees opportunities for growth. When Birch Bay's planned library is built and ready for use in a few years, Koehler said, WCLS will again evaluate the Bookmobile's route.
Even though it only operates three days per week, as compared to the many fixed libraries that are open every day of the week, the Bookmobile still supports the circulation of more than 40,000 items per year, Koehler said.
  CLS will host a ribbon-cutting ceremony at 10 a.m. Tuesday, June 18, at the WCLS administrative offices located at 5205 Northwest Dr. north of Bellingham. A short presentation will be followed by Bookmobile tours.
To further celebrate the new Bookmobile and the 75th anniversary of WCLS, the Bookmobile will appear at a variety of events throughout the summer and the rest of the year, including:
• The Sumas Days Parade on Saturday, June 29.
• The Blaine Fourth of July Parade.
• The Everson/Nooksack Summer Festival Parade on Saturday, June 13.
• The Ferndale Old Settlers Parade on Saturday, July 27.
• The Discover Birch Bay Days Parade on Saturday, Aug. 17.
• The North Fork Area Summerfest on Saturday, Aug. 24.
• The Lynden Lighted Christmas parade on Saturday, Dec. 7.