Growth drives schools; many county officials retire; Ecology takes over water planning; city buys Glenning site; two die trying to save dogs; Sen. Ericksen adds a Cambodia job; Bass convicted of Stavik death; P.O. mural causes furor; Farm Pavilion built; Sumas gets $2 million for projects 
2 — Legislators set event Jan. 5
At Meridian High School it will be returning 42nd District Sen. Doug Ericksen and Rep. Luanne Van Werven and newly elected Rep. Sharon Shewmake.
Sheriff's son remains in critical condition
From a Dec. 18 one-car crash into Interstate 5 median, William J. Elfo was airlifted to Harborview in Seattle. The injured 28-year-old passed in November 2019.
9 — Bachman house sold, now Gracewood Manor
The 1970s-built mansion for rock star Randy Bachman is now available for private retreats, FaithLife Corp. events.
Lynden Police deal with two knifing cases
A man has been arrested for stabbling his mother on Vine Street in December; this week, a domestic dispute on Shea Street also involved a knife.
Home prices rise 34 percent since 2015
The year 2018 was again solid, by Realtor Troy Muljat's calculations, although home prices in Whatcom County are now cooling. 
New U.S. farm bill helps dairy, berries
The National Milk and Speciality Crop organizations like what they see in the five-year bill passed by Congress and signed by the President.
16 — Growth drives Nooksack Valley school bond
The $30 million bond going to voters Feb. 12 is mostly for a new Sumas Elementary School in a district that has seen 16 percent growth at lower grade levels since 2015.  
23 — "Blood moon" hangs above county
A total lunar eclipse was visible here Sunday evening, as it was also across the Western Hemisphere.
Logan gets 100 hugs, and then some
Lynden's K-9 Lap of Luxury pool was one stop for the German Shepherd puppy with a terminal heart condition helped by Ferndale's Rescued Hearts Northwest.
Debbie Adelstein retiring, deputy will run for position
The county auditor backs Diana Bradrick to be her replacement in this year of elections for city and county offices.
Moving Puget Sound Energy feeder lines underground drives a major redo of the busy alley, with a mailbox, in the 100 block between Sixth and Seventh streets.
Helping youth — mental health first aid
Training to help monitor students' mental health is now being offered in the Lynden School District.
Deming school deal with lead in water fixtures
The Mount Baker district is acting promptly on new state testing requirements.
City hires 15th police officer
Lynden is at full force for the first time in two years, and that will increase to a 16th officer during 2019.
A heart for keeping Lynden Youth Sports alive
The devoted trio of Rich Waldemar, Becki Berendsen and Jerry Kok are honored as the last recipients of the Sol Lews Award for community volunteerism.
Isom principal making big move — to Uganda
Patrick McClure and his family will serve a five-year term at Christ School Bundibugyo starting in summer. Twenty-year teacher Tim Doering will be his local replacement.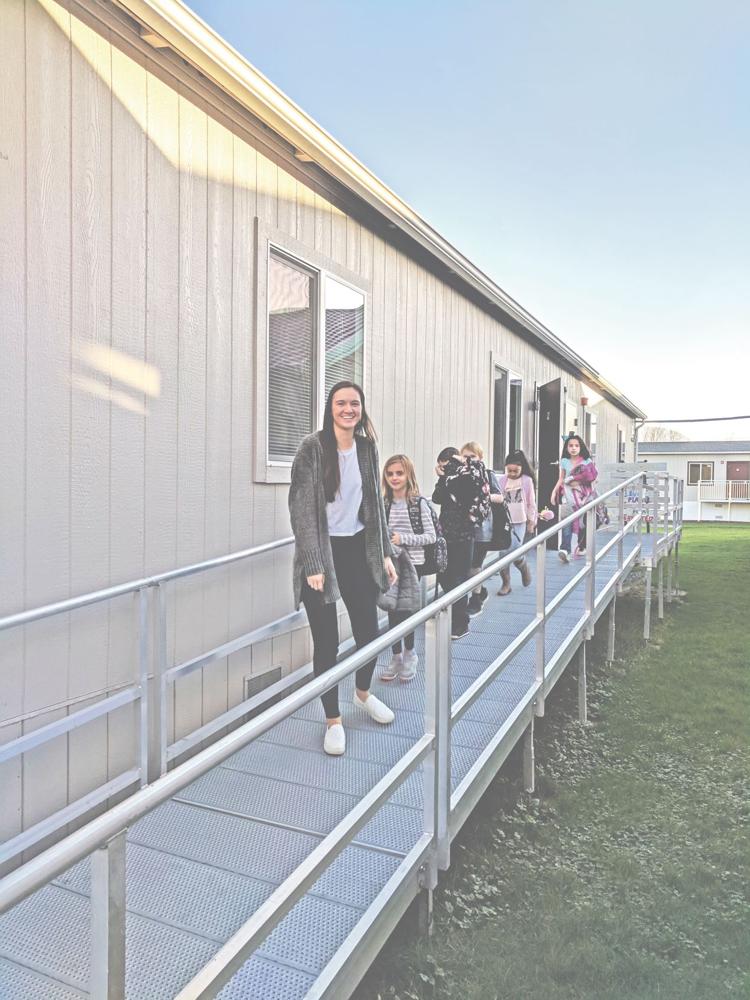 6 — Counterfeit bills passed
The Lynden Chamber of Commerce alerted its members on Tuesday; also, Peoples Bank intercepted some $20s before they entered circulation.
Cardiac arrest survivor meets his 911 saviors
Matthew Weeks and his wife were surrounded Jan. 25 by the dispatchers and Lynden Fire Department responders who saved his life.
Ericksen bill defines milk as from mammals
The state senator believes other products should not use the word "milk." His SB 5349 did not advance.
Schools have been closed, games canceled and businesses hampered by icy winds and a dumping of snow. 
In spite of adverse weather, both the Nooksack Valley and Ferndale district proposals to build new schools are above their needed 60 percent support in Tuesday's election.
A Hallmark filmmaker in Lynden
Experienced film director Mel Damski, at age 72, is new in town and heads shooting for the Hallmark Channel at British Columbia locations.
County Executive Louws not running again 
He is serving his second term and also had 12 prior years in Lynden city government. Also, eight-term County Assessor Keith Willnauer will end his run.
27 — Ecology takes over water planning
Because the county could not come up with a plan, the state agency will head compliance in the Nooksack watershed with the SB 6091 water conservation law, which was itself a response to the October 2016 state Supreme Court Hirst ruling.
$400,000-plus pledged for Glenning property
A group of 22 public-spirited citizens has committed dollars upfront to help preserve the historic school two-block tract for future community use. The full amount to be raised is $1.45 million.
"The Big Burn" author to be at Mount Baker High School
Timothy Egan, whose account of the massive 1910 three-state fire is the Whatcom READS book selection, will also be at the Mt. Baker Theater March 7.
Lyndenite Bill Nienhuis takes helm of Childcare Worldwide
The Bellingham child-sponsor organization was founded by Dr. Max Lange in 1981 and he is retiring.
6 — Triumph, heartbreak in Yakima
The Lynden boys won a second straight Class 2A basketball title. The Lynden Christian girls fell in their title game, and the LC boys lost their only game of the year to take fourth place.
13 — Farmers see 'disconnect' with food consumers
"What is Farming's Future?" forum at Meridian High brings together varied agricultural producers and boosters. The message is, bridge issues or U.S. food will come from overseas.
LMS kids compete at History Day
Eight Lynden Middle students, believing history is interesting, brought various presentations of their research to the regional judging at Anacortes on March 9.
USDA raspberry order officially ends
Some assets of the voted-out six-year National Process Raspberry Council will be transferred to the Washington Red Raspberry Commission, however.
20 — Two die in icy pond trying to save dogs
It happened March 12 near Van Zandt, two men going out onto weak ice.
TriVan now building fire aid vehicles
Fire District 14 of Sumas and Kendall takes delivery of the prototype aid car ordered from the Ferndale manufacturer.
Liam Diephuis wins chess tourney
He is a Lynden Christian High School senior. In a surge of interest, 70 players in grades 1 through 12 participated in the five-round, $3,000-payout contest.
27 — Survey: Many say replace YMCA building
They believe it's not worth fixing. Also, more than 78 percent of 1,000 respondents say they support a bond for better parks and trails.
Riverview Road about to open
The connector from Hanne-gan Road to Seventh Street also opens up lower Lynden to development. 
Schools' staff talk through how to react to a shooter
The Safety Summits involving most Lynden schools, both public and private, are a sign of the times, the prevalence of school shootings in the U.S.
State bill would let local school levies rise again
The $1.50 cap that was the 'McCleary fix' of statewide school funding just in 2018 is now seen in the Legislature as too limiting in some districts. 
3 — Portage Bay shellfish beds open
The state Health Department says enough water quality improvement has been made to lift four years of restrictions impairing this Lummi Nation traditional industry.
10 — Breeding new life into grains
Niels Brisbane, a Lynden native, is making an impact developing grains for specific markets at The Bread Lab in Skagit County.  He previously did menu development for fine dining.
Grocery Outlet opens in Lynden
Monty and Heidi McDowell, who grew up here, return to operate this location.
Simple Box Storage owner named Small Business Person of Year
The honor for Ross Black comes from the U.S. Small Business Administration for the state of Washington.
Sen. Ericksen now also an
The Ferndale legislator and a partner have formed a company, registered with the U.S. Department of Justice, that will receive at least $250,000 through May 31, 2020, to boost that country's relationship with the U.S.
Maddie Martin chosen Dairy Ambassador
Alternates in 2019-20 to the Nooksack Valley High School student are Ashley Archer of Ferndale and Alyssa Boersma of Lynden.
Steve Wight, a resident on Silver Lake, is calling attention to the impacts of a rising lake level, ruining properties and structures, and the way county procedures do not deal with beaver dam problems.
Ecology open house draws an outpouring
Many people crowd into the Lynden Library community room to speak their mind to state Ecology representatives on the topic of setting future water use rules affecting homeowner wells.
Entrepreneur Bruland now also an author
The 1985 graduate of Lynden Christian High School, nee Geleynse, founder of the management services company MSNW, will speak at Village Books stores about her book "The Success Lie: 5 Simple Truths to Oversome Overwhelm and Achieve Peace of Mind."
DNR completes non-motorized recreation plan for Whatcom
Three years in development and addressing 86,000 acres in the county, this plan looks ahead 15 years; next is implementation.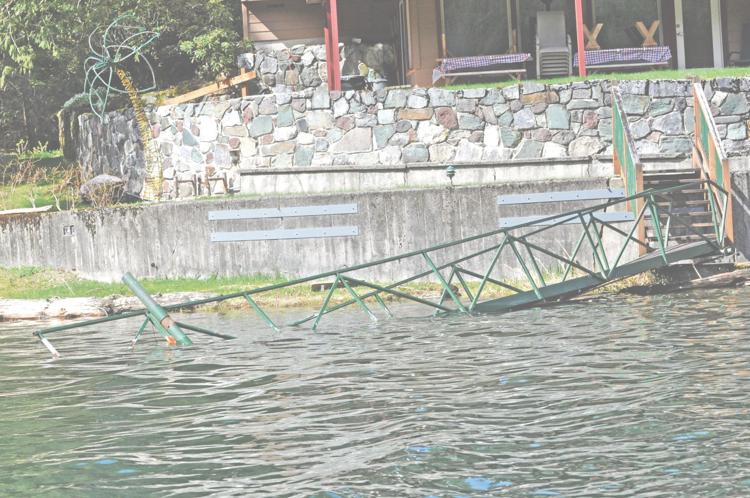 1 — A carousel mosaic for Texas children's hospital
Lynden couple Sandra and Carl Bryant create murals as art for public places throughout the United States. Their latest 22-foot piece celebrates the Houston Zoo carousel.
Nooksack Valley Food Bank plans to build behind church
It's been in the basement of the Everson Presbyterian Church for many years. This goal was accomplished by year's end.
Police chief John Billester retiring in July
He has been on the Lynden force for 28 years, the last two in the top spot.
$10,000 for LC  Middle School greenhouse
The grant from the CHS cooperative helps a very thriving horticulture program.
New principal at Irene Reither school
In the Meridian district, she is Dawn Christiana, from Bellingham.
8 — Bass trial for 1989 Stavik death begins
Jury selection was Monday; murder case's opening statements are today; 17 days allowed in all.
February weather damaged raspberries
Meeker variety, especially younger plants, were apparently hurt most by the late cold.
15 — Obituary: Egbert Maas
The former City Council member and two-term mayor who died May 12 was a vehicle mechanic in his day job. He was 95.
Style boutique with a mission opens
A percent of sales of Betty Be Good in the Fairway Center go toward rehabilitating survivors of sex trafficking.
Carrie Beamer qualifies for CrossFit Games this summer
The Lynden native ranks in the top 20 in the world in this fitness regimen; she makes the cut after seven years of trying.
22 — Fire District 1 buys out-of-town property for new fire station
The purchase of 1.5 acres on Everson-Goshen Road actually happened last November, after years of trying to decide where a new station should be.
Brenner bowing out of County Council
In her seventh four-year term, the representative from the Ferndale area will not run in the new county five-district set-up. Lynden and Ferndale city council positions draw lots of sign-ups.
City seeks state $2.9 million for Pepin Creek design
Specifically, this is to design stream bypass and bank stabilization measures for approximately three-quarters of a mile of channel downstream of Main Street to Fishtrap Creek.
Students get involved on school boards
The Lynden, Ferndale and Meridian districts each allow two student board members.
29 — Jury finds Bass guilty of Stavik murder
This is the dramatic conclusion of a three-week trial of a 29-year-old case. Prosecutor McEachran says DNA matching will continue to prove "extremely compelling."
Couple leads petition against Lynden Post Office mural
Joshua and Dana Parriera believe the nudity of the 1942 lobby mural, painted as part of a New Deal program, is sexually offensive and degrading to women.
The Inn at Lynden is a Ski to Sea force
For four years,  only one other Whatcom Open division team has been faster.
Unity Care celebrates ahead of July 1 opening
The new North Whatcom Health Center at Ferndale will provide varied services; 11-year executive director Des Skubi is retiring.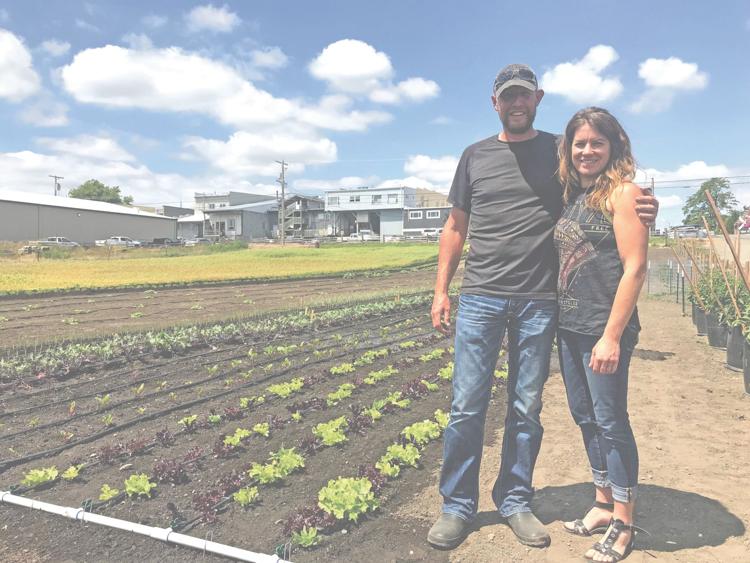 5 — 1,700 defend Post Office mural
An online counter-petition to keep the mural touches a nerve, and the Tribune gets a letter all the way from Queens, New York, from someone who documents these U.S. art pieces.
New Bookmobile ready to roll
The Whatcom County Library System, celebrating its 75 years, will showcase this vehicle, built by Ferndale's Tri-Van company, in parades and special events.
Nooksacks ask for creek name change
Paatstel, the name of a native Lynden village 200 years ago, is the proposed new name before a state geographic names panel, instead of the present Squaw, considered offensive.
12 — World-class design for new Farm Pavilion
The Northwest Washington Fair is working with David Lackey, of New York City but rural Ohio roots, on the new fair building's interior..
Whatcom Red smoothie launches
The new locally concocted raspberry drink is produced and labeled at Grace Harbor Farms.
19 — City will buy Glenning school land
Closing will be by June 27, with a base of $400,000 in donations already in hand, but more will be needed.
Nooksack OKs Breckenridge annexation
Mayor says room for growth to east of town is needed, but some who spoke Monday are concerned about potential impacts.
WinCo recalls raspberry pack from Rader Farms
FDA claims potential contamination with Norovirus.
Animals banned at Razz Rest
City Council action cites health and safety concerns.
26 — Gardening in the heart of downtown
Blake and Jody Starkenburg cultivate their vision for a "village feel" off Judson alley, amending soil and growing a variety of vegetables.
Flood planning includes Main Street water flow
The city took comment Thursday on a flood hazard overlay idea, of excess water from the Pepin Creek flowing eastward several blocks to Fishtrap Creek.
Trades jobs go begging; youths needed
This is the claim of the Whatcom Business Alliance, which has developed a YESWhatcom.com portal to assist in recruitment and training for electrician, equipment mechanic and other such jobs.
$2 million for Sumas projects
The recent session of the Washington State Legislature provided money for a new City Park playground and for a new covered grandstand at the Howard Bowen Memorial Events Center.
3 — Bass sentence almost 27 years
Before judge Robert Olson ruled, families spoke in court Tuesday of the Mandi Stavik loss, or defending the convicted local man.
$535,000 paid for Glenning land purchase
This is more than half of what's needed from community giving, and the city will use it as a down payment.
Farmworkers have own cooperative, Central Road farm
Tierra Y Libertad is celebrating its first harvest of organic, pesticide-free raspberries and blueberries.
Various ball courts and climbing boulders planned for Bender Fields
The Mt. Baker Rotary Club hopes to start this project, on the initiative of president Jeff Roberts, this summer.
10 — Raspberry growers explain their challenges
About 25 public officials and candidates go on an explanatory tour of local raspberry fields and a processing plant. "Is there a future here?" is the question.
New law means college is truly free for some
Whatcom Community College is getting the word out that this is true, for instance, for a family of four with $46,000 income. However, 42nd District legislator Luanne VanWerven, opposed in the voting, insists that others pay for this new subsidy.
Terry Bosman still truck driving at 6 million miles
The Lynden 74-year-old, driving since age 16, believes he has crossed Snoqualmie Pass pulling a load of good, more than anyone. He was recently honored by the American Truck Historical Society.
17 — Lynden Watch provides extra eyes for security
Car prowlings are down, and some crimes have been solved, since a neighbor-based online watch group formed a year ago.
U.S. Dutch Embassy group here July 24
The purpose of visits and meetings — Washington is one of 11 state to host — is to gain local perspective on national issues now in the Trump Administration. 
Bible given to Sumas museum links to a Mississippi governor
Museum co-director Gail Kihn followed leads and made contacts. More of value in Mississippi, the Bible will be sent there soon.
Rising student enrollment in the Lynden district means more portables will be needed at the Isom and Bernice Vossbeck elementary schools this fall.
24 — Vying for elected positions
The League of Women Voters is taking on the big task of hosting multiple public candidate forums. A forum today in Lynden features the 11 candidates running in the primary election the four spots on the City Council.
31 — 2nd District's Del Bene joins call for Trump impeachment
All Washington Democrats are now among the 107 in Congress who have reached this point. Trump actions and statements in the past month are termed racist and divisive.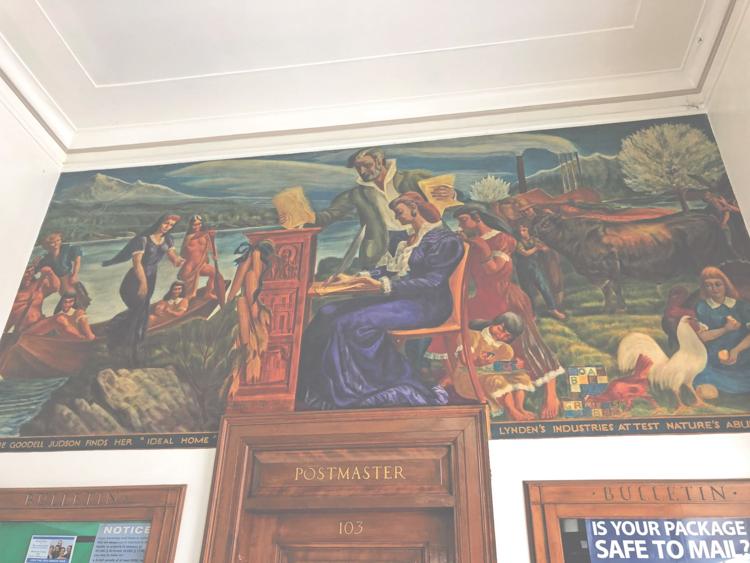 7 — Lenssen, DeValois lead in initial primary results
And this outcome of two Lynden City Council races, returning two incumbents, will hold up.
Courthouse exterior finally getting repairs
"Water intrusion" has been an issue since the 1990s expansion project, now being addressed via a $5.4 million contract to Dawson Construction LLC.
Violence erupts Saturday at West Pole Road party
One man was beaten by others, who had reacted to the shooting of a gun; no injuries appear to be life-threatening. Also in the past week was an elderly Ferndale couple murder-suicide, and sheriff's deputies dealt with a shooting at Sandy Point.
In the coming weeks the small water tower and concrete building structures of the old Lynden water treatment plant will be coming down to a cleared lot on Judson alley.
Home entered, safe drilled into
For this home intrusion on Depot Road and theft of an estimated $250,000 worth of coins, recovered via a pawn shop, Vasilios Macris, 33, of Lynden, has been arrested and booked.
5.5-acre peat fire new Wiser Lake controlled
A state Department of Natural Resources helicopter with a bucket scooped water out of the lake for main fire suppression Aug. 14, but the underground organic matter keeps smoking.
Old Lynden Middle School ballfields up for sale
Appraised at just under $1.2 million, this property behind 516 Main St. is zoned industrial and is accessible mostly from three existing neighboring businesses. 
Wayfinding pitched to Lynden
This is a countywide effort to improve Whatcom directional signing, but the city council is a little skeptical of costs and benefits.
28 -— Paved shoulder coming to Line Road
The five to six feet of surface will help students' access to 1-year-old Lynden Middle School. But this project will take months longer than anticipated, to December, to actually happen.
Post Office "carrier annex" being built
Off Duffner Drive in west Lynden, the building of 5,000 square feet will handle trucks and the mail's distribution, not have direct customer operations.
4 — Lynden is chosen location for short film
"Candy Bar Heist" segments were shot at Dutch Mothers restaurant and Northwood Market over the weekend, with Jonathan Holbrook directing.
Chased car crashes into Hampton house, starts fire
The pursuit was from an Everson traffic stop about midnight Saturday evening. This is the second crash into his house on Lynden's curve for owner William Chisholm, this time with extensive damage.
Sumas Police ties into What-Comm dispatching
Sumas becomes the last jurisdiction to join the county's centralized 911 callout system, after decades using the U.S. Border Patrol.
11 — SplashFest a Labor Day hit
Holiday sprinkler water fun is pieced together of firefighter hoses and nozzles at the Glenning Street property that is now owned by the city. This will be repeated next summer.
City does its part to enable Mural Building plans
Requested terms are agreed to by the council on parking space and mural protection for the planned two-story addition to the Lynden liquor store building at 610 Front St., by owners Ron Hansen and Tim Keiper.
Lineage has bought Preferred Freezer
The name change will be evident by year's end, says local manager Dan Shuler, although operations of the big frozen-foods warehouse built in 2015 are mostly unchanged.
Milk price highest in five years
The Class III price of $17.60 per hundredweight is an indication of how hard it has been for dairy farmers lately. The price will hit $20.45 by year's end.
18 — Mount Baker Fieldhouse being upgraded
A thorough $5 million redo of the 1968 structure by Tiger Construction Ltd. is expected to be completed before the start of winter sports.
City getting to specific options on Pepin Creek
Any of three engineering solutions to drainge challenges — variously involving piping along Double Ditch and Benson roads, or a swale —is expected to cost about $34 million. 
Lynden goes 10 years operating plant first-rate
For wastewater treatment excellence from the oversight Department of Ecology, the honor is the Golden Plunger Award.
ABC 20/20 special is on Stavik murder case
The two-hour  program titled "30 Years Searching" airs this Friday evening.
25 — Student numbers keep rising
Lynden public schools' 2019-20 starting head count is up 80 over budget; Nooksack Valley has 200 kids in kindergarten alone.
Flurry of action creates new Bender play area
Ball courts, climbing boulders and lights are all part of the Mt. Baker Rotary Park project now going on with much donated labor and equipment.
County expanding Crisis Stabilization Facility
The new 24-450-square-foot Irongate district building serving mental health and behavioral diversion will be dedicated Sept. 30.
$204,354 pool upgrade celebrated
The project brought extensive plaster and tile repair and resurfacing and locker room drain replacements to the decades-old Lynden YMCA pool area.
2 — A fresh plan to deal with Swift Creek
State Ecology and Whatcom County will talk at an Oct. 9 meeting about a multi-pronged effort to deal with the ongoing buildup of sediment in the stream east of Nooksack.
9 — Nooksack 105 acres larger
Area annexed quickly in City Council action Monday is along Breckenridge Road including Nooksack Cemetery and elementary school.
Daughter of Claire vg Thomas in this Lynden Music Festival
Heidi Thomas, an inspiration to music herself in the Denver area for 35 years, is like her mother in that regard.
More rural land tabbed for agriculture
The Whatcom County Council on Sept. 24 promptly endorsed the recommendations of its advisory committee to add some 22 rural areas of "high agricultural value" totaling 28,449 acres to priority for protection from non-ag uses. 
Willetta Farm honors family tradition, with fun thrown in
October is a very busy time, especially with schoolkids, in the Pumpkin Patch of the heritage farm of descendants of the Ripperda family at 1945 E. Badger Rd.
16 — Ridnours buy property at Main/Guide corner
This is the five-acre site of the former City Bible Church, with buildings now already being used for Ridnour Athletic Courts and the school district's Lynden Academy.
Tribune's Lewis receives Master Publisher/Editor Award
Michael Lewis has now been nearly 40 years in the newspaper and publishing business handed down from his grandfather Sol, dad Julian and uncle William Lewis. The presentation was at the Washington Newspaper Publishers Association convention in Olympia.
2019 raspberry harvest down 11.6 percent
February cold, as well as a drop in growers, are cited for the drop to 65.6 million pounds. From 102 local growers in 2011, there were 67 in 2019.
Time for a new fish hatchery model for Washington
So advocates state Rep. Luanne Van Werven, R-Lynden, after a trip with others to see how Alaska has rejuvenated its commercial and recreational fishing industries.
23 — Wrong turn, international incident
Driving slowly across the border in shallow ditch north of Lynden, a British family went through about two weeks of custody including movement to Pennsylvania before they told the world through an attorney about their "inhumane" treatment..
City wants to get trail gap built in 2020, with state help
It will be a $1.1 million "ask" of the Legislature, via the lobbying firm Lynden has used for several years. Lynden also wants the state to delay its planned 2022 replacement of culverts at Double Ditch and Badger roads, which would complicate city Pepin Creek planning.
Business park proposed on West Front Street
Don Korthuis is the applicant for an overall 125,000-square-foot Front Street Station west of Duffner Ditch.
David Syre's development is now as an artist
The creator behind Bellis Fair, the Cordata area and Resort Semiahmoo, at age 78, has returned to the family roots south of Nooksack and in his workplace there has become an artist, showing internationally. 
30 — Libraries celebrating 75 years of WCLS
Nov. 7 is the big climax day of anniversary festivities and activities at all 10 branches (with 11th at Birch Bay in the works).
Urgent care center opens in Lynden
It's at the same 1610 Grover St. address as Lynden Family Medicine with weekday hours to 9 p.m. and weekends to 5 p.m.
Just 61 votes separate Tony Larson and Satpal Sidhu for County Executive, and the County Assessor, Ferndale Mayor and some City Council races are very close in the counting as of election night.
Three Lynden police chief finalists
They are Charles Goeken and Dave Westrick of California, and Steven Taylor of Arkansas. After Tuesday general introduction, they will be in a series of interviews with the city on Wednesday.
Sumas weighs B.C. concrete plant proposal
A public hearing with the council is next Tuesday. Neighbors voice concerns especially about contamination of the aquifer that serves Sumas and vicinity with very high-quality water.
Lynden interim police chief Knapp critically injured by vehicle Tuesday evening, taken to Harborview Hospital
This happened as he stepped out onto Fourth Street from the police chief finalist introductions in City Hall Annex.
The margin is about 1,850 votes, or 51.1 percent to 48.8. Also, Rebecca Xczar is elected County Auditor, and Greg Hansen Ferndale mayor. 
Flags lowered for Knapp's line-of-duty death
The 79-year-old died a day after being injured. His memorial service will be Nov. 20. Condolences are pouring in from law enforcement agencies.
Graduation requirement rising
The state Board of Education has finalized its plan, a minimum of 24 credits, and school districts may add more. For instance, Lynden will require 29, starting with 2021 graduation.
A hand-dug grave 'in honor of him'
The many years that Herm Heusinkveld Jr. dug graves and tended to sites at Monumenta Cemetery are remembered by his associates and family.
20 — Dutch Mothers sold to Seutzes
Dave and Debbie Black transfer ownership to another pair who know all about the restaurant realm, now operating the Rusty Wagon. This is effective Jan. 1.
Whether to do the weather
Randy Small's hobby becomes an online job, and it seems the skyline is the limit. 
City value tops $2 billion
A jump of almost 50 percent in assessed property value in four years reflects a period of building boom.
27 — Sumas council race tied, 176 votes each
Position 3 will be recounted by hand next Monday, along with a Ferndale council race that has only one vote of separation.
WCLS forgiving all library fines
In 2020 the library system will no long charge on returned but overdue materials, which is also a national trend.
Final respects paid to Knapp
Words of honor and friendship, high ceremony and formal salute, by hundreds of attendees including Gov. Inslee, were all part of the memorial service for Michael F. Knapp in Christ the King church of Bellingham.
4 — City tabs Taylor for police chief
From Searcy, Arkansas, he will be on his new Lynden job in January, the pick of Mayor Korthuis confirmed by the City Council.
A coin toss will decide two council races today
It will turn out to be Deborah Morgan over Todd Daniels in Sumas, and Paul Shuey over Teresa N. Taylor in Ferndale, from being exactly in a vote tie.
Proposed Cherry Point changes could threaten our economy
So claims the Washington State Building and Construction Trades Council in an op-ed piece.
11 — Climbing rocks open at Rotary Park
But finishing of new basketball and pickleball courts and sand volleyball pit will wait until spring.
U.S. Labor raps parent company of Sarbanand
In a settlement filed in California federal court, Munger Bros. and its associated must pay $3.5 million and use the H-2A foreign labor program only under two conditions.
Pepin Creek Subarea Plan at hearing Monday
Through more than a year of staff development, this is the master plan for location of roadways, types of housing and more west of Benson Road as Lynden's next growth direction.
Raspberry growers weigh trade action
A Washington, D.C., law firm will get at least $600,000 to look into claims of Mexican "dumping" of berries into the U.S. market.
18 — Tour Hallmark Channel homes just miles away
Over two weekends, five homes north of Abbotsford, B.C., that are used in Hallmark filming will be open to the public, with proceeds benefiting the International Justice Mission Canada.
Five county government leaders share their departing thoughts
They are: County Executive Jack Louws, County Auditor Debbie Adelstein, ex-Prosecuting Attorney Dave McEachran, County Assessor Keith Willnauer and County Council member Barbara Brenner.
24 — Homestead maintenance fees up sharply
Management gives notice to hundreds around the golf course of a rise from $36 to $93 per month. A further informational meeting is set for Dec. 30.
Allegation of child restraint made against Sumas school
The state Superintendent of Public Instruction's office also saw a violation, and the mother is pursing a lawsuit as well.
Nooksack Valley Food Bank celebrates new space
From being feet below ground for many years in the Everson Presbyterian church, the new building on the same property is above potential floodwater.