School taxes could decrease under new state system 
SUMAS/EVERSON — Supporters are eager to get out the message: Can Nooksack Valley School District voters step up and support a $30 million bond in the special election of Tuesday, Feb. 12?
A new tax measure logically would take the tax bill "up." Surprisingly though, NV taxpayers may actually see a decrease and not an increase, district Superintendent Mark Johnson said.
Bottom line: The district has grown by about 250 students, primarily at the elementary K-5 level, since the last bond for middle and high school upgrades in 2015. This represents a 16 percent increase — with consultants only guessing at additional growth ahead.
NVSD is not finished with its need to expand to keep pace. Now that the district's new middle school is complete in Nooksack and the high school has seen significant updates, it is time to focus on the needs of the lower grades and other items brought to attention, say bond backers.
The Lynden Tribune met with three-year Sumas Elementary School Principal Megan Vigre, longtime NSVD Superintendent Mark Johnson, 30-year Nooksack Valley School Board member (and now chair) Steve Jones, and Sumas Mayor Kyle Christensen at the school identified as needing the most help: Sumas Elementary School. Jones also serves on the district's Facilities Committee.
The diverse committee of 18 — parents, teachers, retirees, board members and administrators — has met over the last year to look at all options for long-term solutions, for not only in Sumas but the whole district. NVSD is the fastest growing of 35 school districts in the northwest Washington region, according to a fact sheet from the committee. The committee has looked at present and future needs, also the safety and security of students and dealing with the flood plain in Sumas.
The solution identified for Sumas is a brand-new school, comparable to what happened for NV Middle School. It would be built behind the existing one with double entry for a "tighter security envelope." Then the old facility would be demolished.
The current brick-faced school is now 50 years old. A walk down its hallways shows a noticeably small gym, tarps placed above bookshelves — and under moving leaks in the roof — in the central library section, noise caused by the open layout, and a growing collection of portable classrooms behind the school.
The portables number seven now. They serve as additional classroom space, without restrooms or water. The four giving the tour point out that students and teachers feel less sense of school community not being under the same roof. Students who need to use the restrooms must walk back to the main building – or stop by a portable toilet.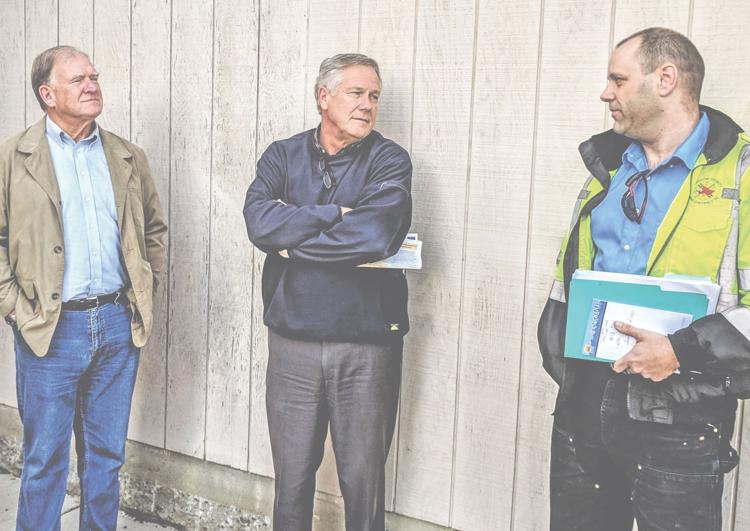 In a time of greater school safety concerns, the security system — noticeably added at the front entrance — skips access from the sides and back of the school, leaving areas of vulnerability. Money for the portables actually comes from general funding meant for other educational needs.
Current class sizes at Sumas are between 17 and 26 students per room, Vigre said.
$18.7 million to replace Sumas Elementary.
$6.3 million to add eight permanent classrooms and modernize Everson Elementary School.
$2 million to add four classrooms to Nooksack Elementary School.
$1.3 million to update Nooksack Valley High School.
$1.5 million for future capital needs such as roofing and parking.
Everson Elementary School, whose enrollment is also popping like Sumas, is using four portables classrooms now.  
At the high school, the work would be upgrades to the auxiliary gym, performing arts center, ventilation system, concessions and restrooms.
It's been almost four years since Nooksack Valley voters approved $27.9 million for a new middle school, replacing one 67 years old, plus upgrades at the high school.
A rise of home prices in and around Bellingham and Lynden has tended to force families out of those housing markets, Superintendent Johnson has said. "Folks discovered they could live in Nooksack, be 15 miles from Bellingham and have affordable living."
"Realtors use the school (district) as a selling point," Jones said of the district's good reputation.
The school board approved submitting this bond measure last October. "If we're going to go back to voters to solve this enrollment growth problem, now is a good time to do it," Johnson said. The levy-swap solution to the Washington State Supreme Court McCleary case will give some tax relief to Nooksack Valley residents in 2019, he notes. 
"It's such a benefit," Johnson said. "Those dollars stay local."
The funding change means the state pays a larger share of schools' operating costs — as it was supposed to be originally — but still does not fund construction costs. That means that even if this bond passes, local taxes will remain "considerably less than in 2018," according to school district materials on the upcoming bond. 
The Nooksack Valley School District operating levy property tax rate, which has been at $4 per $1,000 valuation now, will drop to $1.50 for 2019. Bond documents state that the monthly tax on a $300,000 home, now estimated at $149, will drop to $80 in 2019 and is estimated to go to $114 per month in 2020 if the bond passes.
The original idea the committee examined, Johnson said, was to do partial renovations at Sumas Elementary and add eight new classrooms. But the price tag for that reached upwards of $9 million, and the building would still remain in floodway. 
Mayor Christensen said he has been working with FEMA (Federal Emergency Management Agency) and is waiting for a new floodway/flood plain map to be drawn for Sumas. Since 1989, the school has been flooded twice. During one of those events, two feet of water went throughout the school and students were forced to miss two weeks of classes. The new structure would be built higher off the floodway. 
If approved by voters, the district would have from 18 to 24 months to hire engineers and architects, put the project out to bid, and proceed to construction.  Students would remain where they are to the very day of moving into new facilities.
Jones and Johnson both say that most of previous construction work done in the district has been by firms in the Whatcom and Skagit area. They also see Nooksack Valley folks making use of school facilities as a "community hub" after school hours for meetings, athletic use and events.
"We delivered a good product with the last bond issues," Jones said.