Being Lynden's interim police chief was his last post in a long career
BELLINGHAM ­— Words of honor and friendship, ceremony and salute were all ways of saying farewell at the memorial service for Michael F. Knapp, interim Lynden police chief, attended by hundreds including Gov. Jay Inlsee, at Christ the King Church on Wednesday, Nov. 20.
Knapp's lifetime of service ended in Lynden, but the reach of his long and distinguished career in law enforcement was paid tribute by contingents of uniformed officers present from throughout the state of Washington and even British Columbia.
Knapp, 79, died Nov. 6, a day after being struck by a vehicle as he crossed Fourth Street in Lynden in early-evening darkness. His death is considered in the line of duty.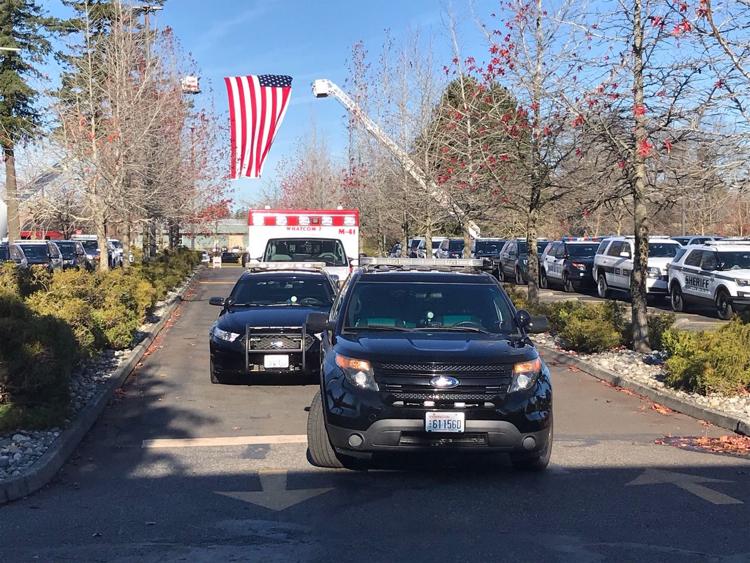 He had a 27-year stint with the Federal Bureau of Investigation, then became police chief of Medina in King County before coming north to the same post in Ferndale in 2005. Even in retirement after 2016, he did interim leadership of both the Blaine and Lynden police departments.
Knapp "inspired action and he knew how to make things happen," said Mark Deebach, assistant superintendent with the Ferndale School District.Collaboration with Knapp "transformed" the district into one with "safety as one of our strategic pillars," Deebach said.
Former Ferndale Mayor Gary Jensen described how Knapp — "a big tall handsome guy with eagle eyes" — would lean down with a smile and a strong handshake, and ask, genuinely, of any person, "How are you?"
"He really meant it. He really cared. He was the greatest listener I ever met in my life," Jensen said.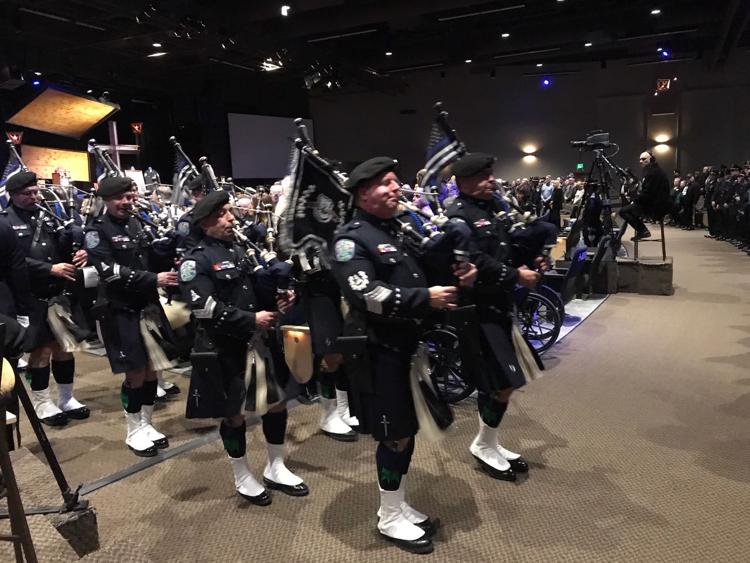 In his 11 years with Ferndale, Knapp got the city from "the worst police station in the state" to an impressive new facility, and "every square inch Mike was involved with," Jensen said.
Raymond Duda, FBI special agent in charge from Seattle, said of Knapp that "he had what it takes" to assume responsibilities and fulfill all assignments given him by the federal agency.
"He could take total control of a room" just by the effect of his stature, his deep voice and words, his courtesy and his smile, said Stan Ashton, a former police chief colleague with the Kirkland Police Department. 
The voices that praised Knapp Wednesday usually also broke at some point as they acknowledged a version of "he was someone I called friend."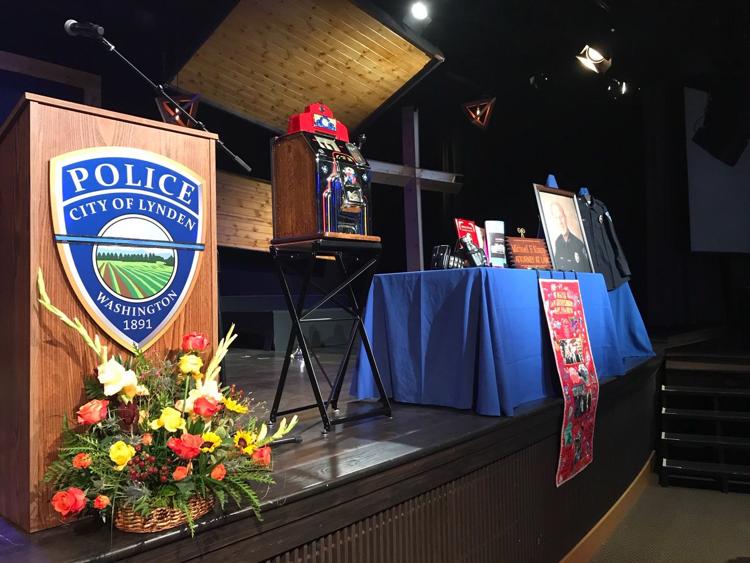 The Rev. John McLean of the Bellevue fellowship attended by Knapp's family said "he was good to his family, he was good to his country, he was good to his church. ... All in all, this was a man we will not see the likes of again."
A video presentation showed Knapp in his earlier days as a physically fit, strapping young man first in U.S. Army service, then in the FBI starting in 1971 under legendary director J. Edgar Hoover. He was married to his wife, Nancy, and they had one daughter and now two grandchildren.
Knapp enjoyed playing jazz on the piano. As a hobby he restored casino slot machines of the type he had confiscated with the FBI, fully knowing their inner workings. He kept a meticulous 1966 Ford Mustang. He was a member of the Ferndale Lions Club.
Daughter Lindsay, holding her own young daughter with her at the microphone, said Michael Knapp was kind and hard-working, and "a big believer in the power of change, and of second chances."
The two-hour service was rich with the dignity and formality of honoring one who had served in the fraternity of law enforcement and national service.  Heeding strong verbal commands in the hushed assembly, honor guards entered and retreated carrying the flag-draped casket. The Seattle Firefighters Pipes and Drums corps performed. 
The pallbearers included Matt Huffman and Melanie Campos of the Ferndale Police Department, Jeremy Bos and Russell Martin of Lynden and Ryan King of Blaine.
The service was also livestreamed to the North County Christ the King Church of Lynden.