Vintage Farming Days featured steam machines
LYNDEN — Steam power was took center stage at the 48th annual Vintage Farming Days show, which took place Wednesday through Saturday.
Normally, the Puget Sound Antique Tractor and Machinery Association chooses a tractor brand to feature at the show each year. This year, however, steam-powered tractors in general were featured.
Club president Fred Polinder said there's always an effort prior to the show to get as many examples of the featured tractor brought to the show. The PSATMA has the Sorenson steam sawmill on hand, which the club recently did some restoration work on, as well as a Corliss boiler and a steam tractor donated by the late Ted Spoelstra of Forks, Washington. Many private collectors brought in their steam machines as well, including an 1899 steam water pumper fire engine that was demonstrated during the show.
"It went over well," Polinder said. "The steam pumper, people really got a kick out of that."
Polinder said each year the tractor show reminds people of their roots and the building blocks of the modern day.
"I try to emphasize to people when we started our parade, 100 years ago, this was the best you could buy," Polinder said. "Steam was king. There was no big gas tractors around. The internal combustion engine hadn't been developed. I always tell people, you look at this and we take farmers for granted, but unless you produce your own food, it's a farmer who did it, and this is the equipment they used 100 years ago to feed the nation. These really weren't toys. They were bought to feed the world."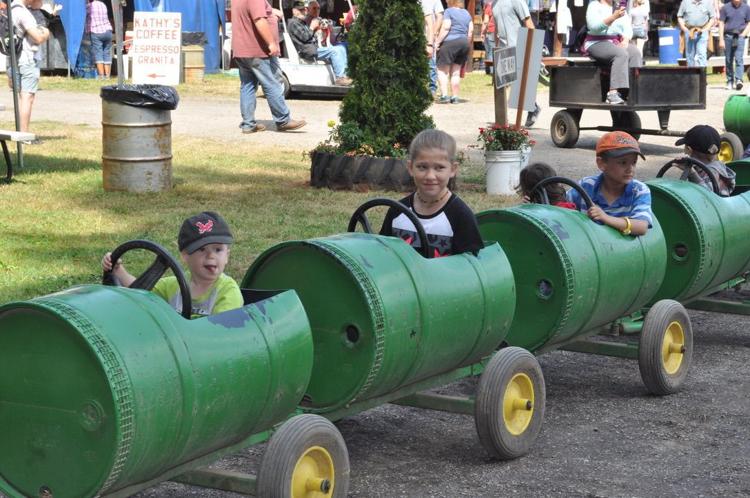 Polinder said it's dear to him that these 100-year-old machines are still in operating position thanks to their caretakers. He said he toured Italy last fall and visited the Roman Colosseum, which has stood for thousands of years. Polinder said these steam tractors might last for just as long.
The turnout to the show was great this year, Polinder said.
"We are the largest tractor show in the state of Washington, believe it or not," he said. "We have 48 years with continual growth. We're nonprofit, and we have a lease from the city on the property. A lot of things like that fizzle out. They go for a while and then they fizzle out. Ours has seen steady growth."
In 2021, the club will celebrate its 50th show. Polinder said the featured brand for next year (the 49th) will be Rumely, known for its distinctive oil pull tractors. These tractors went on to replace steam machines, as they require kerosene gas instead of a water supply and a full crew.