Firefighter: Usually these types of calls don't end well
LYNDEN ­— Lynden and Ferndale firefighters and paramedics saved Mathew Weeks' life in December when he was experiencing chest pains and went into cardiac arrest.
On Friday, Jan. 25, the former patient was able to meet the personnel, including dispatchers, who responded to the call. 
Weeks and his family gathered at City Hall Annex where the first responders on the call told what they remember of that day. The callout was to where Weeks was driving a truck at First and Front streets in Lynden.
Fire Chief Mark Billmire said everything that day started with the 911 dispatchers.
"There's multiple departments here that responded and worked in coordination with each other for this to happen," Billmire said. "The 911 call comes in, they gather the information, they assess what the call is and then dispatch the correct units."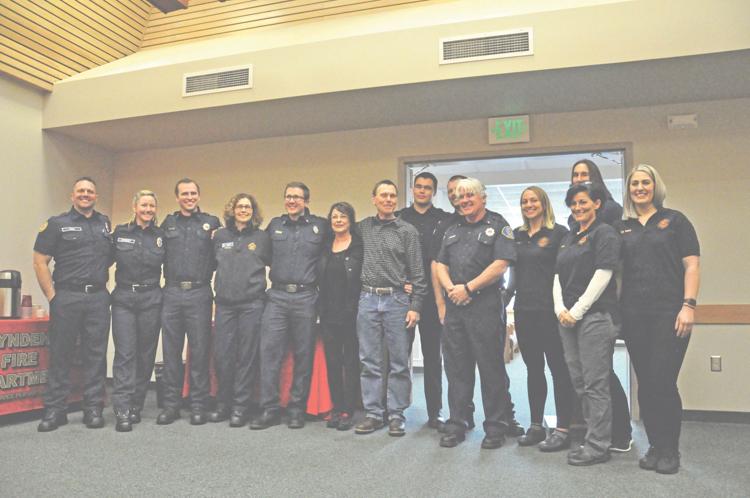 Lynden is a first-responder department. Full Advanced Life Support units from Bellingham or Ferndale are then often called in.
Jonathan Oliveira, firefighter and paramedic for Ferndale's Fire District 7, said he's been on cardiac arrest calls like Weeks' and they typically don't end well. 
"We roll in, we deliver the patient and they're just throwing the drug box at him. They're trying everything," Oliveira said. "I just remember thinking 'Man, this is not looking good.'"
Billmire said about 90 percent of people in situations like Weeks' don't survive. 
Oliveira met up with Weeks' wife, Kathy, as the paramedic ALS crew was unloading Mathew off the ambulance in Bellingham. He came across Kathy again when he walked by her and a nurse praying outside of where her husband was being helped. 
"I was just absolutely amazed at [Kathy's faith] in the midst of that uncertainty," Oliveira said. "I totally think it was a miracle."
Weeks said there aren't words to describe meeting the people responsible for saving his life. 
"It was really tough," he said. "I had a lot of people pulling for me. I really appreciate what [everyone has] done."