'Hard country' act fuses southern rock, country music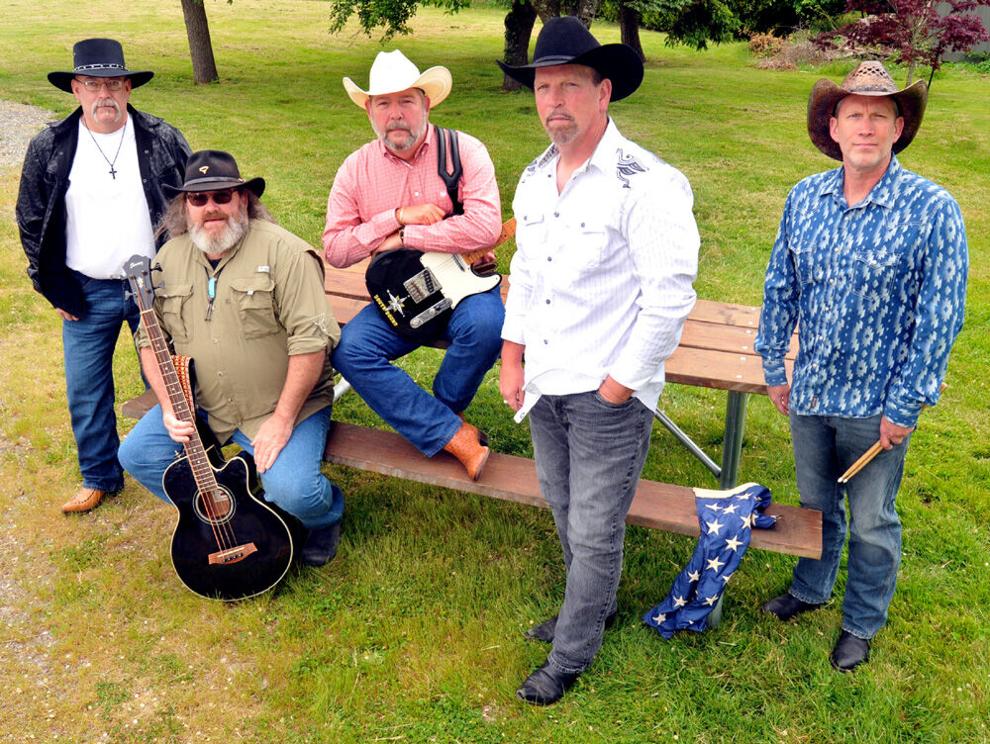 WHATCOM — Country rock band Southbound was ready to make another comeback right before COVID-19 changed the world, and that readiness didn't wane at all in the past year and a half.
First founded in Whatcom County back in 1993, Southbound has come and gone a couple of times since then, but each time the band stages a comeback, Whatcom County is ready for it, guitarist and vocalist Randy Finch said.
"I think the reason we can come back is because all the music that we play was at one time or another a top-10 hit," Finch said. "We don't play the stuff for ourselves. We play for the people to come and to hear. We don't do a song just because I like it. We play a song because we bring people to the dance floor."
Southbound started in 1993 when Tim Morrow and Roger Wilkinson were looking to form a country band.
"Tim and I went to grade school together and we were buddies," Wilkinson said. "We were both musicians and we decided that we wanted to start doing something together."
Morrow said they started out in Ferndale in their garage before moving to an old milkhouse on Aldergrove Road. They put out an ad for a bass player.
"Randy answered the ad, not even being a bass player." Morrow said. "He was a guitar player, and he played it like a guitar player, which gave us a unique sound."
Finch, a Texas native who had moved north to Ferndale, answered their ad for a bass player, even though he didn't play the bass. He auditioned, got the job, and Southbound was born.
"Randy had all the fire and the desire and the go to get us moving, and Tim and I were thinking more of a southern rock type of band and Randy pushed us more into the country phase," Wilkinson said.
The country-rock hybrid proved perfect in terms of timing, as Garth Brooks was mega-popular at that time and people were hungry for country-rock, Wilkinson said.
"That's what kind of makes Southbound," Wilkinson said. "Randy's from Texas and he's very country and the songs he writes are very country. Tim, he loves rock. He's just a straight rock guy, but he's also country. But I'm more into the blues rock. My favorite players are the Stevie Ray Vaughns and the Joe Bonamassas."
Wilkinson said his favorite song currently on the Southbound setlist is a ZZ Top song that blues rock guitarist and singer-songwriter Bonamassa covered. Finch said his favorite is country singer Keith Whitley's "Don't Close Your Eyes."
The band started out playing Moose lodges, Elks clubs and bars, and was a regular on the fair circuit.
Their first big break came at the Northwest Washington Fairgrounds.
"In '94, we won the Jimmy Dean Country Showdown at the Lynden fairgrounds," Finch said. "That was just our vaulting point. Once we won that, everything just took off. From '93 to '98 we played the fair circuit. One year we played 48 weeks out of the year, like five nights a week. It was crazy. We released an album, we had some airplay. It was chasing that neon rainbow."
In 1998, the band decided to take some time off for family. Wilkinson said some members of the band got burned out due to playing so many dates each and every week, so a break became necessary. That break ended up lasting 12 years, but in 2010 it was time for the band's first comeback.
Initially, they were just playing for fun, but they ended up becoming one of the most in-demand acts in Whatcom County.
"We were just going to do it for fun, but within like six months, we were loaded with contracts," Finch said.
The band did some restructuring in that initial comeback, bringing in Ferndale's Bert Edkins on bass and vocals and percussionist Brad Miller, in addition to Morrow, Wilkinson and Finch, the latter of whom was switching to rhythm guitar at the time.
"I was with the second round, and I kind of started out as a backup drummer for them," Miller said. "I was kind of the backup when they needed me. Then the other guy quit, so I jumped in."
With Finch switching away from the bass, Edkins came on board to fill that role.
"I went to an audition and we all clicked real well, and they gave me the job," Edkins said. "They liked my singing abilities and I guess my bass playing wasn't too bad either."
The band was again a very popular act, but took a break again following their second run. In 2019, they were gearing up for their second comeback, until in early 2020 the COVID-19 pandemic put a stop to that.
"Then, in May (2021), when everything started to open up, I started making calls," Finch said.
They had played a gig for Northwest Washington Fair CEO Chris Pickering in March, which sold out in just 30 minutes, and Pickering told them that a grandstand show was in order. That show is scheduled for 7 p.m. Saturday, June 19, with a full gig at the Northwest Washington Fair to follow in August.
"The crowds have been very receptive," Morrow said. "The fans come back out of the woodwork. Now they're parents and grandparents. Their kids will come out because their parents have our CD."
The band plays a mix of three or four originals from their self-titled album and a variety of covers.
Southbound will kick off the Party in the Dirt on Saturday, Aug. 21, which will feature the Eli Young Band, Canaan Smith, Parmalee and Tenille Townes.
"We're all in our 50s now, and we started in our 20s," Wilkinson said. "It feels full-circle. It feels like this is where we should be. It feels right."